Blue Zoo Beijing (Gongti Richina Underwater World)
Blue Zoo Beijing, also known as Gongti Richina Underwater World, is an amazing aquarium situated under the Artificial Lake of Beijing Workers' Stadium. Built in 1997, it is the first five-star aquarium in Beijing. Covering an area of about 9330 square yards (7,800 square meters), the Blue Zoo is one of the biggest artificial underwater worlds in the country. The main exhibition pool here contains 4,450 cubic yards (3,400,000 liters) of water, in which raises 600 species, 5,000 sea fish and over 500 species of shellfish. In addition, the sea creatures give performances to entertain their visitors.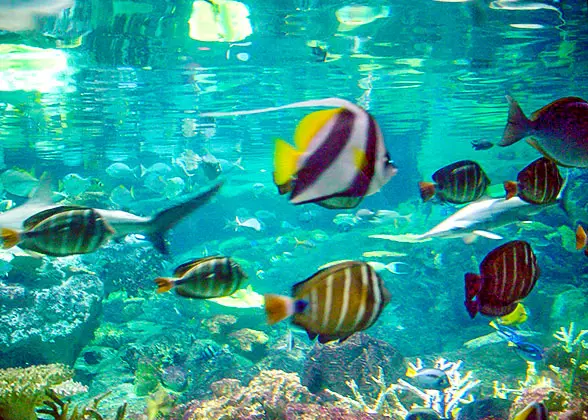 The aquarium is divided into two districts. The first district has a transparent underwater tunnel. Through the tunnel tourists can enjoy the undersea landscape in different aspects. There are also many exhibition zones with different themes in this district, which help tourists know more about sea creatures and have an enjoyable and colorful journey in the aquarium, including Sea Fish Zone, Touching Zone, Shark & Sea Turtle Zone, Freshwater Fish Zone, and Giant Salamander Zone. The Second District is relatively small and is mainly about the South Pole. The unique features of the polar continent and the interesting polar animals help people know more about polar explorations.
Underwater Tunnel
Made of acrylic glass, the tunnel is the most distinctive undersea landscape in the Blue Zoo. With a length of 390 feet (120 meters), it is the longest in Asia. Through the tunnel one can see many kinds of huge sharks. If you are lucky enough, you may see the treasure of the aquarium, a Sand Tiger Shark which comes from South Africa and has been living in the Blue Zoo for six years.
Sea Fish Zone
There are many fish tanks in this area. One can watch sea fish as well as other marine animals from different areas and different ecological systems. Offshore Fish, Carettochelys Insculpta and some others are normal species, while others provide distinctive features in appearance, habit and color, like Odobenus Rosmarus, Jellyfish, Sea Anemone, Anemone Fish and Butterflyfish. Besides, in the Coral Reef Ecosystem Exhibition Tank one can enjoy the colorfulness and diversity of the most complex coral reef ecosystem.
Touching Zone
It is where tourists can have intimate contact with those marine animals. The dwellers here include Starfish, Sea Cucumber, little Cat Shark and many others.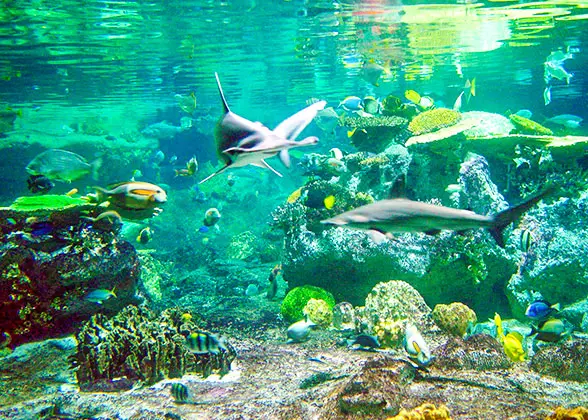 Shark & Sea Turtle Zone
This area exhibits Negaprion Queenslandicus and Green Sea Turtle. The Negaprion Queenslandicus has a color similar to lemons, and a nickname of "Shark of Smile" for it always smiles to the tourists. But don't be puzzled by its gentle appearance. Actually its sharp teeth and ferocious temper can be dangerous to human beings. Due to the large number of human hunting and water pollution, their numbers have been in a sharp drop. The Green Sea Turtle got the name for it has green fat. It has a huge body with flat round carapace; only its head and limbs are exposed outside. Its life span can reach 100 years or more.
Freshwater Fish Zone
This area mainly shows fish living in the freshwater area around the world. Tourists can watch different fish species coming from Frigid Zone, Temperate Zone and Tropical Zone, as well as artificially raised new fish species. Fish there include Sturgeon, Cryprinus Carpiod, Amazon tropical fish, Symphysodon, Blood Parrotfish, and Diabolepis.
Giant Salamander Zone
The giant salamander is the largest and most precious existing amphibians with tails in the world. It is said that its voice sounds like the cry of an infant, so Chinese also call it 'Kid Fish'. At present there are two giant salamanders being raised in Blue Zoo.
Famous Dwelling Creatures
Nurse Shark: It is also called "Shark of Gentleness". Just as its name shows, Nurse Shark has gentle characteristics and good temper. To a great extent it is a kind of night shark. In daytimes it usually keeps still on the seabed or in its home. When night comes it goes out and feeds. They are very gentle and never attack human beings actively. A nurse shark's pregnancy usually lasts 10 to 12 months, with 20-40 pups each time. However, the offspring are ferocious and they kill each other when in the fish's uterus. So each time only several offspring can survive and come to the sea world.
Stone Fish: It has bright colors but looks very ugly. Because it always disguises itself as a stone and waits for food, the fish gets a nickname of "dangerous stone". It body contains strong toxins, which makes it the most poisonous fish in the world.
Clown Fish: Clown Fish coexists with sea anemones. The sea anemone protects the clownfish, while the clownfish helps to keep the sea anemone clean. So for thousands of years they have coexisted in the sea peacefully.
How to get to Blue Zoo

By Subway:
1. Take
Subway Line 6
and get off at Dongdaqiao Station. Get out from Exit A and walk for about 800 yards (730m) to the north.
2. Take
Subway Line 2
and get off at Chaoyangmen Station. Get out from Exit A and walk for about 1,200 yards (1.1km) to the east.

By Bus:
Take bus 515 and get off at Gongren Tiyuchang Nanmen (the south gate of Workers' Stadium) Station.
Beijing Bus / Subway Search
Admission Fee
Adult: CNY 150
Children over one meter (3.3 feet): CNY90
Children under one meter (3.3 feet) & the old over 80: free
Opening Time
9:00 - 17:30
Ticket sale stops at 17:00

Recommended Nearby Attractions:
Chaoyang Park
Temple of the Sun
Workers' Stadium
- Last updated on Nov. 17, 2023 by Kate Liu -