Impression China
SG06: 14 Days Small Group Tour of Beijing - Xi'an - Chengdu - Chongqing - Yangtze River Cruise - Yichang - Shanghai
Tour Type:
Small Group of max 18, guaranteed departures
Guide & Driver:
English-speaking guide, experienced driver with an air-conditioned coach
Accommodation:
10 nights at good 5-star & 4-star hotels, 3 nights on Yangtze River cruise
Highlights:
Must-see sights - Mutianyu Great Wall, Forbidden City, Terracotta Army.
See giant pandas unprecedentedly up close in their hometown of Chengdu.
Set all your earthly cares aside as you cruise on Yangtze River.
Enjoy a la carte meals, Peking Opera & Tang Dynasty Music and Dance Show.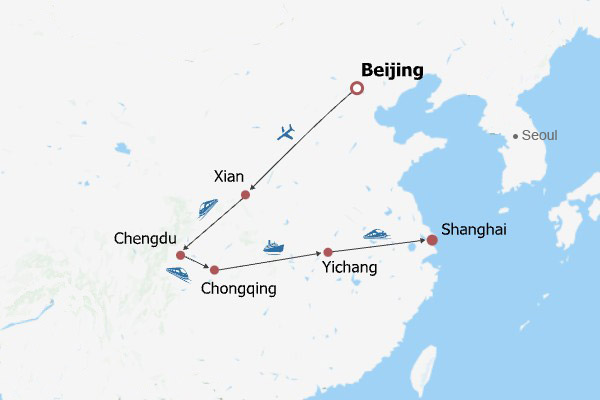 Welcome your arrival anytime at the airport and transfer to hotel.
Welcome to the mysterious land of China. Once you have collected your luggage and been cleared by customs, your professional guide will greet you in the Arrivals Hall of Beijing Airport. We will transfer you to the hotel for a three-night stay, where we suggest you relax during the remainder of the day to recover from jet lag, so that you can enjoy this 14-day China tour to the fullest.
Accommodation: The Great Wall Hotel Beijing





- the former Sheraton
Visit Tiananmen Square and Forbidden City including Treasure Gallery; enjoy an a la carte welcome lunch with authentic Peking Duck; continue to visit Yonghe Temple and Temple of Heaven; and watch the classic Peking Opera in the evening. (B+L)
After breakfast this morning, there will be a short briefing when you can get to know other members of your group. Your sightseeing tour in Beijing will start from the magnificent
Tiananmen Square
, the largest city square in the world and considered to be the political center of China. Within walking distance, you reach the
Forbidden City
, world-famous for its imperial history as the home and office for emperors during Ming and Qing dynasties (1368 – 1911 AD). You will step into a sacred compound, where everything must conform to dreadfully strict standards, from the selection of materials of its floor tiles to how a servant served her master. For example, it's said the maids couldn't sleep or walk casually at night, to make sure they were near at hand in case their bosses needed them; most terribly, they couldn't answer the call of nature freely!
★
Join us to visit the treasure house in Forbidden City
In the northeast of the Forbidden City lies the Treasure Gallery. As its name implies, it exhibits the most extravagant side of ancient palace life, represented by a 2m tall, 5,000 kilo jade sculpture, depicting a Chinese ancestor controlling the flood. With us, you get to step into this treasure house and appreciate this giant jade sculpture, along with other treasures including lifelike potted landscapes, all made of precious gemstones.
A Happy Memory at the Majestic Forbidden City
You will enjoy an
a la carte welcome lunch meal
(valued at CNY150.00 per person and included in our price) at a quality restaurant at midday, where the famous Peking Roast Duck – a cultural symbol of both Beijing and China - is also served. Remember to eat the duck with refreshing scallions and cucumber, if you don't want to fill your mouth with too much fat.
After lunch, we visit
Yonghe Temple
, or Harmony and Peace Palace Lamasery, the center for the Qing government to preside over state affairs concerning Tibetan Buddhism. Then we head to the ancient
Temple of Heaven
. As the place for Ming and Qing emperors to pray for bumper harvests, its majestic main buildings, with blue-tiled roofs symbolizing Heaven, will surely impress you.
This evening, you will be surprised with a special treat – we will take you to a prestigious local theater to appreciate
Peking Opera
. As a cultural bridge that connects China and the world, it's a special drama form that can go beyond the limit of language and be understood through appearance and movements of the artists. That is, to be a Peking Opera artist, you have to be not only a singer, but a dancer, an actor, perhaps even a martial artist, as there are often acrobatics in fight scenes. Facial makeup and costumes also contribute to your understanding of a certain character. Today, we will give you a chance to see how the artists put up heavy colorful makeup before their shows start. Afterwards, we will take you back to your hotel.
Meals: Western buffet breakfast, A la carte welcome lunch
Visit Mutianyu Great Wall by round-trip cable car and toast for Great Wall challenge with red wine; drive by Olympic Bird's Nest; then take a rickshaw ride through Hutong alleys and visit a local family in a traditional courtyard house. (B)
Today your guide and driver will transfer you to
Mutianyu Great Wall
, a section of the Great Wall of China and famous for its season-defying beauty. The round-trip cable car is included. As your host, we will provide the group with red wine for a celebratory toast to commemorate this memorable moment on the Great Wall.
Have Fun on Mutianyu Great Wall
In the afternoon, we pass by
Olympic National Stadium
(Bird's Nest). We will stay shortly before it for you to catch a glimpse of the unique features of this sports venue and take nice photos.
Then we head to
Hutongs
, where we will arrange for you a Hutong tour by rickshaw, to travel through ancient alleys lined with courtyard houses on both sides. Your tour will end with a visit to a local family in a courtyard house. You will be encouraged by the family members to ask whatever interests you, like the traditional family culture of living in a multi-generational household or the stories behind the Hutong they live in. It's getting late. Now it's time for us to get you back to the hotel.
Meals: Western buffet breakfast
Day 4
Beijing to Xi'an by Flight
Visit Panda Hall and Summer Palace; taste local flavors for lunch; fly to Xi'an and transfer to hotel. (B+L)
This morning, giant pandas are waiting for your visit at the
Panda Hall, Beijing Zoo
. We will go there when they are most playful for you to observe their life. See if you can catch one male panda do a handstand against a tree – instead of being an acrobat, it's actually … peeing, just to mark its territory.
Out from the zoo, we head for your last stop in Beijing -
Summer Palace
, an imperial garden constructed during Qing Dynasty featuring a blend of picturesque natural landscape and classical Chinese architecture.
Enjoy Your Time at the Scenic Summer Palace
After a local flavor lunch, you will board a flight to Xi'an, where your local guide will pick you up outside the baggage claim area at the airport and transfer you to the hotel for a three-night stay.
Meals: Western buffet breakfast, Lunch
Accommodation: Crowne Plaza Xi'an





Visit Terracotta Army and the discoverer's home of the first terracotta warrior; have a unique experience to make your own mini clay warrior; continue to visit Giant Wild Goose Pagoda, and then enjoy dumpling dinner and Tang Dynasty Music and Dance Show in the evening. (B+D)
Today's sightseeing will start with a visit to the
Terracotta Army
, which serves as the funeral object of Emperor Qin Shi Huang (259 – 210 BC), who united China amid wars and chaos and turned it into the first empire in China's history. The army fascinates visitors not only with their grandeur, but also with the mysteries unearthed along with it. The biggest one that still puzzles the world concerns the Emperor's underground palace. It's said a hundred ton of mercury – symbolizing river and ocean - was flowing inside, carrying his coffined body to uncertain locations, which is probably true, as a test of the surface soil has proved the existence of mercury.
Admire the Majestic Terracotta Army
★
Privilege of Our Guests:
►
Special Home Visit to Know the Discoverer of the First Terracotta Warrior!
The stunning underworld wonder might still be a hidden secret if it's not for Mr. Yang Zhifa, who accidentally dug out the first terracotta warrior in 1974. After visiting the museum, we will guide you to visit his home and learn first-hand information about the great unearthing. At Mr. Yang's home, you can witness the hoe he used to dig, the wooden cart that transported the warrior, and its replica, which was rewarded to him for his discovery by the museum. Grab the opportunity to take photos with this great discoverer!
►
Make a Mini Terracotta Warrior on Your Own
You will be more surprised about our next activity arranged by our travel experts. Following the guide, you will be led to a studio to make a mini Terracotta Warrior by yourself. Under the guidance of a craftsman, you will learn to make it step by step using mini molds and carve details to refine it. The making process is simple and interesting, and you will surely be proud of your final work. Of course, you can take your masterpiece back home.
Considering Xi'an's profound history, next we'd like to take you to the
Giant Wild Goose Pagoda
, to witness an ancient tower that was used to store Buddhist sutras brought from India 1,300 years ago – a testimony to the cultural inclusiveness and prosperity of Tang Dynasty (618
–
907 AD). This evening, you will be entertained by the fascinating and colorful
Tang Dynasty Music and Dance Show
while enjoying a delicious
Dumpling Dinner
. Then we will drive you back for a good rest.
Travel Tips: Guests visiting in Jan, Feb, Mar and Dec need to arrange the dinner and evening activity on their own for this day, since the theater is usually not open at those times.
Meals: Western buffet breakfast, Dumpling dinner
Connect with local people at City Wall Park and learn to practice Tai Chi from a master, then visit City Wall; taste local flavors for lunch at Muslim Quarter; in the afternoon visit Great Mosque and Shaanxi History Museum. (B+L)
This morning, before you visit the mighty City Wall, we will take you to explore the
City Wall Park
first, where you can not only experience the real life of local people, but also learn to do Tai Chi – a most-practiced school of Chinese Kung Fu exercise that involves gentle moves and meditation - in a laid-back atmosphere. Then we ascend the
City Wall
, which is quite a pride of Xi'an. The circumvallation, along with the surrounding green belt and the moat, which shines like a necklace, adds charm to this ancient city of thirteen dynasties. If you are interested, you may rent a bicycle to ride on the ancient wall.
Feel the Charms of Ancient Xi'an on the City Wall
You will eat your lunch at the popular and lively
Muslim Quarter
, a bazaar for both locals and visitors. For anyone with a sweet tooth, there are Ba Bao Zhou (cold and sweet rice porridge), Zeng Gao (glutinous rice with red dates), Suan Mei Tang (sweet-sour plum juice), etc. If you prefer spicy food, there are Hu La Tang (spicy soup with meatballs), Liang Pi (steamed cold noodles), Biang Biang Mian (belt-wide noodles), etc. The list goes on and on.
Then you will continue with visits to the
Great Mosque
and
Shaanxi History Museum
. The former is a tranquil mosque with classical Chinese architecture hidden in the bustling Muslim Quarter; the latter a UNESCO-recognized first class museum boasting a collection of 1.7 million historical relics. After we exit the museum, it will be time for us to take you back.
Our Guests Practicing Tai Chi with the Master
Meals: Western buffet breakfast, Local flavor lunch
Day 7
Xi'an to Chengdu by High Speed Train
Take a high-speed train to Chengdu & transfer to hotel. (B)
After breakfast, your guide sees you off at the North Railway Station for your morning high-speed train journey to Chengdu. We suggest you prepare some snacks, fruits, music or movies in advance to entertain yourself during this 3.5-hour journey. Upon your arrival, your local guide will meet you and help you check in at the hotel.
This afternoon remains free for you to relax. As your hotel is located near popular commercial and cultural districts, Taikoo Li and Chunxi Road, which are just 1 subway station away, you can stroll there and have a taste of the famous Sichuan food, which features spicy and hot. Your guide will also be very helpful in providing you with some suggestions.
Meals: Western buffet breakfast
Accommodation: Holiday Inn Chengdu Oriental Plaza




Visit Giant Panda Base, Wide and Narrow Alleys, and Jinsha Site Museum; taste local Gai Wan tea and see the Chinese matchmaking corner at Renmin Park. (B)
As we are right in the hometown of giant pandas, a visit to adorable giant pandas becomes a must. This morning, the guide will take you to
Chengdu Research Base of Giant Panda Breeding
to see more of those lovely creatures as they are eating and playing with each other. Then go on to visit the
Wide and Narrow Alleys
, where you will catch a glimpse of classical side of this city and taste traditional local cuisines with the guide's suggestions.
Adorable Giant Pandas
Folk Artist Making Sugar Figure
In the afternoon, your visit continues to
Jinsha Site Museum
, the site for religious rites of ancient Shu civilization, which begun to thrive in the late Neolithic Age and mysteriously vanished two thousand years later. After that, you will be transferred to a popular local venue, the
Renmin Park
, where you could experience the casual lifestyle of Chengdu people, like drinking tea, singing, exercising, playing Mahjong, and mingle with locals. We will also take you to see the interesting marriage market in the park, where parents seek spouses for their children. Out from the park, you will be driven back.
Meals: Western buffet breakfast
Day 9
Chengdu to Chongqing by High Speed Train
Take a high-speed train to Chongqing; visit Jiefangbei CBD and Ci Qi Kou ancient village; then board the Yangtze River cruise ship for a 3-night stay. (B+D)
Today your guide will transfer you to the railway station to catch a 2-hour high speed train trip to Chongqing. Upon your arrival, your guide in Chongqing will meet you at the station and escort you to visit
Jiefangbei CBD
and
Ci Qi Kou ancient village
. Then you will board the newly-launched 5-star Century Oasis ship for a three-day Yangtze River cruise tour.
★
We provide you with the most enjoyable Yangtze River cruise for:
●
An exquisite buffet dinner and a welcome wine party hosted by the Captain for today;
●
Newly built, top class amenities;
●
We book cabins with private balcony;
●
Three elaborately prepared meals a day, with abundant alcoholic drinks provided, while other ships serve soft drinks with limit only;
●
Night snacks.
Meals: Western buffet breakfast, Buffet dinner
Cruises: Century Oasis





Day 10
Yangtze River Cruise
Take an onshore excursion to Ghost City, then enjoy your leisure time on board or participate in some cultural activities; three buffet meals a day plus midnight snacks are served. (B+L+D)
The buffet breakfast is served between 07:00 and 08:00 at the dining hall, after which the river guide will give a brief introduction to the itinerary and the facilities on the ship. Then you will have a shore excursion to the Ghost City in Fengdu, a man-made underworld with historical buildings often mentioned in Chinese folklores and classics. Then re-embark and continue the cruise trip. Your lazy afternoon will be refreshed with various interesting programs arranged by the cruise company. You can fly kite on deck, attend a lecture about the Three Gorges which you are going to traverse, or learn interesting skills from ship workers. Have fun!

Meals: Full board served in buffet style
Day 11
Yangtze River Cruise
Admire Yangtze Three Gorges and take an onshore excursion to Shennv Stream. (B+L+D)
Today, continue to sail downstream along Yangtze River through the awe-inspiring
Three Gorges
, namely Qutang Gorge, Wu Gorge, and Xiling Gorge. In the afternoon, after some time through the Wu Gorge, you will have a side sampan tour on Shennv Stream, a poetic tributary of Yangtze River along which you get to learn about the isolated life of Tujia people, a local tribe, and see coffins hung from cliffs. The guide and the boatman will also sing some folk songs to make your day. Afterwards, re-embark the ship and continue the cruise into the western section of Xiling Gorge, the longest of the three gorges. As darkness gathers, you will enjoy some cultural performances.
Meals: Full board served in buffet style
Yangtze River Cruise
Boat-trackers in Shennong Stream Excursion
Day 12
Yichang to Shanghai by High Speed Train
Disembark from cruise ship and visit Three Gorges Dam; take a high-speed train to Shanghai and transfer to hotel. (B)
After breakfast, you will check out and disembark for an excursion around the
Three Gorges Dam
. As the world's largest hydro-electric project, it makes a great economic contribution by generating energy, controlling flood, and filtering sediment. Then you will be transferred to the Three Gorges Tourist Center in Yichang City, where your local guide will pick you up and take you to Yichang East Railway Station for a 6.5-hour high speed train journey to Shanghai, which is the last destination of your 14 days China tour. A local guide in Shanghai will meet you at the railway station upon your arrival and transfer you to the hotel.
Meals: Western buffet breakfast
Accommodation: Radisson Blu Hotel Shanghai New World





Visit Shanghai Museum and Yu Garden; enjoy an a la carte farewell lunch; have a panoramic view of the city skyline, and then explore the Bund with a Huangpu River cruise tour. (B+L)
Shanghai Museum
is our first stop for today's schedule. It is worthwhile for the numerous precious ancient works of art it exhibits, especially for its bronze and ceramic wares and calligraphic collections. Then go on a visit to the well-known
Yu Garden
, once a private garden during the Ming dynasty and now a fabulous attraction showing the design style of classical Chinese garden architecture. Walk out of the garden, and you will see a traditional bazaar. It is a prosperous area that both local people and travelers like to explore.
At noon, an
a la carte farewell lunch
(valued at CNY150.00 per person and included in our price) will be served at a restaurant famous for representing Shanghai cuisine.
Distinctive Skyscrapers Seen from the Bund
Our next stop is on China's tallest skyscraper, Shanghai Tower. We will take the world's fastest Elevator to the Duo Yun Book Store on the 52nd floor. This fancy book store features a transparent viewing platform, which is one of the best places to overlook the whole of Shanghai City. Here you can enjoy the stunning skylines of the metropolis while enjoying a cup of drink. Then we will go down to
the Bund
area and have a one-hour
cruise tour
on the Huangpu River. Free time will be provided at the Bund, so you can take great pictures or selfies. Upon returning to the hotel, your guide will see you into the lobby and wish you bon voyage on your journey home.
Meals: Western buffet breakfast, A la carte farewell lunch
Day 14
Departure from Shanghai
Please check out before 12:00, and head for the airport in our recommended ways; a pleasant journey home! (B)
Please pack your luggage after breakfast and check out before 12:00pm. We have to part ways now. You can book a taxi or take Metro Line 2 at the metro station before your hotel to either Pudong or Hongqiao International Airport. Have a smooth journey home!

Meals: Western buffet breakfast
B-- Breakfast
L-- Lunch
D-- Dinner
Prices are per person on twin sharing basis; departures are guaranteed even with two persons!
Christmas & 2024 Special:
12% off
- Book before Dec 31, 2023
| Arrival Date | Departure Date | Double Occupancy | Single Room Supplement | |
| --- | --- | --- | --- | --- |
| Oct 06(Fri) | Oct 19(Thu) | USD3259 | USD1269 | |
| Oct 13(Fri) | Oct 26(Thu) | USD3259 | USD1269 | |
| Oct 20(Fri) | Nov 02(Thu) | USD3259 | USD1269 | |
| Oct 27(Fri) | Nov 09(Thu) | USD3269 | USD1359 | |
| Nov 03(Fri) | Nov 16(Thu) | USD3119 | USD1219 | |
| Nov 10(Fri) | Nov 23(Thu) | USD3119 | USD1219 | |
Remark: The prices in red reflect the current discount.
Prices are per person on twin sharing basis; departures are guaranteed even with two persons!
Christmas & 2024 Special:
12% off
- Book before Dec 31, 2023
Arrival Date
Departure Date
Double Occupancy
Single Room Supplement
Apr 08(Mon)
Apr 21(Sun)

USD2899

USD2551

USD1069
Apr 19(Fri)
May 02(Thu)

USD2899

USD2551

USD1069
May 10(Fri)
May 23(Thu)

USD2899

USD2551

USD1069
May 24(Fri)
Jun 06(Thu)

USD2849

USD2507

USD1029
Jun 10(Mon)
Jun 23(Sun)

USD2849

USD2507

USD1029
Jun 21(Fri)
Jul 04(Thu)

USD2849

USD2507

USD1029
Jul 05(Fri)
Jul 18(Thu)

USD2949

USD2595

USD1109
Jul 19(Fri)
Aug 01(Thu)

USD2949

USD2595

USD1109
Aug 02(Fri)
Aug 15(Thu)

USD2949

USD2595

USD1109
Aug 16(Fri)
Aug 29(Thu)

USD2949

USD2595

USD1109
Sep 06(Fri)
Sep 19(Thu)

USD2949

USD2595

USD1109
Sep 16(Mon)
Sep 29(Sun)

USD2949

USD2595

USD1109
Oct 07(Mon)
Oct 20(Sun)

USD2949

USD2595

USD1109
Oct 18(Fri)
Oct 31(Thu)

USD2949

USD2595

USD1109
Nov 01(Fri)
Nov 14(Thu)

USD2749

USD2419

USD999
Nov 15(Fri)
Nov 28(Thu)

USD2749

USD2419

USD999
Price Includes
Domestic airfare & train fares
Hotel accommodation with breakfasts
A la carte lunches as itinerary specifies
Professional English-speaking guides
Drivers & air-conditioned vehicles
Entrance fees to tourist sites
Yangtze River cruise with full board
Tips or gratuities for hotel porters
Price Excludes
International airfares
Entry Visa fees
Personal expenses
Tips or gratuities for guides and drivers
Why Travel With Us
Itineraries you may also like: