Chengdu & Yangtze Cruise
404: 13 Days Private Tour of Beijing - Xi'an - Chengdu - Chongqing - Yangtze River Cruise - Yichang - Shanghai
Tour Type:
Private Tour, any part of the itinerary can be customized
Guide & Driver:
English-speaking guide, experienced driver with an air-conditioned vehicle
Highlights:
Must-see sights in China - Mutianyu Great Wall, Forbidden City, Terracotta Army.
Have a once in a life chance to get close to adorable Giant Pandas in their hometown.
Admire the Three Gorges scenery on Yangtze River cruise & feel totally relaxed.
Take in the impressive skyline of Shanghai as you walk along the Bund.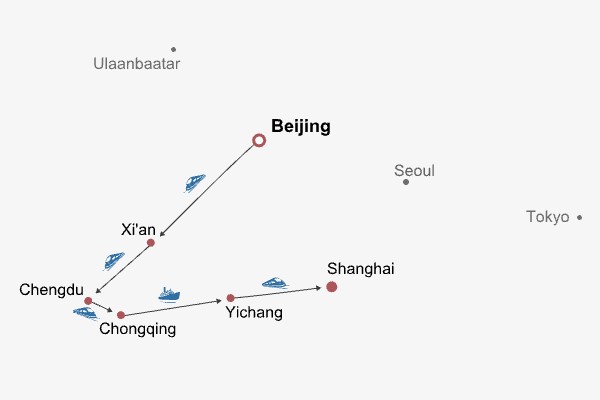 Welcome your arrival anytime at the airport and transfer to hotel.
As soon as your flight lands in Beijing today, your guide is already at the airport waiting for you, holding a welcome board with your name. Together with the driver, they will then transfer you to the hotel.

The rest of the day will be on your own arrangement. You can either have a rest at the hotel to recover from jet lag or take a stroll nearby. Should you need any information on how to plan your free time, you may just seek advice from the tour guide.
Visit Tian'anmen Square and Forbidden City; enjoy a la carte welcome lunch with Peking Roast Duck; further explore royal culture at Yonghe Temple and Temple of Heaven. (B+L)
Our Clients Visiting the Forbidden City
Your splendid China tour package begins this morning with a stroll on
Tiananmen Square
– one of the largest urban squares in the world. Afterward, follow the guide to walk northward to reach the
Forbidden City
, where emperors of the Ming (1368 - 1644) and Qing (1644 - 1911) dynasties lived and dealt with state affairs. Accompanied by your informative guide with rich experience, you will be amazed at the world's largest wooden palace structure and hear about some most interesting stories behind the magnificent complex. When visiting the palaces of concubines, you will learn much about the daily life of those ladies in the Qing Dynasty. They needed to get up at about 5:00 am, to get dressed in luxurious clothes, with gorgeous jewelry and headwear, served by eunuchs and maids. After that, they need to send their respects to the empress at 6:00, and those concubines who made mistakes would be punished. After the nervous meeting, they would enjoy a free day.
★
Taste Authentic Chines Dishes including Peking Roast Duck
After the visit to the giant palace museum, you will be offered a hearty a la carte lunch valued at CNY 150 per person at a decent local restaurant, where you can also order the famous Peking Roast Duck. This is a famous court dish from hundreds of years ago. Rolling it up in a thin pancake and eat with scallions, cucumbers, sweet sauce and other seasonings, you will enjoy its mellow and light sweet taste at once.
In the afternoon, your guide will lead you to visit the
Yonghe Temple
, which used to be a palace but later becomes the largest Tibetan Buddhist monastery in the capital city. The magnificent lamasery features beautiful pavilions, spectacular halls, and an 18-meter-high (59 ft.) sandalwood carved Buddha. Then we will head to the
Temple of Heaven
, where ancient emperors worshiped the God of Heaven and prayed for good harvests. You can enjoy the super symmetrical and beautiful Chinese architecture and learn about the past royal worship ceremony.
Meals: Western buffet breakfast, A la carte welcome lunch
Visit Mutianyu Great Wall by round-way cable car; drive by Bird's Nest; then take a rickshaw ride through Hutong alleys and visit a local family in a traditional courtyard house. (B)
Today is a big day for you. You will be accompanied by your professional guide to one of the greatest world heritage sites - the
Great Wall at Mutianyu
section. Like a dragon twining on the mountain, this part of the Great Wall looks grand and spectacular, with multicolored mountain scenery in different seasons. We have included a round-trip cable car ride for you to save your energy and time, and you will hike for about 2 hours or more on the Wall according to your interest. A toboggan down is also an alternative for a more exciting riding experience.
We leave lunch on your own as there is no quality restaurant nearby. However, western-style fast food or a simple Chinese meal can be easily found at the foot of the wall.
Later, on the way back to downtown, we will drive by the Bird's Nest (National Stadium) which played host to Beijing 2008 Olympic Games. You can admire it outside and take some fantastic photos. Then you will experience a unique rickshaw ride to explore Beijing's old
Hutong
, a special saying of traditional lanes and crossing alleys. The human-powered rickshaw was once the earliest taxi in China but now it only serves in the scenic area as the best way taking in Beijing traditional culture. Hop on it, and the guide will accompany you through the streets and lanes, introducing the history of Hutong, and the layout of Siheyuan, a kind of Chinese traditional quadrangle courtyard. We will finally stop at the gate of a Siheyuan to visit a local family, talk with the host, and dive deep into the life of the local people.
Meals: Western buffet breakfast
Day 4
Beijing to Xi'an by High Speed Train
Visit Summer Palace; take a high speed train to Xi'an and transfer to hotel. (B)
Terracotta Army Museum, Xi'an
On your last day in Beijing, your guide will accompany you to visit the
Summer Palace
in the morning, another UNESCO World Heritage Site. It is one of the best royal gardens in China and is also a great place to enjoy serene lake views, classic pavilions, and delicate palace buildings. Then, have lunch on your own and the guide will be glad to assist.
In the afternoon, your guide will see you off and help you board a high-speed train to Xi'an. The high-speed trains are clean and comfortable, and the Beijing - Xi'an journey only takes about 4.5 hours. When you arrive, your Xi'an guide and driver will transfer you to the hotel and help you check in.
Meals: Western buffet breakfast
Visit Terracotta Army, Shaanxi Provincial History Museum, and Small Wild Goose Pagoda. (B)
Bicycle Riding on Xi'an City Wall
Today, you will spend the whole morning visiting the world-famous
Terracotta Army Museum
, boasting the giant underworld army composed of terracotta warriors and horses built to protect China's first emperor, Emperor Qin Shi Huang (259 - 210BC). There are three pits and you can have a close observation of the warrior figures. Pit 1 is the largest one, accommodating about 6,000 life-size clay soldiers, Pit 2 includes chariots, cavalry, and crossbowmen while Pit 3 is mainly the command officers. Try to find out if they are all different from each other. In addition, a circular-screen movie near the Pit 1 telling the history and discovery of the Terracotta Warriors is also unmissable. We have especially arranged it for you.
In the afternoon, we will drive back to downtown Xi'an to visit the
Shaanxi Provincial History Museum
, one of the four best and largest museums in China, collecting over 300,000 ancient exhibits spanning millions of years. After that, continue the visit to the
Small Wild Goose Pagoda
, a famous local Buddhist site dating back to the Tang Dynasty (618 - 907). It's also an architectural marvel that survived for over 1,300 years, and experienced more than 500 earthquakes in history. The mud for its bricks came from the sedimentary layer more than 50 meters (164 feet) deep underground, and the vast foundation is hemispherical, making the pagoda a tumbler that never falls down.
Meals: Western buffet breakfast
Day 6
Xi'an to Chengdu by High Speed Train
Visit City Wall and connect with local people at City Wall Park; explore Great Mosque and Muslim Quarter; then take a high speed train to Chengdu and transfer to hotel. (B)
This morning, we will first stroll around the City Wall Park to see how local people do morning exercise joyfully as the sun rises. Then follow your guide to climb up the landmark of Xi'an, the ancient
City Wall
, with nearly 600 years of history. The wall is 12 meters (39 ft.) high and 15 meters (49 ft.) wide at the top. It is possible and very popular to ride bicycles on the wall and see different city views. If you want to experience it, the guide will help you rent a bike there. You could also take a sightseeing car at your own expense to travel around the wall or take a short walk there.
Having witnessed the past glory of the ancient capital city on the spectacular City Wall, we will next visit the
Great Mosque
in the city center's Muslim Quarter. Besides admiring the architecture of the Chinese-Islamic style, you can spend some time exploring the famous Muslim bazaar nearby. The bustling street is full of tasty snacks, local specialties and some interesting shops, a good place to have a simple lunch on your own.
In the afternoon, you will take a high-speed train to Chengdu, which takes around 4 hours. Our Chengdu guide and driver will wait for you at the exit of the railway station and help you settle down in a decent hotel.
Meals: Western buffet breakfast
Visit Giant Panda Base, Wide and Narrow Alleys, and Jinsha Site Museum; taste local Gai Wan tea and see the Chinese matchmaking corner at Renmin Park. (B)
Lovely Pandas
Today comes the highlight of your China panda tour! Chengdu is home to giant pandas, following your guide, you will enter a panda world.
Chengdu Research Base of Giant Panda Breeding
is the largest panda base in China, home to more than 100 cute pandas, including grownups, youths and babies. To provide a better living environment for pandas, the Panda Base is located a bit far from the noisy urban area, but it keeps very quiet and planted with various kinds of bamboo. We will arrive early in the morning, when the pandas are most active. You can watch them having their bamboo breakfast, playing with each other, climbing trees, or sleeping comfortably in their villas. There is also a panda hospital, delivery rooms, a museum, and a 4D cinema for you to know more about these cute creatures.
Afterward, the guide will take you to the prosperous Wide and Narrow Alley, which is composed of three historical paralleled alleys, lined with various tea houses, great restaurants, bars, and some quirky shops for souvenirs, and very delicious street snacks. It is definitely a great place to taste local food and feel local tea culture and appreciate local art crafts. The schedule today will continue with a visit to the
Jinsha Site Museum
, which was built to exhibit the relics unearthed in the Shang and Zhou Dynasties (17th century BC - 221 BC). It mainly displays a lot of ancient ivories, gold and jade products, and some old giant roots. The last stop today is
People's Park
, the most popular city park where Chengdu people drink tea leisurely. Taking a leisurely stroll at the park, you can not only experience local tea culture deeply, but also witness Chinese typical "dating culture" at the dating corner.
Meals: Western buffet breakfast
Day 8
Chengdu - Chongqing
Take a high speed train to Chongqing; visit Jiefangbei CBD and Ciqikou Ancient Town; then board Yangtze River cruise ship. (B+D)
This morning, you will say good bye to Chengdu and continue to explore Chongqing. After a 1-1.5 hours' bullet train journey, your local guide will meet you at Chongqing railway station.

Then you will be escorted to visit the very city center, Jiefangbei CBD, also the most bustling walking street in Chongqing. Besides enjoying the landmark of the city, Jiefangbei, aka the People's Liberation Monument, you can also wander around the most prosperous shopping street. Our next stop is Ciqikou Ancient Town, offering you a chance to snatch a glimpse of old Chongqing. Stepping on the flagstone street, you will feel the local vibe as soon as you walk through the entrance. The street is lined with local specialty shops, food stalls, craft shops, and porcelain stores. You can also get cultured at a folk custom museum and various teahouses, and taste the most authentic street food at spicy food stalls.

In the late afternoon, you will be transferred to board the Yangtze River Cruise to enjoy the most relaxing journey in your 13 days China tour. If you are boarding the Luxury Cruise, a buffet dinner is included and you can also enjoy Captain's Welcome Reception tonight. For passengers who will board the Standard Cruise, it is suggested to dine downtown before getting onboard as the ship doesn't offer dinner this evening.

Meals: Western buffet breakfast; Buffet dinner on Luxury Cruise
Day 9
Yangtze River Cruise
Take an onshore excursion; enjoy your leisure time on board or participate in some cultural activities. (B+L+D)
The cruise guide will introduce the cruise itinerary this morning or the night before. Every day, you will have a detailed time schedule for each day's activity arrangements. Following the schedule, you will have your meals at the appointed restaurant, join the cultural activities that the cruise company holds, or take the onshore excursions for sightseeing tours.

In the morning, guests on Luxury Cruise will disembark to visit the Ghost City of Fengdu. Here, you will not only see many old-style buildings and statues of legendary figures but also learn about the unique Chinese ghost culture. Then the afternoon will be on your own. You can take a seat on the deck to appreciate the gorgeous hills, take photos, or just enjoy the sunshine. For people who take Standard Cruise, you will have a shore excursion to Fengdu Mount Shuanggui Scenic Region this afternoon, which features ancient pavilions and temples. Tonight, the captain will hold a welcome party and the staff will give fantastic performances.

Meals: Western buffet breakfast; Lunch; Dinner
Day 10
Yangtze River Cruise
Admire Yangtze Three Gorges and take an onshore excursion. (B+L+D)
Today will be the highlight of the cruise as the ship will sail by the well-known Yangtze River Three Gorges - Qutang Gorge, Wu Gorge, and Xiling Gorge. The lofty peaks, clear water, dense woods, and residences along the river form a picturesque scene in front of you. When sailing by the Qutang Gorge, you will also witness the spectacular scenery on the RMB 10 note.

When sailing to the border of the Wu Gorge and Xiling Gorge, you will change to a motorized ferry to have a 3-4 hours' cruise into the Shennv Stream. In this way, you can have a close visit to the beautiful karst landscape. If visibility is good, you could see hanging coffins and inscriptions on cliffs by ancient people. Later, when getting onboard the original cruise ship, we will sail into the Xiling Gorge, the most dangerous and splendid one among the three gorges.

Meals: Western buffet breakfast; Lunch; Dinner
Day 11
Yichang to Shanghai by Bullet Train
Disembark from cruise ship and visit Three Gorges Dam; take a bullet train to Shanghai and transfer to hotel. (B)
In the early morning, you will check out from the cruise and disembark to visit the
Three Gorges Dam
, one of the world's largest hydropower projects. You can stand high to overview the massive piece of infrastructure. Afterward, you will be sent to the Three Gorges Tourist Center in Yichang city. Your local guide and driver will meet you there and escort you directly to the railway station for a bullet train to Shanghai. The train trip takes around 6.5 hours. Upon arrival, you will see your Shanghai guide there waiting for you. He/she will accompany you to the hotel and help you check in.
Meals: Western buffet breakfast.
Visit Shanghai Museum and Yu Garden; enjoy a la carte farewell lunch; cruise on Huangpu River and have a leisurely stroll on the Bund; then explore old cultural block of Tianzifang. (B+L)
Our Guests in the Bund Area, Shanghai
Today's private trip will start with a visit to
Shanghai Museum
, exhibiting highlight collections including bronze wares, ceramics, and Chinese calligraphies and paintings. Its unique museum structure is inspired by the most precious treasure of the museum, Da Ke Ding, a large ancient Chinese bronze circular vessel. Later, we will head to visit the
Yu Garden
, a typical Chinese private garden boasting ponds, rockworks, delicate layout, and traditional architecture.
At noon, you can enjoy an a la carte farewell lunch (valued at CNY150.00 per person included in our price), and taste authentic Shanghai and Cantonese cuisines.
Next, we will take a leisurely stroll on the beautiful
Bund
with dozens of beautiful buildings in Western styles to have a glimpse of the past colonial era of Shanghai. Later, you will take a cruise on the
cruise on the Huangpu River
for about an hour to enjoy glamorous city views. Today's last stop is Tianzifang, a cultural block combining artistic studios, exotic restaurants and bars, where you can soak up the local culture and see both traditional and modern aspects of the city.
Meals: Western buffet breakfast; A la carte lunch
Day 13
Departure from Shanghai
Transfer to airport and see you off; a pleasant trip home! (B)
Your private China tour ends today as your guide and driver will transfer you to the airport and help you check in for the homebound flight. Farewell to you and welcome to China again!

Meals: Western buffet breakfast
B-- Breakfast
L-- Lunch
D-- Dinner
This trip can be customized to meet your individual needs!
Destinations
Luxury Hotels
Standard Hotels
Beijing
Crowne Plaza Beijing Chaoyang U-Town
Beijing New World Centre Tongpai Hotel
Xian
Crowne Plaza Xi'an
Holiday Inn Xian Big Goose Pagoda
Chengdu
Grand Hyatt Chengdu
Holiday Inn Chengdu Oriental Plaza
Yangtze River
New Century Cruises

with balcony

President No.7/No.8

with balcony

Shanghai
Radisson Blu Hotel Shanghai New World
Sunrise On The Bund
Tour Prices
Christmas & 2024 Special:
12% off
- Book before Dec 31, 2023
Tour Prices with Luxury Hotels
2-3 travelers
4-5 travelers

USD3369

USD2964

USD3109

USD2735
Tour Prices with Standard Hotels
2-3 travelers
4-5 travelers

USD2939

USD2586

USD2579

USD2269
Prices are per person on twin sharing basis.
The prices in red reflect 12% discount.
Any part of the itinerary e.g. tour length, activities & hotels can be tailored to your individual interests.
Price Includes
Train fares
Hotel accommodation with breakfasts
A la carte lunches as itinerary specifies
Private English-speaking guide(s)
Private driver(s) & air-conditioned vehicle(s)
Entrance fees to tourist sites
Yangtze River cruise with full board
Price Excludes
International airfares
Entry Visa fees
Personal expenses
Tips or gratuities for guides and drivers
Why Travel With Us
Itineraries you may also like: