Wuzhong Travel Guide
Wuzhong Facts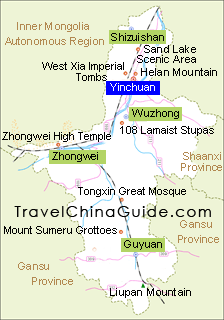 Chinese Name: 吴忠 (wú zhōng)
Population: 1,415,400
Area: 21,400 square kilometers (2,050 square miles)
Location: in the central area of Ningxia Province, northwest China
Administrative Division: 2 districts (Litong, Hongsibao); 2 counties (Yanchi, Tongxin); 1 county-level city (Qingtongxia)
Area Code: 0953
Zip Code: 751100
GDP (2019): CNY 58.02 billion (USD 8.41 billion)
Nationalities: Han, Hui, Manchu, Mongolian
City Featuring Hui Architectural Culture
Wuzhong is situated in the center of Ningxia Hui Autonomous Region, neighboring Yinchuan to the north. It is bordered by Shaanxi to the east and also shares boundaries with Inner Mongolia and Gansu. Wuzhong is an important node city of the new Silk Road Economic Belt and a regional trade city along the new Eurasian Continental Bridge. It also produces high quality wolfberry, grapes, and rice and serves as one of the five milk sources of Yili Group. This city is full of Hui customs, where a great number of beautiful mosques can be seen. The most famous and spectacular one is Tongxin Great Mosque. Also, there are grand 108 Lamaist Stupas, ancient Great Wall and channels.
Wuzhong Attractions - Things to Do
108 Lamaist Stupas
On the cliff in the west bank of Qingtong Gorge, there are a group of magnificent pagodas ranging orderly along the contour of the mountain. The cluster is in the shape of triangle and composed of 108 pagodas in 12 rows by odd number 1, 3, 3, 5, 5, 7, 9, 11, 13, 15, 17, and 19 from above to below. They are solid lama brick pagodas. The tallest one measuring 11.5 feet tall stands on the top and the rest are smaller, all measuring 8.2 feet tall. According to the textual research, the construction began from West Xia Dynasty (1038-1227) and was built as the commemorative pagoda of Buddhism.
Why the number is 108? It is because Buddhism holds that ordinary mortal has 108 annoyances, and Buddhism believers who come to worship the pagodas can drive the 108 troubles away and get good fortune.

Tongxin Great Mosque
Located in the western suburb of Tongxin County, it is the largest and oldest extant Islamic mosque in Ningxia Hui Autonomous Region. Originally built in the early Ming Dynasty (1368 – 1644) and repaired three separate times in the Qing Dynasty (1644 – 1911), the Great Mosque is an imposing structure mingling traditional Chinese wooden architectural style with Arabian wood and brick carving art.
Covering an area of 3,432 square yards, the mosque stands on a platform about 23 feet high. In front of the main gate measuring ten yards wide and twenty feet high is featured an exquisite tile carving "Yue Cang Songbai" (Pine and Cypress Hidden in the Moon).
The mosque complex is divided into inner and outer courtyards. During key Islamic festivals, Muslims will gather here for religious activities. The main building is the prayer hall which faces east and can hold about 800 worshippers. Inside, there are more than twenty columns supporting the roof. The walls are decorated with calligraphic works extracted from the Koran. The hall's exterior is marked by elegant convex eaves and tiers of elaborate brackets and crossbeams giving the structure a solemn and ethereal character.
Tongxin Great Mosque symbolizes peace and harmony. Its unique design blends Arabian and Chinese culture and exemplifies mutual friendship.
Admission Fees:

CNY 30 (108 Lamaist Stupas)
CNY 10 (Tongxin Great Mosque)
How to Get to Wuzhong
1. Wuzhong is only 60 kilometers (37 miles) from Yinchuan, within an hour's drive by highway. From Yinchuan's bus station near the South Gate Square, buses to Wuzhong depart every twenty minutes. Yinchuan tourist bus station in Donghuan Bei Lu also offers bus routes to Wuzhong. Wuzhong Bus Station is located in Litong Bei Jie. From 08:00 to 18:30, buses to Yinchuan depart every 15 minutes.

2. Directions to the 108 Lamaist Stupas: Take public buses from the Qingtong city proper to the Qingtongxia Reservoir and then change to ferries. The entire journey will take about one and a half hours. In addition, Wuzhong has public buses running directly to the Tongxin Great Mosque or visitors can take private motorbikes to the destination.
Weather
-
Wuzhong is situated inland, bearing a temperate semi-dry continental climate. It has four distinct seasons, but summer is not hot. Being one of the most abundantly sunny cities in China, Wuzhong has rich agricultural land favorable for farming. Generally, the temperature of Wuzhong weather varies greatly during the day and night. May to October is the golden season in Wuzhong, with comfortable weather and picturesque scenery.
Wuzhong Travel Tips

History: Human relics left thirty thousand years ago have been discovered in this area and in ancient times, pastoral-nomad tribes inhabited the region. During the Qin Dynasty (221BC-206BC) the court began water projects to help field irrigation and by the Tang Dynasty (618-907), it had become a flourishing land.

Physical Features: The Loess Plateau, Ordos Massif, alluvial plain of the Yellow River and mountainous area are all geographic features of the city. The terrain of Wuzhong generally declines south- north. Its northern area belongs to the Yinchuan Plain, while the south has a distribution of hills and mountains.

Special Local Products: Yellow River carp, pearl rice, apple, melon seed, Tan Sheep skin
- Last updated on Jun. 28, 2022 -
Questions & Answers on Wuzhong Travel
Asked by Melvin from CANADA | Apr. 15, 2017 07:36

Reply
how long would it take to go from Wuzhong to Mt. Sumeru? Can this be a day trip go and back?
Answers (1)
Answered by Green from IRELAND | Apr. 24, 2017 03:40

0

0

Reply
You may need to take a shuttle bus at WZ Bus Terminal to Guyuan City, which cost CNY80/person. The bus departs at 09:00, 10:00, 11:00, 12:00, 14:20 and 16:30 with the duration of around 3 hours. Upon arrival, you can take a minibus to Sanyingzhen, and then transfer another bus to Mt. Sumeru. The entire trip will take around 2 hours.
I'm afraid it cannot be a day trip to go and return back. The time is not enough.
Asked by Wite from MALAYSIA | Apr. 05, 2016 02:27

Reply
staying in yinchuan and will go to 108 lamaist and tongxin mosque
Is it possible to have a one day tour to 108 lamaist stupas and tongxin great mosque if we stay in yinchuan? Thanking in advance.
Answers (3)
Answered by John from USA | Apr. 05, 2016 03:24

1

0

Reply
Yes! You may take a train to Qingtongxia from Yinchuan Railway Station (about 1 hour). Upon arrival, take a taxi to 108 lamaist stupas for around CNY 20. After touring around, take a taxi back to Qingtongxia Railway Station. Then, take a train to Tongxin (about 3.5 hours), and take a taxi to Tongxin Great Mosque for about CNY15. Afterwards, take a train back to Yinchuan (about 4.5 hours). :)
Answered by Wite from MALAYSIA | Apr. 05, 2016 08:22

0

0

Reply
Thank you John. We might prefer to rent a car to reduce the time of travelling since we will be with young children. Do you think it is easy to find a car rental in Yinchuan?
Answered by John | Apr. 06, 2016 01:59

0

0

Reply
Yes, you can find a car for this trip through your hotel. Don't worry.
Asked by stu freeman from USA | Oct. 06, 2015 21:54

Reply
Are there hotels/travel agencies in Zhongwei that can arrange travel to the stupas and the mosque?
Answers (1)
Answered by Tangka from SINGAPORE | Oct. 08, 2015 03:52

1

0

Reply
Yes, there are several nice hotels in this area.
What's the budget of the accommodation? You can stay at Landison International Hotel. The price is CNY 300 to 400 per night. The hotel has good living environment and warm service. You can ask the staff whether they provide such tour or not. The address is East of Culture Square, South Wenchang Street. Hope you like.
Asked by alex from BANGLADESH | Sep. 27, 2014 21:48

Reply
how can i go to 108 stupas from yinchuan ?i want the bus route?
Answers (1)
Answered by Mary from FINLAND | Sep. 28, 2014 21:11

1

0

Reply
You'd first take a coach from South Bus Station to Qingtong Gorge Town, from there to 108 stupas, it's about 3 miles, so I suggest you just take a taxi.