Zhongwei Travel Guide
Zhongwei Facts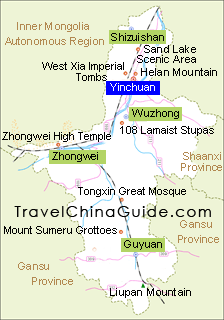 Chinese Name: 中卫市 (zhōng wèi shì)

Location: Zhongwei City lies in west-central Ningxia Province, bordered by Gansu Province to the west and Inner Mongolia to the north. Wuzhong City and Guyuan City are respectively situated east and south of it.
Population: 1,148,500
Area: 16,986 square kilometers (6,558 square miles)
Nationalities:
Hui
,
Han
Administrative Division: 1 district (Shapotou); 2 counties (Zhongning, Haining)
Useful Telephone Numbers:
| | |
| --- | --- |
| Tourist Complaints: | 0953-7012620 |
| Weather Forecast: | 121 |
| Zip Code Inquiry: | 184 |
Zhongwei Attractions - Things to Do
Located 20 kilometers (12 miles) west of downtown Zhongwei, Shapotou is a 2,000-meter (2,187) long and 100-meter (328 feet) high sand mound on the northern bank of the Yellow River, at the southern edge of the Tengger Desert. It is also an echoing sand mountain, singing as people slide down the slope.
High Temple (Gao Miao)
Located in northern Zhongwei County, High Temple represents a unique amalgamation of Confucianism, Taoism and Buddhism. Construction was completed during the Ming Dynasty (1368–1644) and was subsequently repaired in the Qing Dynasty (1644–1911). The present structure is composed of the Baoan and High Temples. Baoan is a Buddhist Temple. It has a mountain gate facing south and rooms on each side similar to a phoenix spreading its wings. The Hall of Mahavira stands in the front.
The High Temple can be reached by ascending 24 stairs. Visitors will see archways, Southern Heavenly Gate, Wuyue Hall, Yuhuang (Jade Emperor) Hall, and Shengmu (Heavenly Mother) Hall in succession. On the two sides of the temple lie the symmetrically shaped Bell Tower, Drum Tower, Lingguan Hall, Wen (Literary) Tower and Wu (Military) Tower. These compact structures all feature Taoist architecture. There is an elaborate sound and light show under the temple's platform conveying what hell must be like. This startlingly vivid presentation is frightening, but is also intended to be educational.
| | |
| --- | --- |
| Entrance Fee: | CNY 30 |
| Opening Hours: | 08:00-18:00 |
How to Get to Zhongwei
1. From the Yinchuan New South Bus Station, people can take buses to Zhongwei. The express bus departs every 50 minutes from 08:30 to 17:00. The ordinary bus leaves every 25 minutes from 07:50 to 18:15.
2. Zhongwei Bus Station is located in Chengdong Dajie, Shapotou District. Otherwise, the High Temple is near the railway station, from which the temple can be reached by foot.
Weather
-
Zhongwei is located deep in inland China, close to the desert and far away from the sea; hence, it enjoys a semi-arid continental monsoon climate accompanied by desert climate. Zhongwei weather features a late spring, a short summer and a long winter. It is windy and there is a lack of rain in this area. June to August is the period during which the majority of a year's rainfall is gathered. May to October are best time for sightseeing,
Zhongwei Travel Tips

History: Thirty thousand years ago, human settlers lived there. Before the Qin Dynasty (221BC-206BC) established a shire to administrate this area, it was inhabited by ancient ethnic minorities, including Qiang and Rong. By the Ming Dynasty (1368-1644), the name of Zhongwei was in use.

Physical Features: The terrain of Zhongwei declines from the west to the east, and from the south to the north. Mountains and loess hills constitute most of the city's territory. Generally, desert, alluvial plain, terraces, mountains and basin are the main types of the city's landform. The Yellow River flows through the northwestern part of the city.

Special Local Products: watermelon, pear, apple, medlar, yellow wine, golden thread jujube
- Last modified on Apr. 04, 2018 -