Huizhou Travel Guide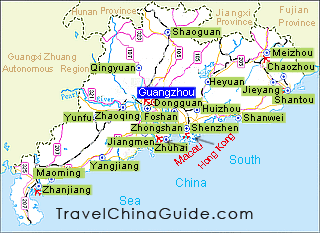 Huizhou Facts
Chinese Name: 惠州 (huì zhōu)
Population: 3,210,000
Area: 11,200 square kilometers (4,324 square miles)
Location: Situated in the southeast of
Guangdong Province
, Huizhou is off the Dayawan Bay of the South China Sea and is neighbor to
Shenzhen
and
Hong Kong
.
Administrative Division: 2 districts (Huicheng, Huiyang); 3 counties (Boluo, Huidong, Longmen)
Useful Telephone Numbers:
Tourist Complaints: 0752-2238354
Tourist Consultant: 0752-2227167
Huihou People's Hospital: 0752-2255120
Taxi Complaints: 0752-2829690
Huizhou Attractions - Things to Do

Luofu Mountain
: Off the Dongjiang River, Luofu Mountain is one of the ten most famous mountains in China. It is also renowned for the
Taoism
culture.

Nankun Mountain: Located in southwest of Longmen County, it is famed as 'Green Land on the Tropic of Cancer'. Family inns and summer escape are the distinctive features of this mountain.

West Lake: This West Lake was once as famous as the
Hangzhou West Lake
in the history. The reputed Song Dynasty literate Sushi has been there and left many stories.

Xunliao Bay: Situate in the Dayawan Bay, it is an unpolluted, quiet paradise for those sea-lovers. The pure water, shinning white sand make it a 'Green Emerald' and 'White Golden Beach'.

Pinghai Ancient City: It is a Ming Dynasty (1368-1644) city in Huidong County. Boasting a long history of more than 600 years, it is honored as the 'live fossil' of southern China culture.
Other Spots: Longmen Hot Spring, Tangquan Hot Spring, Yongji Ecological Garden, Gangkou National Turtle Protection Area, Lantian Yao Ethnic Minority Group Flavor Garden, Dongsheng Fishing Village
How to get to/around Huizhou
The city is easily accessible. Huizhou Airport (HUZ) is about 25 kilometers (16 miles) east of the city. It has direct flights to Beijing, Xi'an, Hangzhou, Wuxi and other important cities in China. Shuttle buses ply from the inner city to the airport. The city is also only one to two hours drive to the two largest airports Guangzhou Baiyun Airport (CAN) and Shenzhen Bao'an Airport (SZX). Also, tourists can take a train to Huizhou Railway Station and Huizhou South Railway Station and Huidong Railway Station. Two railway lines cross Huizhou, extending to Guangzhou, Shenzhen, Shantou, Fuzhou, Xiamen, Nanchang, Changsha, Yueyang and many other cities. Almost all the counties and towns are linked by highways. In addition, after September of 2018, high speed railway between Hong Kong and Huizhou will be opened and passengers can take bullet trains to travel between the two cities.

See more Beijing to Huizhou Train, Hong Kong - Huizhou High Speed Train, Shenzhen - Huizhou Train
More than ten scheduled buses run to Hong Kong every day. Visitors can wait for them in nearly all the local hotels. Huizhou Harbor has direct sea routes to lots of harbors in the world with goods transportation. It takes only 40 minutes from there to Hong Kong. Air-conditioned city buses are cheap and comfortable for around-city tour.
Weather
-
Huizhou belongs to the subtropical monsoon climate zone, with the Tropic of Cancer crosses the city. The climate is mild and humid. The annual average temperature is about 22

C (72

F). Rains are frequent from April to August.

When to Go: Due to the pleasant climate all year round, it is marvelous to visit Huizhou at any time of a year. However, it's better to avoid the rainy period that is from July to August. From September to October, it is sunny and good time for visit.
Huizhou Travel Tips

History: Early in the Neolithic Age, human beings started to live in this area. In 591 of the Sui Dynasty (581-618), the government set up Xunzhou, which then became one of the political, economic and cultural centers of Guangdong. The present name of Huizhou came into being in the Song Dynasty (960-1279). In 1949 when the new Republic of China was established, the government set Huiyang County as the capital of Dongjiang Area. In 1994, Huiyang County was changed into a prefecture-level city.



Physical Features: In the north and east part of Huizhou lie ranges of mountains and hills while in the middle covers large areas of plains. The southern part of the city is decorated with long meandering coastline which brings charming sceneries.



Local Highlights: Being the historical and cultural city of Guangdong as well as one of the 'China Top Tourist Cities', the local scenic spots are varied in mountains, rivers, seas and forests. The local tradition is quite interesting such as Dragon Dance in the Chinese New Year and Moon Admiring on Mid Autumn Festival, which is the second most important local festival. Yao ethnic minority group in Longmen County has special customs, adding more charm to Huizhou. In addition, the city has become the largest battery and laser head production base in the world, the largest telephone and computer mainboard production base in Asia and the largest television, camera and other advanced electronical productions base in China. 17 of the world's top 500 enterprises have branches there.



Special Local Products: orange, mango, longan, mustard and cool tea
- Last modified on Oct. 17, 2019 -