Yueyang Travel Guide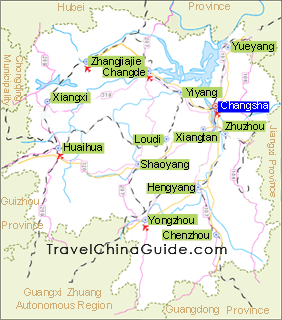 Yueyang Facts
Chinese Name: 岳阳 (yuè yáng)
Population: 5,771,300
Area: 15,019.2 square kilometers (5,798.9 square miles)
Location: in the northeast of Hunan Province, south-central China
Administrative Division: 3 districts: (Yueyang Lou, Junshan, Yunxi); 4 counties (Yueyang, Huarong, Xiangyin, Pingjiang); 2 county-level cities (Miluo, Linxiang)
Area Code: 0730
Zip Code: 414000
GDP (2019): CNY 378.041 billion (USD 54.796 billion)
Famous Port City with Picturesque Dongting Lake
Located in the northeast of Hunan Province, Yueyang neighbors Jiangxi Province to the east and Hubei Province to the north. With 163 kilometers (101 miles) of the Yangtze River coastline, Yueyang is the only international trade port city in Hunan, developing into the Hunan's second largest economy, only after Changsha. Over the course of 2,500-year history, many historical sites have been left such as the Yueyang Pavilion, one of the three Chinese famed pavilions. Yueyang also embraces the natural beauty of lakes and mountains with the Yangtze River and Dongting Lake. Dongting Lake is one of the five largest fresh water lakes in China with an area of 1,878,000 square kilometers (725,100 square miles) and abundant natural resources. Many visitors are attracted by the changeable and beautiful scenery of Dongting Lake from the perspective of Yueyang Tower described in famous Notes of the Yueyang Tower.
Yueyang's real charm rests with human cultural relics as well as the natural landscape. The well-known Yueyang Pavilion is one of the three famous pavilions in South China. China's second largest freshwater lake Dongting Lake is a good tourist destination. On the lake is located an island called Junshan Island and is also a good tourist resort. From a cultural aspect, the Miluo River is worthy of a visit because it is the place where the story about 'Qu Yuan (339BC-278 BC) Drowning in the Miluo River' happened.
In Yueyang, visitors need no worries in regard to transportation. Visitors can reach Changsha Huanghua International Airport which is only 130 kilometers (80.78 miles) from Yueyang and takes about one hour's ride on the high-speed motorway to the city. The high-speed motorway system for road transportation has been long established in Yueyang and radiates in all directions. Transportation by water is also convenient because the city is the only port in Hunan Province which is beside the Yangtze River.
Yueyang Sanhe Airport in Sanhe Town operates flights to/from Beijing, Shanghai, Xi'an, CHongqing, Chengdu... Yueyang Railway Station is located at no. 9, Zhanqian Road, and East Railway Station is in the east end of East Baling Road. The latter operates high speed trains. Three bus stations operate long-distance buses to the surrounding areas, including Yueyang Bus Station, Dongting Bus Station and Lianyun Bus Station.
History: In ancient times, Yueyang was called 'Baling or Yuezhou' and is a historic and cultural city with a long history of more than 2,500 years.
Highlights: Yueyang is a burgeoning industrial city: The Petroleum and Chemical Industry is flourishing, which makes the city the biggest petroleum and chemical base in the mid-south area of China; paper-making, the textile industry and the machine industry are also well developed. The city boasts of Dongting Ramie Textile Printing and a Dyeing Mill which is the biggest in Asia with the textiles being sold to the countries in Southeast Asia and the Occident.
Local Products: Yueyang is prolific in natural resources due to its rich soil: this area is the agricultural products base for producing high-quality grain, cotton, pigs, fish etc. The agricultural by-products like organic tea, organically grown vegetables and high-quality fruit, Dongting Lake shrimp sell well on the market. Moreover, the freshwater resource is plentiful and advantageous for the development of the plant industry, freshwater fisheries industry and the shipping industry.

Tour Information: Hiking Adventure
- Last updated on May. 23, 2020 -
Questions & Answers on Yueyang Travel
Asked by Amie from NEW ZEALAND | Mar. 12, 2019 19:27

Reply
What is the most direct route to Yueyang if travelling from Auckland, New Zealand please?
Answers (1)
Answered by Audrey from GERMANY | Mar. 15, 2019 01:35

0

0

Reply
Take a flight to Beijing Capital Airport first. Then transfer to a flight to Changsha. After arriving, take the airport shuttle bus to the destination.
Asked by KW MAH from MALAYSIA | Oct. 08, 2018 20:41

Reply
What is the best way to get to Wuyuan from Yue Yang? And what is the cost if by Taxi?
Answers (2)
Answered by Linda from USA | Oct. 11, 2018 23:34

0

0

Reply
You can take the train to Changsha and then take the train from Changsha to Wuyuan. The estimated cost is about CNY370 or so and the expected train ride time is about 4 -4.5 hours.

The taxi fee may be about CNY1600 - 1800.
Answered by K W Mah from MALAYSIA | Oct. 12, 2018 06:42

0

0

Reply
Thanks Linda for the prompt n precise answer. It helps very much in my planning. Do drop me a line if ever you are visiting Malaysia.
Asked by Andy from MALAYSIA | Nov. 04, 2016 08:48

Reply
What is the best way to travel from Fenghuang to Yueyang?
Answers (1)
Answered by Zachary from NEW ZEALAND | Nov. 05, 2016 02:46

0

0

Reply
As I know, there is only one long-distance bus from Fenghuang Ancient City Bus Station and arrive at the destination directly. The schedule is at 09:30. And the duration is about 6.5 hours.
Asked by Penny from US | Jan. 10, 2016 08:00

Reply
Where is best place for Americans to stay while visiting Yueyang?
Answers (1)
Answered by Sunny from CANADA | Jan. 10, 2016 21:35

1

4

Reply
Personally, it is suggested to stay near the main railway station for the convenient transportation. You may consider the Taihe Hotel at no. 386, Middle Baling Road, Yueyanglou District. It is 0.6 mile to the southeast of the main railway station. The hotel provides comfortable environment and quality service. Have a try! :)
Asked by Nsp from USA | Jul. 30, 2012 20:31

Reply
What's the best way to get to Yueyang from shanghai?
Answers (1)
Answered by Nina | Jul. 31, 2012 20:15

1

2

Reply
For convenience, the best way is to take a flight from Shanghai to Changsha first. At Changsha Airport, there are direct buses heading for that city. The buses operate from 09:30 to 20:00.