Yueyang Travel Guide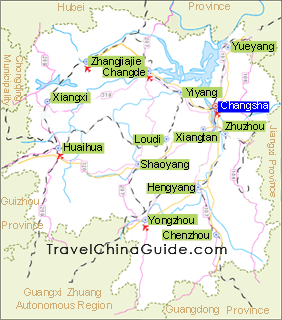 In ancient times Yueyang was called 'Baling or Yuezhou' and is a historic and cultural city with a long history of more than 2,500 years. Located at the northeast of Hunan Province, neighboring Jiangxi Province in the east and Hubei Province in the north, it was a hinterland of military importance during the past dynasties. Nowadays, renowned for so many historic interests, the city is ranked as one of the 'China's Top Tourism Destinations'.
The city's governance covers 3 municipal districts (Yueyang Lou District, Junshan District, Yunxi District), 4 counties (Yueyang County, Huarong County, Xiangyin County, Pingjiang County) and 2 county-level cities (Miluo City, Linxiang City). The white and beautiful gardenia is its city flower while the flourishing Duying (Long-flowered ehretia) tree is its city tree. The flowers and the trees add a charming lustre to the city.
However, Yueyang's real charm rests with human cultural relics as well as the natural landscape. The well-known Yueyang Pavilion is one of the three famous pavilions in South China. China's second largest freshwater lake Dongting Lake is a good tourist destination. On the lake is located an island called Junshan Hill and is also a good tourist resort. From a cultural aspect, the Miluo River is worthy of a visit because it is the place where the story about 'Qu Yuan (339BC-278 BC) Drowning in the Miluo River' happened.
The area is prolific in natural resources due to its rich soil: this area is the agricultural products base for producing high-quality grain, cotton, pigs, fish etc. The agricultural by-products like organic tea, organically grown vegetables and high-quality fruit, Dongting Lake shrimp sell well on the market. Moreover, the freshwater resource is plentiful and advantageous for the development of the plant industry, freshwater fisheries industry and the shipping industry.
Yueyang is a burgeoning industrial city: The Petroleum and Chemical Industry is flourishing, which makes the city the biggest petroleum and chemical base in the mid-south area of China; paper-making, the textile industry and the machine industry are also well developed. The city boasts of Dongting Ramie Textile Printing and a Dyeing Mill which is the biggest in Asia with the textiles being sold to the countries in Southeast Asia and the Occident.
In Yueyang, visitors need no worries in regard to transportation. Visitors can reach Changsha Huanghua International Airport which is only 130 kilometers (80.78 miles) from Yueyang and takes about one hour's ride on the high-speed motorway to the city. The high-speed motorway system for road transportation has been long established in Yueyang and radiates in all directions. Transportation by water is also convenient because the city is the only port in Hunan Province which is beside the Yangtze River.

Tour Information: Hiking Adventure