Heyuan Travel Guide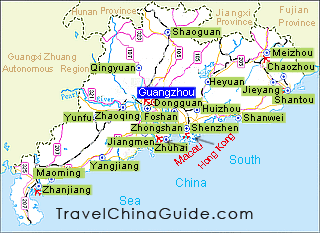 Heyuan Facts
Chinese Name: 河源 (hé yuán)
Population: 3,093,900
Area: 15,642 square kilometers (6,039 square miles)
Location: in the northeast of
Guangdong Province
, southern China
Administrative Division: 1 district (Yuancheng); 5 counties (Zijin, Longchuan, Lianping, Heping, Dongyuan)
Area Code: 0762
Zip Code: 517000
GDP (2018): CNY 100.6 billion (USD 15.2 billion)
China's Famous Hakka Settlement
Heyuan stands in the northeastern part of Guangdong Province, on the middle and upper reaches of the Dongjiang River. The city shares boundary with Jiangxi Province to the north. Heyuan is a traffic hub in northwestern Guangdong with Beijing-Kowloon Railway and Guangzhou-Meizhou-Shantou Railway passing through. It is a main Hakka Settlement and Hakka people have cultivated the unique Hakka culture represented by ancient Sijiao Building and traditional folk arts like the Hakka folk song, Longchuan Acrobatics and Huachao Opera. Heyuan is also a green city with nearly a hundred of rivers running through and a 71.2% forest coverage.
Heyuan Attractions - Things to Do
Sujiawei Hakka Village & Xinfengjiang National Forest Park:
26 kilometers (16 miles) from the city downtown area, Sujiawei Hakka Village Tourist Zone is a fine destination to admire local country scenery and the Hakka culture, including old Hakka building and unsophisticated Hakkas. Xinfengjiang National Forest Park is built relying on the largest lake by manpower in South China, the Evergreen Lake. Backing on the Guishan Mountain (Laurel Mountain) the zenith of Heyuan, this scenic area also holds hundreds of green islets dotted on the lake.

Other Scenic Spots: Tuocheng, Huanglong Crag, Hakka Round-Dragon House
How to get to/around Heyuan
The two principal bus stations in Yuancheng District downtown Heyuan, one is the central bus station in Daqiao Road and the other is Xincheng Bus Station in Heyuan Dadao. Buses departing there can reach
Shenzhen
and
Guangzhou
in three hours. From the Shenzhen Yinhu and Donghu bus station, as well as the Guangzhou Tianhe Bus Station, buses to Heyuan can also be easily found.
Weather
-
Heyuan bears a subtropical monsoon climate featuring relatively higher temperature, less rainfall and more sunshine than surrounding areas. Torrid and dry weather may continuously occur during July and August. However, warm winter is commonly met due to the less active cold air.

When to Go: The city is favorable for visiting all the year round due to the temperate weather.
Heyuan Travel Tips

History: It is a Hakka population center along the Dongjiang River. Extreme long ago, settlers from present Zhejiang and Jiangsu provinces were scattered around the region, living together with the minorities there. It was during the Qin Dynasty (221BC-206BC) that the court transferred people in North China to this area, bringing it advance Yellow River Culture. From then on, whenever a war broke in Central Plain, there would be a crowd of settlers moving there. Gradually, the Hakka cultural came into being.



Physical Features: Heyuan has a rolling terrain. Mountainous region occupies the major land of the city, and the hilly area ranks the second place. It is long and narrow. Plain area in the center is surrounded by mountains and hills. The Dongjiang River flows north and south through the city.



Special Local Products: Jiulian Chinese mushroom, Heyuan Garlic, green tea, ginkgo nut
- Last updated on Jan. 09, 2020 -
Questions & Answers on Heyuan Travel
Asked by Billy Smith from CHINA | Jun. 18, 2018 18:42

Reply
Where in Shenzhen exactly can I catch the train to heyuan? Shenzhen north? Futian? Thanks
Answers (1)
Answered by David from SINGAPORE | Jun. 18, 2018 20:48

0

0

Reply
As I know, the trains are from Shenzhen Station and Shenzhen East.
Asked by Yap Yin Peng from MALAYSIA | May. 07, 2018 10:45

Reply
How long is the journey from Shenzhen to Heyuan by car?
Is it easy to hire a car and a driver for the trip?
Answers (1)
Answered by Taylor from CANADA | May. 07, 2018 22:43

1

0

Reply
It's about 200 km between the two cities and it takes around 2.5 hours to get there by car.
Yes, it is easy to hire a car, "ehi car services " is recommended, which is a really good website to hire the cars.

Asked by Sarah from MALAYSIA | Aug. 25, 2012 05:27

Reply
How to go to Shekou from Heyuan?
Answers (1)
Answered by Kate | Aug. 26, 2012 01:11

0

0

Reply
You can take the bus from the Old Bus Station to Nanshan Bus Station and then take a taxi to reach Shekou Port.
Asked by khoo from SINGAPORE | Aug. 18, 2012 08:18

Reply
how long is bus/coach ride from heyuan to guangzhou and is there a light rail alternative?
Answers (1)
Answered by Andrew | Aug. 19, 2012 01:10

0

0

Reply
The long-distance coach between takes about 3 h in total. The buses can be taken at HY Xincheng Bus Station, departing from 06:30 to 17:00.
Besides, you can also take train to reach Guangzhou. It takes about 3 h as well.
Asked by Mrs.White from CHINA | Jun. 04, 2009 21:27

Reply
How can I go to Shenzhen from Heyuan? How long is the trip? Thanks
Answers (1)
Answered by Ms.Evelyn from CHINA | Jun. 05, 2009 01:38

0

0

Reply
You can take a coach bus from local Coach Bus Terminal or take a train from local railway station to go to Shenzhen. By bus or by train, you will spend 2 to 3 hours to get to Shenzhen. In the daytime, the Trains K555, K94, K9120 and K25 go to Shenzhen. The Coach Bus Terminal is located at 6 Daqiao Road, Yuancheng District.