Zhangzhou Travel Guide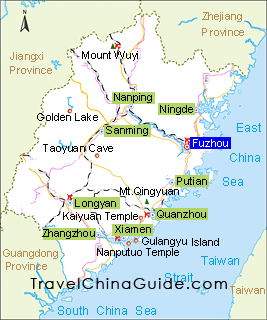 Zhangzhou Facts
Chinese Name: 漳州市 (zhāng zhōu shì)
Population: 4,600,000
Area: 12,873 square kilometers (4,970 square miles)
Nationalities: Han

Location: Located in the south end of Fujian Province, Zhangzhou neighbors Guangdong Province in the southwest, and is separated from Taiwan by the Taiwan Strait in the east. It lies in the half way between two special economic zones, Xiamen in Fujian and Shantou in Guangdong.
Administrative Division: 2 districts (Xiangcheng, Longwen); 8 counties (Yunxiao, Zhangpu, Zhao'an, Changtai, Dongshan, Nanjing, Pinghe, Hua'an); 1 county-level city (Longhai)
Seat of the City Government: Shengli Road (West), Xiangcheng District

Useful Telephone Numbers:
Tourist Complaints: 0596-2029622
Weather Forecast: 121
Zip Code Inquiry: 184

Bank of China Zhangzhou Branch: No.16, Datong Road (North), Xiangcheng District
China Post Zhangzhou Branch: Shengli Road (East), Xiangcheng District
Attractions
Dongshan Island stands off the coastal area of southern part, comprising of forty three islets. Weather in the island is pleasant. White sails on the blue sea, soft and flossy beach, brilliant sunshine and green forest make the island a fine holiday resort. In the northeast of Dongshan Island is the Ancient Town of Zhongshan built in the Ming Dynasty (1368-1644).
Hakka's Roundhouses spread all over the city, including counties of Hua'an, Pinghe, Zhao'an, Yunxiao and Zhangpu. The original roundhouse is lives as barracks, castle or mountain fastness constructed with clay mixed with many other materials into different shapes. There are entirely more than eight hundred roundhouses in total.
| | |
| --- | --- |
| Yuchang Tower | Tianluokeng Earth Towers Cluster |
Other Scenic Spots: Zhangzhou Seashore Volcanic National Geo-park, Nanshan Temple, Sanping Temple
How to get there
1. This city has no airport because it is only 70 kilometers (43 miles) from
Xiamen Gaoqi International Airport
. After arriving Xiamen, visitors can change to the buses and trains to get to.
2. It is convenient to get to Zhangzhou from Xiamen by bus. From Xiamen South Hubin Bus Station, buses to this city leave every 20 minutes. Train is not suggested between these two cities, because the whole journey will take one hour or even longer by train but within 30 minutes by bus through the Haicang Bridge.
Weather
-
This city enjoys a moderate weather all the year round, bearing the subtropical humid monsoon climate. Its annual average temperature reaches 21 degree centigrade (70 degree Fahrenheit).

When to Go: It is favorable for visiting during the whole year. February to October is the best time for Zhangzhou travel.
Zhangzhou Travel Tips

History: The earliest records about the administrative history of this area should be traces back to the Eastern Jin Dynasty (317-420). During the Sui Dynasty (581-618), Longxi County was established here, falling into the clutches of Quanzhou (present Fuzhou). This city was set up later in southern part of the Longxi County in 686, Tang Dynasty (608-907).

Physical Features: The northern area is mountainous, and its southwestern end is adjacent to the sea. That is the main trends the terrain of the city slopes along. Jiulong River, the second largest river in Fujian, flows through the city, producing valleys and basins on the river banks. On the lower reaches of the Jiulong River lies the largest plain of the province, Zhangzhou Plain.

Special Local Products: This city abounds with flowers and fruit. Daffodil, camellia and orchid growing here are of good quality. Fruits prolific are Mandarin Orange, lithe, banana, longan, grapefruit and pineapple. Boasting a spacious sea area, the city is also teeming with various sea products.