Ningde Travel Guide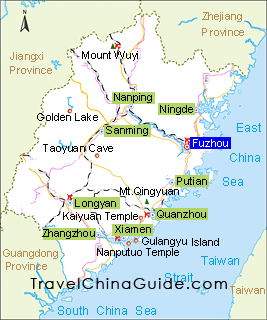 Ningde Facts
Chinese Name: 宁德市 (níng dé shì)
Population: 3,258,000
Area: 13,452 square kilometers (5,194 square miles)
Nationalities: Han

Location: Lies in the northeast of Fujian Province, Ningde neighbors Fuzhou in the south and shares boundary with Zhejiang Province in the north. It is separated by the East China Sea from Taiwan. The great Mount Wuyi is just adjacent to its west.
Administrative Division: 1 district (Jiaocheng); 6 counties (Shouning, Xiapu, Zherong, Pingnan, Gutian, Zhouning); 2 county-level cities (Fu'an, Fuding)
Seat of the City Government: No14, Shuqian Road, Jiaocheng District

Useful Telephone Numbers:
Tourist Complaints: 0593-2825260, 2883671
Weather Forecast: 121
Zip Code Inquiry: 184

Bank of China Ningde Branch: No.3, 815 Road (West), Jiaocheng District
China Post Ningde Branch: No.4, Dongqiao Dadao, Dongqiao Economic Development Area
Attractions

Taimu Mountain
: located 28 miles away from the Fuding City adjacent to the East China Sea, Taimu Mountain boasts of granite peak forest combining beautiful sea and temples.

Baishuiyang·Yuanyang Stream Scenic Area
: The entrances to Baishuiyang and Yuanyang Stream are about 7 miles from each other along the upper and lower reaches of one river. In Baishuiyang you can surf or play in the river and in Yuanyang Stream all kinds of waterfalls and mountains are waiting for you.

Xianshan Pasture
Forty-three miles due northwest from Pingnan County, Xianshan Pasture is tourist grassland in southern China. Covering an area of over 2,000 hectares, the pasture combines a flavor of northern grassland with the unique southern scenic beauty.
Xianshan Pasture ranges from 3,087 to 4,829 feet above sea level with a gradient of 15 to 30 degrees. The annual mean temperature is 13C (55F). On most days it is cloudy and mist over. The land produces enough grass for 250 grazing cows. There are over 20 perennial running streams, which are poetically named "Hua Xi" (Flower Stream). It abounds in mushrooms, ferns, strawberries and bamboo shoots. Jackals, deer, wild goats, pheasants and pangolins often roam this area.
The territory includes Xianshan Lake, Juxian Rock and Lisheng Rock making it an attractive place worth visiting.

Huayan Temple
Location: on the Zhiti Mountain, over 40 kilometers (25 miles) northwest of downtown
Highlights: grand Zhiti Mountain with fascinating peaks in different shapes and multitudes of temples and caves; Huayan Temple, also Huacang Temple, first constructed in the Song Dynasty (960-1279), an important Buddhist temple in China rendered a veritable cache of thousands of sutras and Buddha sculptures.
Main spots: Zhiti Mountain, Huayan Temple, Xiaozhiti Temple
Transportation
The 104 National Road runs through the center of Ningde connecting Fuzhou and
Wenzhou
. Local long-distance bus station is just located on the road, which is the busiest section of the city. The bus station offers six airport buses daily to
Fuzhou Changle International Airport
in two hours. Through the
Shenyang
-
Haikou
Expressway passing by the city, regular buses will get to Fuzhou and Wenzhou within two hours.
Bus stations of Gutian County, Pingnan County and Fu'an City operate buses to the Mount Wuyi. The whole journey will cost about six to eight hours.
Weather
-
Bearing a subtropical monsoon climate, its weather is temperate and humid. The annual average temperature remains around 19

C (66

F). March to June is the plum rain period, and July to September is the season of typhoon and thunder storm. This period gathers about eighty percent of a year's rainfall.

When to Go: April to December
Ningde Travel Tips

History: Precise records on the administrative history of Ningde began in the Jin Dynasty (265-420). During the Tang Dynasty (618-907), it was brought into the territory of present Fuzhou.

Physical Features: The city belongs to the hilly area in eastern Fujian, and its terrain declined from the west and north to the east and south with the central area ridgy. Mountainous and hilly regions constitute the majority of the city's territory. There are some basins scattered among the mountains and hills. Furthermore, the plain is also distributed near the coastal area. It has a coastline of 878 kilometers (546 miles).

Special Local Products: sweet potato, tea, oil tea, tremella (white fungus), sea product