Wenzhou Travel Guide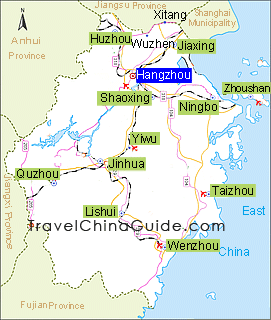 Wenzhou Facts
Chinese Name: 温州 (wēn zhōu)
Population: 9,300,000
Area: 12,110 square kilometers (4,676 square miles)
Location: in the southeast of Zhejiang, east China
Administrative Division: 4 districts (Lucheng, Longwan, Ouhai, Dongtou); 5 counties (Yongjia, Pingyang, Cangnan, Wencheng, Taishun); 3 county-level cities (Rui'an, Leqing, Longgang)
Area Code: 0577
Zip Code: 325000
GDP (2019): CNY 660.61 billion (USD 95.75 billion)
Known as the Capital of Shoes
Wenzhou lies in the southeastern coast of Zhejiang Province. For centuries, the inhabitants here have relied on shipping, trading and fishing for their livelihoods. Its location on the sea has also been crucial to international trade. Shoes and electrical appliances produced here are popular over the world. Its citizens are progressive and open to western ideas. Millions of merchants have emigrated and started businesses throughout the world. The city is therefore a famous hometown of overseas Chinese. In terms of tourism, this city boasts high and green mountains, picturesque countryside, deep valleys, enchanting sea views as well as beautiful islands. And it is the night view of Lingfeng Peak of Yandang Mountain and Nanxi River featuring attractive rural scenery that make most people first fall in love with Wenzhou.
The city is easily accessible by plane, train and bus. Wenzhou Longwan International Airport hosts 40 airlines, operating many air routes to around 100 cities, including Hong Kong and Taipei. Wenzhou Railway Station and Wenzhou South Railway Station operate the trains to/ from Beijing, Shanghai, Nanjing, Hangzhou as well as other cities in Jiangsu, Jiangxi and Fujian provinces. Highways are also well developed with good service stations. Long distance buses serve neighboring counties and cities in Zhejiang Province as well as cities in Liaoning, Hebei, Shandong, Hunan, Sichuan, Jiangxi and other provinces in China.



See also Wenzhou Train Schedule
Weather
-

The city means a mild and pleasant land. The city gets its name because of its mild climate without extremely cold winters or hot summers. It is an ideal place for vacation. Mountains, plains, islands, long rivers and broad seas coexist in the city.
Wenzhou Travel Tips

Physical Features: The long coastline here gives rise to many beautiful islands and rich marine life. There are over 370 kinds of fish and over 430 kinds of seashells. It is also rich in mineral resources including alunite, granite and quartzite. The city sometimes claims to be 'World Alunite Capital' due to large deposits of this mineral. There are over 280 kinds of trees.

Special Local Products: Local cuisine of this city features fresh seafood. Delicacies such as 'Fish Boiled with Three Kinds of Shreds', Garlic Seasoned Fishskin and other appetizers such as 'Tall Man' Wonton, 'Lamp' Cake and Fish Balls are all favorites renowned for their fresh taste, enticing aroma and beautiful presentation.

Local Highlights: This is a modern city with many good hotels and restaurants catering for visitors. Various stores along commercial pedestrian streets provide a shopping paradise. Comfortable bars, dancing halls and amusement venues enrich the city's night life.
Recommended Tour Itinerary:
Hiking Tour: Information about hiking in Wenzhou for your reference
- Last updated on Sep. 23, 2020 -
Questions & Answers on Wenzhou Travel
Asked by Tony from CANADA | Feb. 26, 2019 11:45

Reply
Staying in the Sheraton Hotel in Wenzhou and will have to get to the South Railway Station everyday.
Hello,

What is the best way to do?

Is it best to take the S1 Metro Line? If so, how much is the fair and how long does it take from the nearest station?

It seems that because it is quite new that there is not much information online.


Thank you and any advice helps!

Tony
Answers (2)
Answered by Lillian from UNITED KINGDOM | Feb. 26, 2019 18:15

0

0

Reply
From your hotel, walk west around 350 meters to arrive at Shidai Guangchang Bus Stop. Then take bus no.82 to the South Railway Station. The ticket fare is CNY2/person. The duration is around 50mins.
There is no subway station nearby your hotel.
Answered by HEDY | Apr. 26, 2020 23:28

0

0

Reply
Maybe you can take the BRT NO.B1 to go to the South Railway Station. The Bus Rapid Transit Station is beside where you are. The final stop of the NO.B1 bus is the South Railway Station. By the way, you need to take the nearest one which is the direction is the the South Railway Station. You may pay attention on it. In case of wrong direction. One more tip: If you have enough time (more than 50min), you can choose the bus. If not, you may choose the taxi or reserve the car early instead of take the bus.
Hope these will help you. Best Wishes.
Asked by Ng Poh Muay from SINGAPORE | Jan. 25, 2019 07:19

Reply
if from hangzhou station to wenzhou, which station to get off ?? because i can't find a station name
Please advise and thank you for your kind attention.
Ng from Singapore
Answers (1)
Answered by David from CANADA | Jan. 29, 2019 18:17

0

0

Reply
You can take the high speed train from Hangzhou East Railway Station to Wenzhou South Railway Station. It takes round 3 hours on the way.
Asked by Niraj kumar khemka from INDIA | Dec. 11, 2018 04:51

Reply
I want to travel to wenzhou from delhi. Which will be the best and cheap route to this city?
Answers (2)
Answered by Elena from FRANCE | Dec. 12, 2018 23:50

0

0

Reply
Well, there is no direct flight between these two places. Thus it is suggested to take a flight to Shanghai first. After arriving, take the direct long-distance bus to the destination.
Answered by Niraj khemka from INDIA | Dec. 13, 2018 03:41

0

0

Reply
Thanks Elena
Asked by Joules from UK | Aug. 16, 2018 03:20

Reply
I am travelling to Wenzhou soon and would like confirmation that line 1 of the new MTR has opened
As I need to travel to the airport from South high speed train station and I believe the line should now link the two. Anyone know if it is fully operational?
Answers (1)
Answered by Will from USA | Aug. 16, 2018 21:07

0

0

Reply
No. The news says that metro line 1 will start trial operation in this October.
Now, you can take bus lines 73/1 to the airport.