Taiwan Taoyuan International Airport
Code: TPE

Location: Taiwan Taoyuan International Airport is located on South Hangzhan Road, Taoyuan County in the northwestern area of Taiwan. It is about 25 miles (40 kilometers) from the downtown area of Taipei City.



Brief Intro: Originally built in 1979, the airport was formerly known as Chiang Kai-shek International Airport. It was given its current name in 2006. Currently, it has two terminal buildings, T1 and T2, while there are plans for the building of a third terminal to alleviate congestion in T1 and T2. The airport serves chartered flights to and from different areas in Taiwan, mainland China and many other international destinations. Service hotlines in Vietnamese, Thai, English and Indonesian are provided.
Terminal Buildings and Airline Companies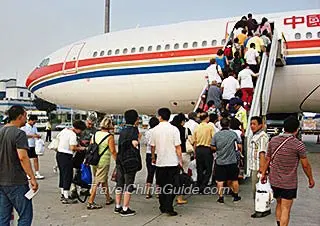 Taiwan Taoyuan Airport

Terminal Building 1 (T1) came into use in 1979 to relieve the overcrowded Songshan Airport. With 18 boarding gates, T1 services about 14 airline companies, including Air Macau (NX), Cathay Pacific Airways (CX), Cebu Pacific Air (5J), China Airlines, Garuda Indonesia (GA), MRT Airlines (3K), Korean Air (KE), Malaysia Airlines (MH), Mandarin Airlines (AE), Philippine Airlines (PR), Spirit of Manila Airlines (SM), Thai Airways International (TG), TransAsia Airways (GE) and Vietnam Airlines (VN).



Terminal Building 2 (T2) was opened in 2002 with 20 boarding gates. There are more than 25 airways operating flights here, Air China (CA), AirAsia (AK), AirAsia X, Air Nippon Airways (NH), Air Japan (JL), Asiana Airlines (OZ), China Airlines (CI), China Eastern Airlines (MU), China Southern Airlines (CZ), Delta Air Lines (DL), Dragon Air (KA), BR Eve Air (BR), Uni Air (B7), Hainan Airlines (HU), KLM (KL), Mandarin Airlines (AE), Pacific Flyer (7G), Shandong Airlines (SC), Shanghai Airlines (FM), Shenzhen Airlines (ZH), Sichuan Airlines (3U), Singapore Airlines (SQ), Thai AirAsia (FD), Tiger Airways (TR), United Airlines (UA) and Xiamen Airlines (MF).



Tips
1. T1 and T2 are connected by two short moving walkways, with one from Concourse A to D, and the other from B to C. Please make sure you go to the correct terminal building. A special roadway and buses are available to allow for convenient shuttling between T1 and T2.
2. The check-in counter is closed 30 minutes before the flight departure. Passengers should arrive at the airport 1.5 hours (domestic flights) or 2 hours (international flights) in advance.

Transportation
Airport Metro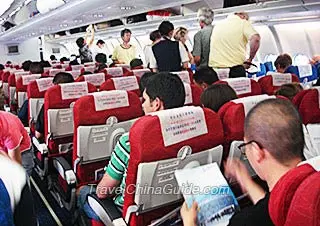 Taoyuan Airport Metro, extending for 32 miles (51 kilometers), starts from Taipei Main Station and ends at Zhongli Railway Station, via Taoyuan International Airport. Nowadays, two types of trains are put into service for the airport metro: commuter train and express train.

Commuter Train, with blue as its identification color, has more spacious carriages, so it can accommodate more passengers and more luggage. It stops at every station along the way.
Express Trains, with purple as its identification color, is equipped like high speed train; cushioned seats are provided. It only stops at several stations including Taipei Main station, New Taipei Industrial Park, Sanchong, Taishan, Chang Gung Memorial Hospital, Airport T1, and Airport T2. Charging sockets are available on express trains.

Free WIFI is provided on both types of trains.



Route: Taipei Main Station- Sanchong - New Taipei Industrial Park - Xinzhuang Fuduxin – Taishan - Taishan Guihe - National Taiwan Sport University - Chang Gung Memorial Hospital – Linkou – Shanbi – Kengkou - Airport Terminal 1 - Airport Terminal 2 - Airport Hotel – Dayuan – Hengshan – Linghang - Taoyuan HSR Station- Taoyuan Sports Park – Xingnan – Huanbei – Laojie River - Zhongli Railway Station



Note: A total of 23 stations are planned, but only 21 of them are open currently. The other 2 stations including Laojie River and Zhongli Railway Station will be open in the near future.



MRT Operation Time: 06:00 - 23:05 (From Taipei Main Station to Zhongli Railway Station)



Ticket Fare:
For different trips, the fare varies from NT$ 30 to NT$160. Between Taipei Main Station and Taoyuan Airport, it costs NT$160 for a single trip and NT$320 for a round trip.



Notes:
1. Commuter trains and express trains share the same ticketing standards.
2. Passengers can enjoy 50% discount between March 2nd and April 2nd.



Duration: It usually takes around 35 minutes to travel between Taipei Main Station and Airport Terminal 1 by express train, while the commuter train will take about 50 minutes for the same distance.



Interval: 7.5 minutes



In-town Check-in Service:
Currently, only passengers of Eva Airways and China Airlines are eligible for the In-town check-in service at Taipei Main Station. It allows those passengers to check-in, consign luggage, confirm seats, and get the boarding passes ahead of time.



Notes:
1. Passengers should complete this service as late as 3 hours before flight departures on the same day. Generally, the check-in counters open from 06:00 to 21:30.
2. In-town Check-in Service is unavailable for tourist groups, independent children passengers below 12 years old, and passengers with pets and extra-large/long baggage.
3. The total dimension of each baggage (length + width + height) shouldn't exceed 62 inch (158cm), and the maximum length of each baggage shouldn't exceed 28 inch (70cm).
Airport Shuttle Bus
Several bus companies provide frequent routes to and from the city center of Taipei, Taoyuan City, Jhongli, Taichung, Banqiao, Changhua, THSR's Taoyuan Station, as well as other areas.



Evergreen Bus:
Route:
Evergreen Marine Corp. - Airport (05:00 – 16:45): Regular buses run from Evergreen Marine Corp, passing North Fuxing Road, South Fuxing Road, East Zhongxiao Road and Songjiang Road to the airport.
Interval: 20 - 30 minutes

Route:
Airport - Evergreen Marine Corp. (06:15 – 00:30 the next day): The bus stops at Jiuquan Street, MRT Minquan West Road and MRT Shuanglian Bus Station.
Interval: 15 – 20 minutes
Ticket Fare: NT$124
Duration: 50 minutes



Kuo-Kuang Bus
Route: Taoyuan Airport - Songjiang IC - Xing Tian Gong - Minquan Longjiang Crossroad - Minquan Fuxing Crossroad - Songshan Airport
Time: 00:00 – 23:30
Ticket Fare: NT$125 for a single trip, TWD 230 for a round trip
Duration: 50 minutes
Interval: 20 minutes

Route: Taoyuan Airport - Taipei School for the Hearing Impaired (North Chongqing Road) - Kulun Street - Taini Building - Ambassador Hotel - Taipei Railway Station
Time: 00:45 – 23:45
Ticket Fare: NT$125 for a single trip, TWD 230 for a round trip
Duration: 55 minutes
Interval: 15~20 minutes



CitiAir Bus
Route: Taipei City Hall Bus Station - Grand Hyatt Taipei - Far Eastern Plaza Hotel - Howard Plaza Hotel - MRT Zhongxiao Fuxing Bus Station – Jianguo & Jingzhou Roads – Airport Hotel – Taoyuan Airport
Time: 04:40 - 23:00
Ticket Fare: NT$145
Duration: 80 - 90 minutes
Interval: 30 minutes

Route: Taipei Main Station (Qingdao) - Sheraton Taipei Hotel - Grand Formosa Regent Taipei - Ambassador Hotel – Imperial Hotel Taipei - MRT Minquan West Road – National Tuberculosis Association – Grand Hotel – Taini Building - Taipei School for the Hearing Impaired - Jiuquan Roads – Jiuquan & Chongqing North Roads – Zhongshan Police District – Taoyuan Airport - Sheraton Taipei Hotel – Taipei Main Station
Time: 4:40 – 23:00
Ticket Fare: NT$90
Duration: 70 - 80 minutes
Interval: 30 ~ 40 minutes

Route: New Banqiao Rail Station - Houzhan Commercial Center Station – Renai New Village – Oriental Institute of Technology – Huoraoli – Yuanlinli - Tucheng City Farmer's Association - MRT Yongning Station - Taoyuan Airport
Time: 04:40 – 23:30
Ticket Fare: NT$135
Duration: 70 - 80 minutes
Interval: 30 minutes

Route: MRT Xindian Station – MRT Xindian District Office Station (Beixin) - MRT Qizhang Station – MRT Dapinglin Station - Xiushanli – Jingjian New Village – MRT Jing'an Station – Fourpoints by Sheraton – Enzhugong Hospital (Sanxia) – Taoyuan Airport
Time: 04:40 – 23:30
Ticket Fare: NT$135
Duration: 70 - 80 minutes
Interval: 30 minutes
Taxi
Taxi ranks are outside the arrival halls of both terminals and are available 24 hours a day. They are metered and subject to a 50% surcharge. It costs about NT$1100 - 1500 from the airport to the Taipei downtown area.
Services and Facilities

Money and Communications: Passenger can find two banks providing ATMs and bureaux de change. There is also a post office in each terminal, as well as an internet room and telephones in the Departure Hall of T1. Mobile phone hire and wifi access are also available.


Dining: Chinese and western restaurants, fast-food outlets, cafes and bars are abundant.


Shopping: Shops at the airport include newsagents, shops selling local crafts and souvenirs and duty-free.


Conference: On the fourth floor of T1 and T2 Departures, passengers can find the More International Business Centre & Premium Lounge providing conference rooms.


Luggage: Lost property offices are located in the basements of T1 Departures and T2 Arrivals. A left-luggage service is available in both terminals.


Hotel: The Evergreen Transit Hotel is located on the fourth floor of the transit area. It is used for passengers waiting to transfer to another flight. There are hotel reservation counters and hotel representatives in the Arrivals lobby of both terminals. Tel: 03-383 4510


Car Parking: Car parks are located on the ground level at the eastern and western sides of T1 and T2. Parking information is available by calling (03) 398 2160 for T1 or 393 1999 for T2.


Disabled facilities: Disabled passengers may park their cars free of charge for the first day of their stay in the airport. Passengers requiring wheelchairs and special assistance should inform their airline prior to travel.


Others: These is also a museum, a medical center, a nursery and children's playroom, a barber's, a first aid station, three prayer rooms, two beauty salons, a massage service center, and shower facilities.
- Last updated on Mar. 11, 2022 -
Questions & Answers on Taiwan Taoyuan International Airport
Asked by MJK from USA | Jul. 12, 2020 20:46

Reply
Is it safe to take Airport Shuttle from Taoyuan Airport to the Sheraton Taipei at night?
I am arriving the Taoyuan International Airport at night, after 9 PM. Is it safe or better to take an Airport Shuttle to the Sheraton Grand Hotel Taipei at late night, probable after 10 PM after clearing security? Or if I should miss the last shuttle departure time, is it safe to take a taxi at late night? MJK.
Answers (1)
Answered by Kennedy from DENMARK | Jul. 12, 2020 23:53

0

0

Reply
Generally speaking, you don't need to worry about the safety problem no matter you choose shuttle bus or taxi. :)
Asked by THU HANG NGUYEN from VIETNAM | Oct. 21, 2019 02:23

Reply
Please advise me the way from Terminal 1 of TPE to Taipei H Imperial by train?
Answers (1)
Answered by Kimmy from CANADA | Oct. 24, 2019 20:08

0

0

Reply
You can follow the guide in the airport and take direct MTR of Taipei Line to Taipei Railway station, then walk west of 200m to your hotel.
Asked by Rob from CANADA | Sep. 11, 2019 19:18

Reply
which bus goes near Taoyung Hedo Hotel ? 95 fuxing rd
Answers (1)
Answered by Amelia from CANADA | Sep. 15, 2019 18:51

0

0

Reply
The nearest public transport station is Taipei West Station.
Asked by Joyce Robertson from USA | Aug. 18, 2019 22:58

Reply
How to get to Taoyuan airport from Sheraton Grand Taipei using rail system and how long does it take
Answers (1)
Answered by Percy from USA | Aug. 20, 2019 20:52

0

0

Reply
Walk around 500m to Taipei Station and you can take direct shuttle bus No.1819 from there to the airport. It takes around 75 minutes.