Nantou Travel Guide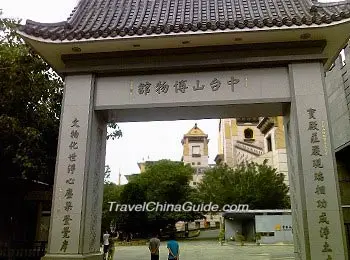 Chung Tai Museum
Nantou Facts
Chinese Name: 南投县 (nán tóu xiàn)
Population: 493,100
Area: 4,106 square kilometers (1,585 square miles)
Location: in the central area of Taiwan Island, southeast China
Administrative Division: 1 county-administered city (Nantou); 12 townships
Area Code: 049
Zip Code: 540
GDP (2019): CNY 66.3 billion (USD 9.6 billion)
The Only Inland County in Taiwan
Nantou, the only inland county on the island and the second-largest county in Taiwan, is a land full of picturesque scenery. It is adjacent to Hualien County to the east, Changhua and Yunlin counties to the west, Chiayi County and Kaohsiung City to the north and Taichung City to the south. The tops of the mountains are shrouded in mist while flocks and herds browse on the mountain feet. Looking from a distance, the lakes and mountains add radiance and beauty to each other. In addition to the incredibly beautiful Sun Moon Lake and the Qingjing Farm, known as "little Switzerland", there are also Yu Mountian, the highest peak in Taiwan, and Zhuoshui River, the longest river in Nantou County. While the nostalgic Jiji Railway, Formosan Aboriginal Culture Village, Chung Tai Chan Monastery and lovely Monster Village give Nantou another humanistic atmosphere.



Best time to visit: You can come here at any time because the temperature is moderate all year round but the best season is from December to April. From December to February are when plums are in bloom, many activities such as prune dinners and plum season performances are held in Sinyi. From December to March, tulips are blooming in the county and from March to April, peonies will draw your attention. Puri is abound in flowers, so the flower carnival is held here.
Top Attractions - Things to Do
Nantou is very large and points of interest are scattered throughout different areas. If you like cultural sites, you will surely find a lot of things to do in Nantou, too. A visit to the old Jiji Railway Station tells you parting stories of common people and godlike temples shows you exquisite Buddha statues and cleanse your heart. Therefore, you are recommended to start your travel from these places:



Starting from Puri:
The beautiful Sun Moon Lake, "Small Switzerland" Chingjing Farm, Mt. Hohuan where you can appreciate the most attractive snowscape and sea of clouds, Chung Tai Chan Monastery, the oddest architecture on the island and Chung Tai Museum, famous for buddhism relics are all located around Puri. To get to Puri, you can take the bus at Taipei Western Passenger Station or Gancheng Bus Stop near Taichung Railway Station. Then you can take the local bus to these scenic spots.



Starting from Shuili:
Jade Mountain, belonging to Yushan National Park, is the highest peak in Taiwan. To get there, you should first take the bus near Taichung Railway Station or take the small train from Changhua or Taichung to Shuili. Next, you can take the bus to the mountain.



Starting from Nantou City or Caotun Township:
Monster Village, located at Sitou, is a lovely place where you will find monster decorations in every corner. You can take the bus from Nantou City or Caotun Township to Sitou. There are also buses from Nantou City or Caotun Township to Puri and Shuili, these are used as transfer hubs by many independent travelers.
How to Get to Nantou
There is no airport in the county. You can fly to Taichung Ching Chuang Kang Airport if there is a flight connection from your place, and then take the bus to Taichung Railway Station. From here you can find buses to Nantou City and Caotun Township, as well as Puri and Shuili. One can also take a train to reach Taichung Railway Station from other places on Taiwan Island.



Traveling along Jiji Rail Line
Jiji Rail Line is one of the three branches of the Taiwan Rail Line, mainly serving passengers and visitors to Nantou County. The most featured stations include Jiji Station, Shuili Station and Checheng Station. Scenery along the way is very amazing so it is also called "Sightseeing Rail Line". One can take a train to Taichung or Changhua first, then change to the colorful small train running along this line.



Jiji Station is one of the oldest railway stations in Taiwan built in typical Japanese style with wood. At the front square, there is an old style steam locomotive.



Shuili Station is the closest one to the Sun and Moon Lake. After getting off there, you can take a free shuttle bus to the lake. If you miss the free bus, there are passenger buses too with duration of about 30 minutes and ticket price of TWD 50.



Checheng Station is one end of the rail line. Around the station, there are Checheng Old Street and Checheng Wood Museum to visit. Passengers getting off there can also take a bus to the Sun and Moon Lake. Ticket price is TWD 60 and duration is about 35 minutes.

Visitors are recommended to buy a one-day ticket for the Jiji Line, by which you can get on and off the train freely during that day allowing you to have a thorough visit. A one-day ticket costs TWD 78.

See more about Taiwan Train
Nantou Travel Tips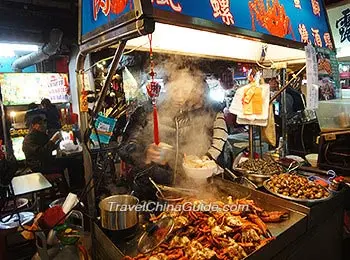 Nantou Night Market

Dining: Nantou has rich products like bamboo shoots, sweet potatoes, mushrooms, bananas, and prunes. The most popular local snacks such as meatballs, shaohsing wine lollies, Taiwanese style popsicles and pastas will satisfy your appetite. Jiji, Puli Third, Pier Sandal, Jiji, Yuchi, Zhushan, and Pulichang Holiday Tourism Night Markets are all good places to eat these delicious foods. The restaurants including Oyster Legend, I Pin Hsiang Beef Dumplings and Ajia Meatballs also attract numerous people. Moreover, you can have a taste of the President Fish at Sun Moon Lake.



Shopping: The county abounds in many kinds of teas such as Assam Black Tea and Dongding Oolong Tea, prunes, shaohsing wine, and chocolates. Among them flowers, prunes, teas, and bamboo are the most abundant agricultural products. They are all the best gifts for your friends. Tianyuh Mai Zhuang at Jiji Township is the best place to buy prunes. You can also go to Green Lake Crafts Shop at Yuchih Township to buy some delicate local crafts as souvenirs. What's more, a mall named Sunny Hillsat Nantou City has many brand shops and gift shops.
- Last updated on Jun. 15, 2023 -
Questions & Answers on Nantou Travel
Asked by Vendy from INDONESIA | Jun. 14, 2023 20:58

Reply
how to go to nantou from taipei
hello we are going to nantou on our next trip from taipei
can you please advise how to go nantou from taipei for following options:
1. by train
2. by bus

thanks in advance
Answers (1)
Answered by Anna | Jun. 15, 2023 23:56

0

0

Reply
Where in Nantou are you going? Based on my travel experience, I always prefer high speed trains. If there is no direct train but direct bus, then I may choose the direct bus instead.
Asked by Ivy Yek from MALAYSIA | Oct. 06, 2018 09:08

Reply
From kaoshiung to nantou by what
1 is there any high speed train from kaoshiung to nanti?
2 how to go to qingjing farm
3 approximate cost of charter car from nantou to chingjing
4 from nantou to sun moon lake how far n how much by car chater n any train available?
Thanks ivy yek
Answers (1)
Answered by Kelly from USA | Oct. 11, 2018 18:41

0

0

Reply
There is no direct high speed train between the two cities. You need first go to Zuoying Railway Station where you can take the train to Taichung. Then near the Taichung Railway Station, there is the Taichung Bus Station where you can take the bus to Nantou Bus Station or Qingjing Sightseeing Bus.

I'm sorry I didn't find the car fee to Qingjing or Sun moon lake. But I think you can hire a car to finish the whole ride in NT.