Dongtian Park (Big and Small Dongtian)
Located 40 kilometers (25 miles) west to Sanya, at the foot of the South Mountain, covering a total area of 22.5 square kilometers (9 square miles), Dongtian Park, also known as Taoist Fairyland Park or Daxiao Dongtian Park, was founded in 1187 during Southern Song Dynasty (1127-1279). It has a history of more than 800 years, ranking as Hainan's oldest attraction. It is famous for its unique beautiful natural scenery, ecological resources and historical heritages.

There is an interesting story about its name. In Taoist Culture, there are 10 big Dongtians, 36 small Dongtians and 72 blessed fairylands. Dongtian means fairyland where the Gods live, so the name was given. In Southern Song Dynasty, Mao Kui, the supervisor of Hainan Province, found a big Dongtian and a small Dongtian in the South Mountain in Sanya. He then developed this area into a tourism resort and left some inscriptions on the stones and cliff. Now, there is only a small Dongtian under the cliff. According to a book recording the history of Hainan Province, there should be a big Dongtian too, but it can not be found now, leaving an infinite mystery. The name Big and Small Dongtian is still in use.

Dongtian Park comprises of six areas: Dongtian Fairyland, Longevity South Mountain, South China Sea Dragon King, Cliff Wall with Inscriptions, Seamounts Wonders, Sanya Natural History Museum. With a total of over 50 attractions, it is an international tourist scenic spot reflecting Taoist culture and dragon culture, melting seaside scenery, science education, customs and coastal relaxation in one body.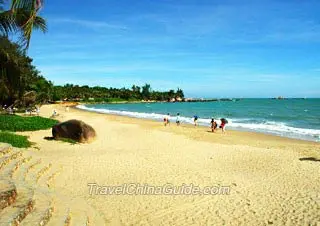 Dongtian Fairyland
Dongtian Fairyland
It is said by legends that Mao Kui ascended to heaven here. The Dongtian Fairyland enjoys equal popularity with three fairy islands of East China Sea, namely Penglai, Yingzhou, Fangzhang. It is the birthplace of Taoism in Southern China, attracting many Taoists to seek mystical Taoism and spread Taoism culture. Many historical traces are retained, such as Fairy Foot and Fairy Altar, as well as many travels and poetry.
Longevity South Mountain
South Mountain is a word referring to longevity. The mountain is really worthy of the name! Its green vegetation coverage rate is over 85% and its negative oxygen ions rank the most in China. Even more amazing is its 30,000 dracaenas, which are called "the longevity pines". Dracaena is the world's rarest longevity tree with a possible age up to 10,000 years. Belonging to Agave Plant Family, dracaena's appearance can be dated back to Cretaceous Dinosaur Period, so it is also known as the living fossil plants. It has been listed as a rare protected species by UNESCO because it is on the verge of extinction. There are more than 2,000 dracaenas over 1,000 years old and the oldest is in excess of 6,000 years. These longevity trees holds people's good wish of longevity and forms a unique natural and cultural landscape.
South China Sea Dragon King
There is a South China Sea Dragon King Temple in Dongtian, in which stands the statue of Dragon King of the South China Sea. In Chinese culture Dragon King is the king that brings stability and good fortune. Lunar February 2nd is the Dragon Head Raising Day, the day Dongtian Park holds grand Taoist folk activities to worship the Dragon King and the South China Sea.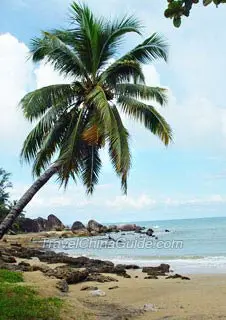 Moon Bay
Cliff Wall with Inscriptions
The South Mountain is also called Divine Turtle Mountain for that it looks like a big sea turtle surfacing from the sea. The Cliff with Inscriptions is on the mountain top. The inscription saying "Kui Xing Dian Dou, Du Zhan Ao Tou" shows a profound Chinese allusion. In ancient Chinese Culture, "Kuixing" refers to the first four stars of the Big Dipper, and it is the God of Articles. In the folk, the statue of Kuixing is made a figure that stands on a sea turtle (ancient Chinese called sea turtle Ao) with one foot and the other leg cocks up, with an ink duct in the left hand and a brush in the right hand. The God of Articles would mark the name of someone who wrote the best article and ranked the first during the Imperial Competitive Examination. The person marked should present himself before the stone statue of the Divine Turtle.
Seamounts Wonders
The beautiful scenery of the mountain, sea, stone and forest attracts a number of photography enthusiasts. Every year a variety of photography contests are held.
Sanya Natural History Museum
The museum is the only natural history museum in the southernmost of China. The museum displays dinosaur fossils, reproducing the real life world 140 million years ago. The museum possesses 2,000 pieces of specimen, of which more than 800 pieces are national treasures and some are unique both home and abroad. Fossil collection of the Jehol Biota in western Liaoning was honored as "the most surprising finding of the 20th century" by former U.S. President Bill Clinton. Except the above six areas, there is a Small Moon Bay Recreation Area in the southeast of the park. Extending along the coast like a crescent, the bay has many kinds of well-preserved natural vegetation. It is a natural oxygen bar with a concentration of negative ions up to 8000-10000 per cubic centimeter. Beach bars here allow many tourists to enjoy beach BBQ and other activities. Huts and tent camps on the bay are very natural, warm and comfortable to live in.
How to get to Dongtian Park
1. Take bus 25 or Yazhou 6 to Daxiao Dongtian (Dongtian Park).
2. Take a regular bus from
Nanshan Culture Tourism Zone
.
Entrance Fee
October - April: CNY 90
May - September: CNY 75
Half price for children between 1.2 - 1.4m (3.9 - 4.6ft);
Free for children under 1.2m.
Round-trip Cable Car
CNY 15
Opening Hours
7:30 - 18:30
Best Travelling Time
November to May

Note: You had better refer to the weather forecast to avoid visiting the spot during typhoon period.

- Last updated on Oct. 23, 2018 -