Boundary Island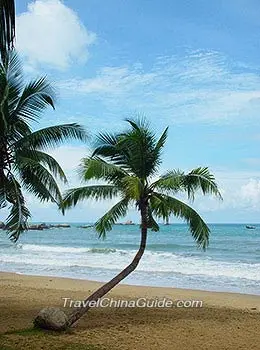 Boundary Island, Hainan
Name: Boundary Island
Chinese Name: 分界洲岛
Location: In the northeast of Lingshui County, Hainan Province; 1.2 nautical miles southeast away from Hainan Island
Area: A strip-shaped island with an area of 85 acres (234, 983 square meters)

Hailed as the undisturbed isolated island floating on the South China Sea, Boundary Island is a pristine tropical island famous for the soft beach, blue seawater, unique landscape, and exciting entertainment activities.
Why is it Called Boundary Island?
The island got the name because it is the boundary between two different climates, two different culture backgrounds, and two administrative regions. The temperature is slightly higher with little rain on the south of the island, while the northern region is moderate and humid. So, you can view scenes of different weather conditions at the two ends of the island at the same time. The island also draws a line between nationality groups in Hainan. The minority people mainly reside to its south and the region to its north mainly houses Han people. Also, it is the administrative boundary of Lingshui and Wanning.

Seen from the opposite bank, the island looks like a sleeping beauty on the blue sea. So it is also nicknamed the Beauty Island.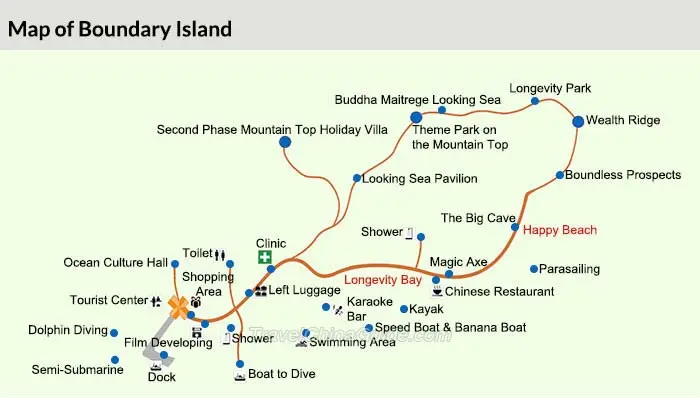 Map of Boundary Island
Amazing Tropical Island Scenery
You will be immersed in tropical island scenery once you set feet on Boundary Island. The east of the island has high cliffs, with large waves slapping the rocks. Scenery in the west is totally different, with soft and fine beach and mild sprays. The surrounding sea area is full of coral reefs and tropical fish. Having a stroll along the marble staircase, the natural peculiar stone peaks, precipices and strange plants emerge in front of you. Standing at the top of the hill on the island, you will have a better view of the stunning scenery of the island and the sea. Spending the night on the island is also an amazing experience. You can lie down on the beach listening to tides and counting stars. Sunrise over the sea in the next early morning will make the trip to the island even more unforgettable.
Ocean Culture Hall
Besides the beautiful natural scenery, there is also an Ocean Culture Hall on the island helping you delve into the world on the seabed by visiting Dolphin Bay, Salvaged Porcelain Gallery, and Coral Gallery inside.



Dolphin Bay
It is the largest wild marine aquarium in China, and is also the first in the whole country to domesticate animals in a totally natural condition. It houses whale sharks – the biggest fish on the earth, lovely dolphins, cute sea lions, and sea turtles. Tourists can have a close contact with these animals by feeding them or diving under the water and swim with them. You can also enjoy interesting performances played by sea lions and dolphins.



Salvaged Porcelain Gallery
Porcelains displayed in the gallery are all salvaged from sunken boats under this sea area, including bowls, plates, bottles, rouge boxes, and wine pots. These porcelains can be dated back to the Northern Song, Yuan, Ming, and early Qing Dynasties (960 – 1911). Those from Yuan Dynasty and Ming Dynasty are relatively well-preserved.



Coral Gallery
It is the only exhibition in China demonstrating both living corals and coral samples, as well as other sea creatures' samples, and is also the biggest coral-themed gallery national wide with the most species on display in China. Covering an area of over 1,435 square yards (1,200 square meters), it is a two-storey building which can hold about 1,000 visitors at a time. There are more than 120 species of coral being exhibited, totaling to about 10,000.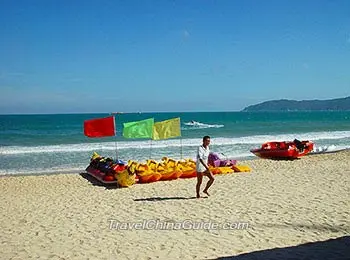 Take a boat to have fun on the sea
Thrilling Entertainment Activities
There are also many entertainment activities you can do on the island. Diving is the most popular one to explore the unfamiliar seabed with colorful fish, clear water, and swaying seaweeds. You will find gardens made of various peculiar stones by your side and small sea fish shuttling through colorful corals; you might want to fondle the small fish or have a careful observation of the beautiful corals. Sometimes, you can also see hermit crabs cross over before your eyes, waving their big claws. If you throw bait into the water, shoals of fish will come to you and swim around you. Diving into the sunken boat is a risk-taking activity. Once you get into the dim and rusting cabin, any sound will make you feel creepy.
Transportation
Boundary Island is 55 miles (89 kilometers) away from Sanya, and 115 miles (185 kilometers) from Haikou. You can take high speed trains from both cities to Lingshui first, and then transfer to free shuttle bus to the ticket office of the scenic area. Afterwards, take a ferry to reach the island; it should take about 10 minutes for a one-way cruise. From Sanya, you can also take a free through bus to the scenic area.



By free through bus from Sanya:
The bus departs from Century Palace Hotel in the center of the city at 9:00, 10:00, and 15:00. The trip should take approximately 1.5 hours. You may need to call at 0898-88273166 one day in advance to reserve seats.



By high speed train from Sanya or Haikou:
Take a high speed train at Sanya Railway Station, Haikou Railway Station, or Haikou East Railway Station to Lingshui Railway Station. Get out from the station and take free shuttle bus to the scenic area. You will arrive at the ticket office of the scenic area after 15 minutes' drive.


Click here to search for the real-time China Train Schedule
Admission Fee
(including round-trip ferry ticket)
May - Sep.: CNY 132
Oct. - Apr.: CNY 127
Children less than 1.2 meters (3.9 feet): Free of charge
Note: the earliest ferry to the island is at 08:00; the last ferry to the island is at 17:30; last ferry leaving the island is at 18:00
Operating Hours
07:30 – 18:00
Other service fee on the island
| | | | |
| --- | --- | --- | --- |
| Ocean Culture Hall | CNY 130 | One-man Submarine | CNY 350 |
| Banana Boat (3 men at least) | CNY 100/per person | Parasailing | CNY 280 |
| Motorboat | CNY 170 | Sightseeing Speed Boat (4 men at least) | CNY 120/per person |
| Sightseeing Submarine | CNY 310 | Enjoying Corals in Submarine | CNY 200 |
| Sea Fishing | CNY 190 | One-man Kayak | CNY 90 |
| Playing Skateboard on the Sea | CNY 130 | Riding Bicycle on the Sea | CNY 180 |
| Sea Plane | CNY 230 | Night-fishing along the Seashore | CNY 150 |
| Dancing with Shark | CNY 880 | Motorboat Cruise around the Island | CNY 280 |
| Diving with Dolphin | CNY 580 | Diving to View Coral Reefs | CNY 400 |
| Diving Far Offshore | CNY 460 | Taking Digital Photos Under the Sea | CNY 160 |
| Night Diving | CNY 380 | Taking Photos with Dolphins Under the Sea | CNY 180 |
| Submarine Night Cruise | CNY 130 | Undersea Shooting | CNY 280 |
| Sightseeing Semi-submarine (for children) | CNY 150 | Disposable Breathing Mouthpiece | CNY 20 |
Combo Ticket
Parasailing + Motorboat
CNY 430
Diving to View the Corals
+ Motorboat
CNY 530
+ Parasailing
CNY 640
+ Banana Boat
CNY 480
+ Parasailing + Motorboat
CNY 800
Diving Far Offshore
+ Motorboat
CNY 610
+ Parasailing
CNY 720
+ Banana Boat
CNY 540
+ Parasailing + Motorboat
CNY 900

Further Reading:

Top 10 Things to Do in Sanya

Top 10 Things to Do in Hainan
- Last updated on Apr. 15, 2021 -
Questions & Answers on Boundary Island
Asked by BJBB from GERMANY | Jan. 18, 2021 03:12

Reply
swimming
Is swimming allowed at beaches on Boundary Island? If so, which ones?
Answers (1)
Answered by Connelly | Jan. 24, 2021 21:45

0

0

Reply
Yes, it is allowed.