Sanya Shopping
What to buy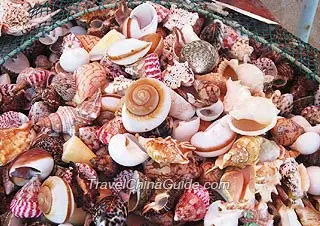 Beautiful shells on sale
Along with its bright sunshine, Sanya can bring you an adventure in shopping. Surrounded by blue water on three sides, the city teems with a multitude of sea products that make wonderful souvenirs and gifts for friends and relatives. Fresh seafood sold at a reasonable price is a most attractive purchase for visitors from both China and abroad. You can also buy pretty decorations and handicrafts made of shells or trumpet shells: a gift from the sea. Perhaps, however, it is more diverting to pick up some unique shells and trumpet shells along the local beautiful beaches by yourself.

In addition to these gifts from the sea, the city offers some other special local products that will definitely fill up your bags. Under the vast seawater, beautiful coral abounds. Some of it is made into exquisite pieces and sold in the local shops. However, it is not recommended that you buy one of these coral pieces, since they are products made of endangered coral, and are not sold legally. It is also not legal to carry them on a plane in China.

There is no reason for despair, since the rare seawater pearl and crystal products will delight every bit as much. From ancient times, pearls have been considered to be the best jewels for women. At present, they are also made into beautiful decorations. Furthermore, pearl powder is used by many women to maintain youth and beauty. You can find some high quality pearls there where the best pearls are cultivated. This city also prides itself on its beautiful, luminous crystal. It is said that the crystal produced in Yanglan Town which is located in the north of this city is the best gift for your lover.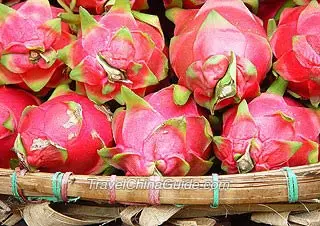 Fresh fruits
Additionally, various tropical fruits offered in this city are especially appreciated by both locals and visitors. Small banana, guava, durian, mangosteen, wampee, litchi, procession of lanterns or torches fruit, carambola, jackfruit and the most beautiful rose apple are delicious fruits to buy and sample.

Finally, a suit of colorful local cloth is a must for you. These clothes are usually printed with numerous tropical pictures, such as coconut trees, sea and sunshine. Combine this with a pair of comfortable beach shoes, and your stay will be much more comfortable. Favored by more and more visitors, this cloth has become a signature of Sanya item.

Where to buy
The local shopping centers are usually found near scenic spots, such as Dadonghai and Tianya Haijiao. In the city center, the main shopping districts are business pedestrian streets such as Jiefang Road and Hongqi Street.

Jiefang Road
This is a newly opened street, and the longest in Sanya. It offers local products, dining, entertainment, tours, housing, and temporary accommodations. KFC, Mcdonald's, and a variety of department stores and supermarkets are assembled here. Located at No.7 on Jiefang Road 2nd, Tiancheng Department Store is an all-round place offering clothes, non-staple foodstuffs and household electrical appliances. Some world brands of merchandise are available here. What's more, the Tianhong Department Store (favored by high income people), Wanfulong Supermarket (part of the biggest chain in Hainan Province), Yifang Department Store and a number of other chain stores are located on Jiefang Road.
| | |
| --- | --- |
| Jiefang Road | Tropical taste clothes |
Hongqi Street
This street is more favored by people concerned with economy since various items of a reasonable price are sold here. About 300 meters (about 0.19 mile) long, this street could be divided into two parts: clothes are sold in the south part while groceries and commodities are sold in the north part. The shopping centers of this street are the
First Market
,
Sanhe Business City
and
Yangguang Shopping City
.
The First Market is the biggest free market of agricultural products in Sanya City. Various local products, including all of the seafood and local fruits, are sold here at a reasonable price. If you want to buy a suit of local clothes, the Sanhe Business City that is located at the south end of Hongqi Street is a must. The price ranges from CNY10 to CNY20 - much lower than the price of large-scale stores.
In addition, the
Business Street
near Hongqi Street is the best place to buy pearls and shell decorations. Prices are reasonable, especially for these beautiful shells, but the price of pictures consisting of shells is a little high. The
Sanya DC City
is another ideal place to buy some souvenirs: local products and all sorts of decorations can be purchased here.

You May Like:
8 Major Cities in China for Enthusiastic Shoppers
- Last updated on Aug. 22, 2023 -
Questions & Answers on Sanya Shopping
Asked by Jens from GERMANY | Jun. 14, 2023 22:05

Reply
Any good ENGLISH bookshop in Sanya?
Answers (1)
Answered by Anna | Jun. 16, 2023 00:08

0

0

Reply
I'm afraid there is no specialized English bookshop but there are many bookshops selling various books, including English ones.

Below are some for reference:
Jelly Cat in Haitang Bay DFS;
Xinhua Bookstore at No.206, Jiefang Road, Tianya District.
Haitian BookShop at Mingzhu Square, No.3 Jiefang Road, Tianya District.
Asked by Axung from INDONESIA | Dec. 13, 2019 05:31

Reply
Is there Mi Store in Hainan ?
Answers (1)
Answered by Gina from CANADA | Dec. 16, 2019 17:51

0

0

Reply
Yes, of course. You can go to Lanhai Shopping Mall, which is located at F1, Lanhai Huating, Jiyang District in Sanya.
Asked by Kalena from SINGAPORE | Jun. 24, 2019 07:30

Reply
Plants, vegetables, flowers in Sanya
Where can you buy herbs, vegetable,flower seeds and planting material like rooting hormones?
Answers (1)
Answered by Sofie from NEW ZEALAND | Jun. 25, 2019 02:37

0

0

Reply
There is a flower market located at East Lane 1, Chuanzhong Road, Jiyang District.
Asked by Andrew from AUSTRALIA | Apr. 29, 2019 19:38

Reply
What is the best markets to get a bargain in Sanya?
I'm visiting there at the end of May and am looking to visit the market to get a bargain or two, which one is the best and can you bargain with them?
Answers (1)
Answered by John from USA | May. 04, 2019 22:47

0

0

Reply
I have been to Jiefang Road Market where can bargain with shop owners.
Asked by Carin from SINGAPORE | Dec. 04, 2017 06:31

Reply
Accommodation and Vegetarian Restaurants in Sanya
Which hotels would you recommend for a family of 4? Wanted to visit the Nanshan Temple, and also any good vegetarian restaurants near SY?

Thanks

Answers (1)
Answered by Rachel from FRANCE | Dec. 04, 2017 21:03

1

0

Reply
Miaoyin Vegetarian and Yuanqilou Vegetarian inside the Nanshan Scenic Area are recommended.
As for hotels, you can live in Nanshan Leisure Villas.