Sanya Weather in November
The weather of Sanya in November is pretty comfortable and mild with the summer heat fading away. Sanya weather in November is sunny with less rain. The average precipitation in November is up to 58mm, and the average precipitation is 7 days. Generally, the average temperature remains around 24°C (75°F), and the temperature of the whole month goes ups and downs between 21-29°C (70-84°F).
The pleasant and climate welcomes the peak season of Sanya tourism, therefore, if plan to visit in November, it is better to prepare and book tickets and hotels early.
Averages for Sanya Weather in November
Temperature: 24°C / 75°F
High Temperature: 29°C / 84°F
Low Temperature: 21°C / 70°F
Humidity: 63%
Rainfall: 58 mm
Rainy Days: 7 days
Sunrise: 06:41 ~ 06:57
Sunset: 18:04 ~ 18:10
Air Quality in November
Average AQI:33

What to Wear in Sanya in November
In the daytime, cotton linen shirts, thin dresses, thin T-shirts, and other cool, breathable clothes are recommended. As for night, the temperature gets a little lower, it is suggested to long-sleeve shirts made of cotton and linen, thin jeans, sportswear and other comfortable clothes. During the visit of Sanya, maritime entertainment projects are inevitable, so it is essential to bring replacement clothes and swimsuits.

Where to Go in Sanya in November
You can participate in water games and enjoy warm sunshine at Dadonghai and appreciate sunset at
Luhuitou Peninsula
. Exploring
Yanoda Rainforest Cultural Tourism Zone
on foot and experiencing the thrill of crossing rapids can also bring you unforgettable impression. If being fond of water games, you can have a good time at
Binglanggu Park
and Wuzhizhou Island. Especially Wuzhizhou Island, with more than 30 kinds of maritime beach entertainment projects, it is one of the must-visit attractions, offering you fantastic experience.
Other Tips
You can bring some medicines in case of the emergencies, such as anti-allergic drugs, antidiarrheal drugs, painkillers and cold medicines. To protect from sunburn, sunglasses, sun hats, and sun creams are necessary.
What is the temperature in Sanya in November?
High/Low Temperatures of Sanya in November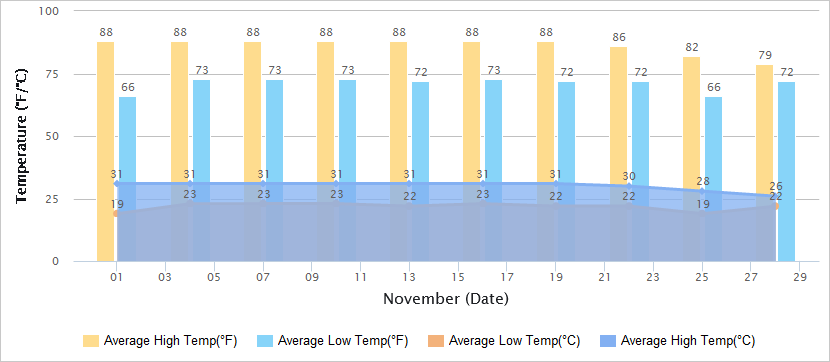 Air Quality of Sanya in November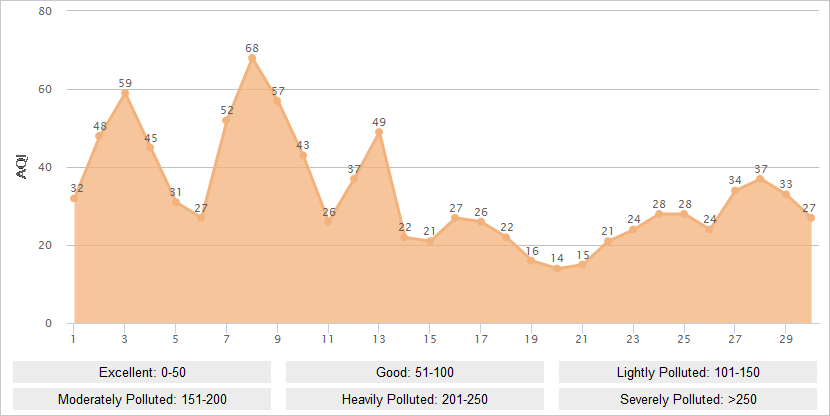 Historical Sanya Weather in November
Nov
Temperature
Sunrise / Sunset
Humi-
dity
(%)
High
Low
1
31°C / 87.8°F
19°C / 66.2°F

06:41

/

18:10

49
2
31°C / 87.8°F
21°C / 69.8°F

06:42

/

18:09

54
3
31°C / 87.8°F
21°C / 69.8°F

06:42

/

18:09

70
4
31°C / 87.8°F
23°C / 73.4°F

06:42

/

18:08

68
5
31°C / 87.8°F
23°C / 73.4°F

06:43

/

18:08

75
6
32°C / 89.6°F
23°C / 73.4°F

06:43

/

18:07

74
7
31°C / 87.8°F
23°C / 73.4°F

06:44

/

18:07

72
8
31°C / 87.8°F
22°C / 71.6°F

06:44

/

18:07

75
9
31°C / 87.8°F
24°C / 75.2°F

06:45

/

18:06

75
10
31°C / 87.8°F
23°C / 73.4°F

06:45

/

18:06

74
11
31°C / 87.8°F
21°C / 69.8°F

06:46

/

18:06

75
12
31°C / 87.8°F
23°C / 73.4°F

06:46

/

18:06

74
13
31°C / 87.8°F
22°C / 71.6°F

06:47

/

18:05

72
14
31°C / 87.8°F
21°C / 69.8°F

06:47

/

18:05

76
15
31°C / 87.8°F
23°C / 73.4°F

06:48

/

18:05

79
16
31°C / 87.8°F
23°C / 73.4°F

06:48

/

18:05

75
17
32°C / 89.6°F
22°C / 71.6°F

06:49

/

18:05

75
18
31°C / 87.8°F
22°C / 71.6°F

06:50

/

18:04

74
19
31°C / 87.8°F
22°C / 71.6°F

06:50

/

18:04

75
20
31°C / 87.8°F
24°C / 75.2°F

06:51

/

18:04

76
21
31°C / 87.8°F
23°C / 73.4°F

06:51

/

18:04

77
22
30°C / 86°F
22°C / 71.6°F

06:52

/

18:04

71
23
29°C / 84.2°F
20°C / 68°F

06:52

/

18:04

68
24
30°C / 86°F
22°C / 71.6°F

06:53

/

18:04

69
25
28°C / 82.4°F
19°C / 66.2°F

06:54

/

18:04

95
26
27°C / 84.2°F
17°C / 62.6°F

06:54

/

18:04

70
27
28°C / 82.4°F
20°C / 68°F

06:55

/

18:04

76
28
26°C / 78.8°F
22°C / 71.6°F

06:55

/

18:04

79
29
28°C / 82.4°F
21°C / 69.8°F

06:56

/

18:04

78
30
28°C / 82.4°F
24°C / 75.2°F

06:57

/

18:04

78
- Last updated on Jul. 25, 2022 -