Sanya Weather in March
Sanya weather in March is mild and comfortable with bright sunshine and moderate humidity. The temperature fluctuates little between day and night, averagely ranging from 22°C (72°F) to 29°C (84°F). Generally speaking, it rains about 4 days with only 19mm of monthly precipitation, which makes March one of the driest months of the year in Sanya. Though the climate is hot, visitors can feel cool in the early mornings or after rainy days. As temperature rises up, the average temperature of seawater is around 24°C (75°F), which is suitable enough to swim in the sea.
Averages for Sanya Weather in March
Temperature: 25°C / 77°F
High Temperature: 29°C / 84°F
Low Temperature: 22°C / 72°F
Humidity: 76%
Rainfall: 19 mm
Rainy Days: 4 days
Sunrise: 06:37 ~ 07:01
Sunset: 18:48 ~ 18:55
Air Quality in March
Average AQI:25

What to Wear in Sanya in March
Breathable summer clothes such as skirts, shorts, and dresses, will fit the weather well. Moreover, bikini and swimsuits should not be missed. Sandals are advised to wear when wandering on beaches.


Where to Go in Sanya in March
Wuzhizhou Island, also known as Chinese Maldives, is the best place for tourists who want to try underwater diving. Besides, visitor could put off your shoes and stroll along the shore line on beaches to feel the soft sands. There are at least thirty beach entertainments, like motorboat, water jetting, undersea walking and parasailing, for tourists to attend.
Stay overnight at the island, and get up early heading to Sunrise Observation Rock, where tourists could have the most wonderful viewing of sunrise over the sea. After that, visiting Valentine Bridge in the island with beloved one must be romantic.
Other Tips
Visitors are expected to follow what the coach requires when they want to try exciting events over the sea. If not, they may get injured easily.
What is the temperature in Sanya in March?
High/Low Temperatures of Sanya in March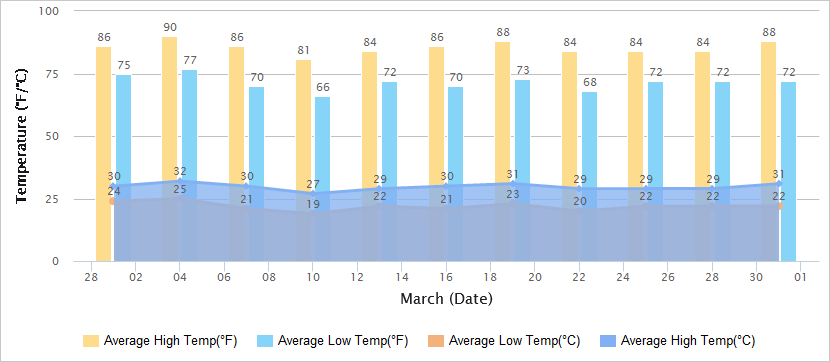 Air Quality of Sanya in March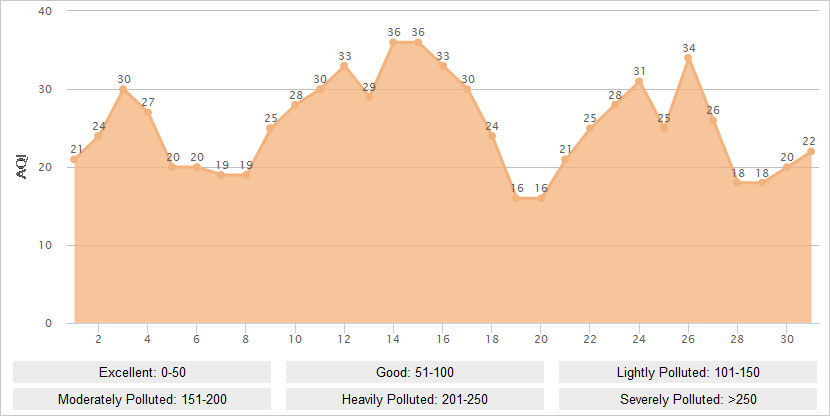 Historical Sanya Weather in March
Mar
Temperature
Sunrise / Sunset
Humi-
dity
(%)
High
Low
1
30°C / 86°F
24°C / 75.2°F

07:01

/

18:48

76
2
31°C / 87.8°F
24°C / 75.2°F

07:00

/

18:48

80
3
32°C / 89.6°F
24°C / 75.2°F

07:00

/

18:48

80
4
32°C / 89.6°F
25°C / 77°F

06:59

/

18:49

81
5
31°C / 87.8°F
24°C / 75.2°F

06:58

/

18:49

79
6
30°C / 86°F
24°C / 75.2°F

06:58

/

18:49

79
7
30°C / 86°F
21°C / 69.8°F

06:57

/

18:50

77
8
28°C / 82.4°F
18°C / 64.4°F

06:56

/

18:50

82
9
25°C / 77°F
19°C / 66.2°F

06:55

/

18:50

58
10
27°C / 80.6°F
19°C / 66.2°F

06:54

/

18:50

64
11
28°C / 82.4°F
19°C / 66.2°F

06:54

/

18:51

67
12
29°C / 84.2°F
20°C / 68°F

06:53

/

18:51

68
13
29°C / 84.2°F
22°C / 71.6°F

06:52

/

18:51

71
14
29°C / 84.2°F
21°C / 69.8°F

06:51

/

18:51

74
15
28°C / 82.4°F
20°C / 68°F

06:50

/

18:52

77
16
30°C / 86°F
21°C / 69.8°F

06:50

/

18:52

67
17
31°C / 87.8°F
22°C / 71.6°F

06:49

/

18:52

73
18
31°C / 87.8°F
23°C / 73.4°F

06:48

/

18:52

76
19
31°C / 87.8°F
23°C / 73.4°F

06:47

/

18:53

76
20
27°C / 80.6°F
19°C / 66.2°F

06:46

/

18:53

77
21
28°C / 82.4°F
19°C / 66.2°F

06:46

/

18:53

63
22
29°C / 84.2°F
20°C / 68°F

06:45

/

18:53

59
23
29°C / 84.2°F
21°C / 69.8°F

06:44

/

18:54

67
24
29°C / 84.2°F
21°C / 69.8°F

06:43

/

18:54

71
25
29°C / 84.2°F
22°C / 71.6°F

06:42

/

18:54

70
26
29°C / 84.2°F
22°C / 71.6°F

06:41

/

18:54

72
27
29°C / 84.2°F
21°C / 69.8°F

06:41

/

18:54

68
28
29°C / 84.2°F
22°C / 71.6°F

06:40

/

18:55

71
29
30°C / 86°F
22°C / 71.6°F

06:39

/

18:55

79
30
30°C / 86°F
23°C / 73.4°F

06:38

/

18:55

72
31
31°C / 87.8°F
22°C / 71.6°F

06:37

/

18:55

64
- Last updated on Dec. 11, 2019 -