Sanya Phoenix International Airport
Airport Code: SYX
Location:
Eleven kilometers (about 7 miles) northwest of downtown area, Sanya Phoenix International Airport is 5 kilometers (about 3 miles) from the famous tourism site Tianya Haijiao.
Brief Intro:
Open to public since July 1st, 1994, the 4E standard flight area in Sanya Airport has a 3,400 x60 meters runway as well as a parking area for 32 large and medium airliners. Currently, it hosts 93 domestic air routes, 6 international and regional air routes and 24 chartered air routes operate from this airport. Passengers can fly to 80 cities domestic and international.

Sanya Flights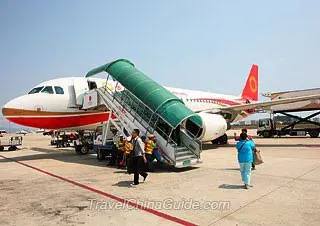 Sanya Airport
Airline Companies:
DeerJet (JD), China Eastern Airlines (MU), China Southern Airlines (CZ), Spring Airlines (9C), Hainan Airlines (HU), Sichuan Airlines (3U), Shanghai Airlines (FM), Shenzhen Airlines (ZH), Xiamen Airlines (MF), Okay Airways (BK), Chongqing Airlines (OQ), JuneYao Airlines (HO), Air China (CA), China West Airlines (PN), Chengdu Airlines (EU), Northwest Airlines (NW), Cathay Pacific Airways (CX), Dragon Air (KA), China Express Airlines (G5), Lucky Air (8L), China United Airlines (KN),Shandong Airlines (SC), Transaero Airlines (UN).

Tips: 1. International passengers should arrive at the airport 2 hours early, 1.5 hours early for domestic flight.
2. The check-in counters close 30 minutes before flight departure. Some airline companies may be different; passengers should read the notice on the air ticket.
| | |
| --- | --- |
| Baggage Claim Poster | Tourists Waiting for Their Luggage |
Services and Facilities

Luggage Storage: Passengers can store their luggage at the Inquiry Center on the 2nd Level of the Terminal Building, the service charges either by the day or by the hour.

There is luggage packing counter in the terminal hall, small luggage is charged CNY5 per item while large luggage is charged CNY10 per item.

Lost and Found: The lost and found counter is located on the 2nd Level of the Terminal Building at the Inquiry Center. Tel: 86-898-88289575

Bank and Foreign Currency Exchange: There are ATMs in the terminal building. Passengers may also pay by bank cards in the Terminal.

Changing Room: It is located in Luggage Claiming Hall of the first floor.

Telephones: There are card phones in Check-in Hall and Isolation Area. Cars are available at the Inquiry Counter.

Inquiry: The counter is located on 2nd Level. It offers services such as luggage inquiry, lost and found and other information.

Special Service: It is offered to special passengers, i.e. unaccompanied passengers (children and the elders) and passengers in wheel chairs. Must ask for the service at time of booking tickets. Besides, passengers on stretchers need to contact the airport urgent-care centre as well.

Parking Lot: It is located in front of the terminal building. The fare is CNY5 per compact car, CNY10 per medium-sized car and CNY15 per large cars.
| | |
| --- | --- |
| Waiting Hall | Airport Shuttle |
Transportation

Airport Shuttle Bus
Routes

Ticket Fare

Departure Station

Operating Time

Duration

Airport → Binhai Lu → Sanya Holiday Resort → Jinjiling Lu → Jiefang Lu → General Bus Station → Xiayangtian → Dadonghai

CNY10 (Airport – Sanya Holiday Resort)
CNY 15 (Airport – Other Downtown Stations)

Terminal Building Exit

Buses run till the last coming flight. Usually, they knock off at 00:30.

40 minutes

Dadonghai Square → Baohong Hotel → Eadry Resort Hotel → Howard Johnson Resort Sanya Bay → Beautiful Spring Hotel → Airport

CNY 10 (Howard Johnson Resort Sanya Bay – airport)
CNY 15 (Other Downtown Stations – Airport)

Dadonghai Square

08:40, 10:30, 12:00, 13:30, 15:30, 17:00, 19:00, 20:30

40 minutes
Note: Passengers may also get on the shuttle bus at pick-up points along Erhuan Lu.

City-bus
Line 8

Ticket Fare

Operating Hours

Duration

Dadonghai – Jiefang Lu – Binhai Lu – Sanya Bay – Airport (Domestic Terminal, straight ahead)

CNY 5 (Dadonghai – Airport)
CNY 4 (Downtown Stations – Airport)

06:00 – 23:00, every 10 minutes

30 - 45 minutes
Note: Passengers to Yalong Bay may change to Yalong Bay Special Line at Dadonghai Station. It takes about 40-60 minutes by car from Phoenix Airport to Yalong Bay.

Taxi
It takes around 20 minutes and around CNY30 to take taxi shuttle between the Phoenix Airport and its city downtown area.
- Last updated on Mar. 10, 2022 -
Questions & Answers on Sanya Airport
Asked by GITO SANTANA from UNITED KINGDOM | Sep. 18, 2023 06:23

Reply
temporary driving license in sanya
hello.
I am british with two nationalities British and Mauritius I have two passports. with Mauritius passport no need visa to go to China. So I will arrive in Shanghai and then go to Sanya....so I will use mauritius passport...no visa.

now in Sanya......I would like to rent a car. I have only British Driving License as I live in London.
I am 80 years old.
My British license is still valid.

can I get a temporary sanya driving license ? and if yes where must I go.

Many thanks

treat this as urgent please.

gito santana
Answers (2)
Answered by Emma | Sep. 19, 2023 19:57

0

0

Reply
Generally, there is no problem. The require documents include your valid passport, and foreign driving license (a Chinese edition is must), and two photos.

You can apply for it at the airport where you can find the city public security bureau traffic police detachment. You may consult the airport staff to find the office location and it only takes several minutes to get a temporary drive license.
Answered by gito santana | Sep. 21, 2023 14:39

0

0

Reply
Thank you Emma
Are there this traffic police bureau at all night airports in China

Then there should be one in Sanya Phoenix Airport but I am arriving next Thursday at night
Are they open 24/7

Hope so

Thanks a lot

Gito
Asked by Steven from ITALY | Sep. 23, 2020 21:57

Reply
Phoenix Airport to yalong bay Hilton hotel?
Hi there, the best way to reach the Yalong Bay Hilton hotel from the Phoenix Airport?
Answers (1)
Answered by Kaylee | Sep. 29, 2020 19:48

0

0

Reply
Upon landing, you can take bus no.27 and get off at Golf Club Bus Stop. Then walk southwest around 600 meters to find the hotel.
Asked by Irina from RUSSIA | Dec. 07, 2019 06:28

Reply
How can I get from Wanjia Resort Hotel Sanya to Phoenix international airport Sanya
Answers (1)
Answered by Amy from POLAND | Dec. 09, 2019 23:42

0

0

Reply
Upon landing, take bus no.8 to Guoguang Binhai Huayuan Bus Stop. Then transfer to bus no.26 to the hotel directly.
Asked by Madhu from INDIA | Oct. 15, 2019 01:31

Reply
Are there taxi s available in sanya Phoenix airport? Are they metered or do we need to bargain?
I am staying at the crowne plaza sanya bay. Or is it better to arrange pick up from.hotel?
Answers (1)
Answered by Lanny from SINGAPORE | Oct. 16, 2019 20:46

0

0

Reply
It is easy to get taxi around the airport. And the price is counted by taximeters.
Asked by Kim Claire from KOREA | Sep. 03, 2019 23:28

Reply
Where exactly is the sanya bay stop for City bus line 8?
How can I get there? When is the last bus?
Answers (1)
Answered by Jade from NEW ZEALAND | Sep. 05, 2019 20:55

0

0

Reply
The name of bus stop is Sanya bay Xincheng station. Where do you start off? Line 8 operates from 6:00-22:30/2:00.