Chengdu Zoo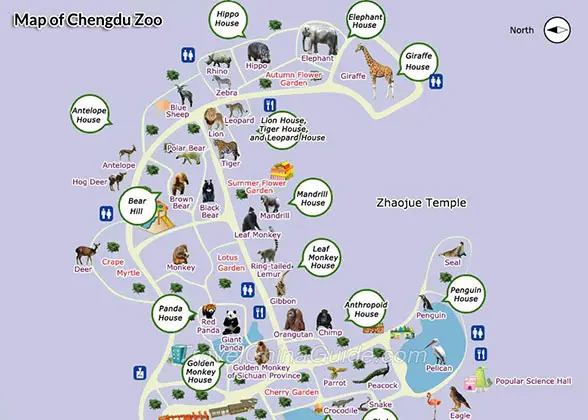 Map of Chengdu Zoo (Click to enlarge)
Covering a total area of 17 hectares (43 acres), Chengdu Zoo is the largest zoo in southwest China. There are over 3,000 animals from more than 300 species, like
Giant Pandas
, South China tigers, takins, and clouded leopards living there. More than thirty animal houses are distributed throughout the zoo, surrounded by green trees, bamboos and flowers. Here are some major ones:
Monkey Houses
They are modeled after natural habitats of monkeys. Smart golden monkeys, lovely ring-tailed lemurs and small squirrel monkeys search for food while playing on swings and climbing on ropes. Monkeys live a happy life there. Meanwhile, their activities delight tourists a lot.
Panda House
Covering a total area of about 1,000 square meters (1,200 square yards), the Panda House is the most famous animal house in Chengdu Zoo. At the present time, there are three giant pandas and three lesser pandas living in the house. However, 58 cute pandas have been once bred and raised here, including 17 sets of twins. All kinds of bamboos, pandas' favorite food, can be found here. Bamboos will give off a delicate fragrance after the rain, which makes tourists delighted and relaxed.
Lion House, Tiger House, and Leopard House
In the Lion House, the Tiger House and the Leopard House of Chengdu Zoo, the double-layer iron railings have been transformed into French windows, which allow tourists to observe animals more clearly than before.
Antelope House
In the Antelope House, tourists will see takins strolling around the grassland, blackbucks running one after another and blue sheep climbing artificial hills. Also, they will be amazed at the vigor of life and the harmony of humans, animals and nature.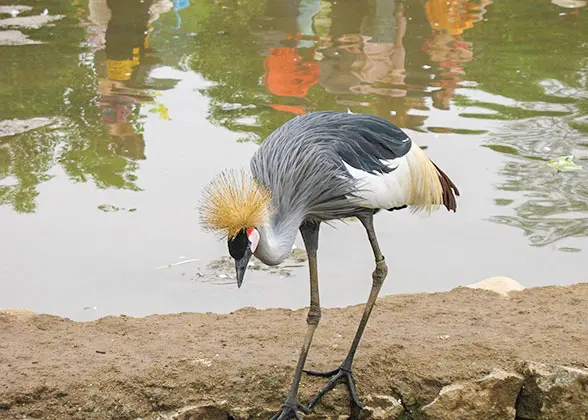 Water Bird Lake
The Water Bird Lake in Chengdu Zoo is surrounded by green willows swinging in the breeze. Mandarin ducks, elegant swans, cute pelicans, ducks, egrets and other water birds live here in harmony and peace.
Popular Science Hall
The Popular Science Hall of Chengdu Zoo consists of an exhibition hall and a digital cinema.
In the exhibition hall, there are numerous pictures depicting the living habits and habitats of animals. Moreover, plenty of boards present the evolution and classification of animals, and rare wildlife in China. At last, there are all kinds of specimens, including those of animal skeletons, feathers and eggs of birds, deer horns, embryos of primates, and feedstuffs.
The digital cinema can seat over 100 people. Five films are played in turn at 11:00, 12:00, 13:00, 14:30, 15:10, and 16:00 every day. Tourists can have a rest while learning something interesting here. They can enjoy various animals and plants on the vast African land, learn about the growth of emperor penguins, delight in the funny things of frogs, watch how people rescue the babies of a tortoise having a difficult labor, and get to know some mysterious things of the Chengdu Zoo.
How to Get to Chengdu Zoo
It is located on South Zhaojuesi Road in Chenghua District.
1. Take
Metro Line 3
to the zoo directly.
2. Take bus line 9, 18, 25, 32, 64, 64 Express, 70, 85, 87, 99, 146, 150, 156a, 156b, 166, 193, 198, 198a, 527, 650, 1030, or 1035, and get off at Zoo (Dong Wu Yuan) Station. Enter the zoo through the North Gate (Main Gate).
3. Take bus line 1, 49, 53, 71, 83, 85, 87, 90, 245, or 530, and get off at the Zhaojue Temple (Zhao Jue Si). Go through the
Zhaojue Temple
, and enter the zoo through the South Gate.
Chengdu Bus / Metro Search
Entrance Fee
CNY 20
Children less than 1.3 meters (4.3 feet) in height can visit free of charge.
Opening Hours
Apr. to Nov.: 8:00-17:00
Dec. to Mar.: 8:30-17:00
- Last updated on May. 05, 2023 -
Questions & Answers on Chengdu Zoo
Asked by ur mom from USA | May. 02, 2023 13:06

Reply
how much is it to get in Chengdu Zoo?
also how much is it to any extra stuff?
Answers (1)
Answered by Linda | May. 05, 2023 01:53

0

0

Reply
If you refer to the entrance fee, it costs CNY 20. If you mean the transportation fee, please let me know where you are departing from and an estimated price can be offered.
Asked by Deshani from SRI LANKA | Feb. 02, 2019 16:15

Reply
Does the Chengdu Zoo closed during Chinese new year period?
Answers (1)
Answered by Rosina from MALAYSIA | Feb. 03, 2019 00:35

0

0

Reply
Yes, it still opens during that period and opens from 08:00 to 17:00
Asked by Mike from DENMARK | Dec. 19, 2018 13:05

Reply
Zoo or Research Base to see Pandas during a 8-hour stop in Chengdu?
I have about 8 hours stopover in the city, before my continuing flight to south east asia departs. I want to see Pandas. Should I go to the zoo or is it possible to see Pandas at the Research Base within my limited time?
Answers (1)
Answered by Delia from UNITED KINGDOM | Dec. 19, 2018 17:40

0

0

Reply
According to your limited time, you are suggested to go to the Zoo. About the transportation, take metro line 10 from airport to Taipingyuan Station. Then transfer to metro line 3 to the Zoo Station, Exit D. After arriving, walk southeast around 400 meters to find the destination. Remember to go back to the airport at least 2 hours in advance before the departure.
Asked by james altman from USA | May. 14, 2018 12:47

Reply
How far is the Chengdu international airport from the zoo?
Answers (1)
Answered by Max from FINLAND | May. 14, 2018 21:32

0

0

Reply
The distance between these two places ia around 30 kilometers.
Upon landing, you can take metro line 10 from airport to Taipingyuan Station. Then transfer to metro line 3 to the Zoo directly.