Salt Industry History Museum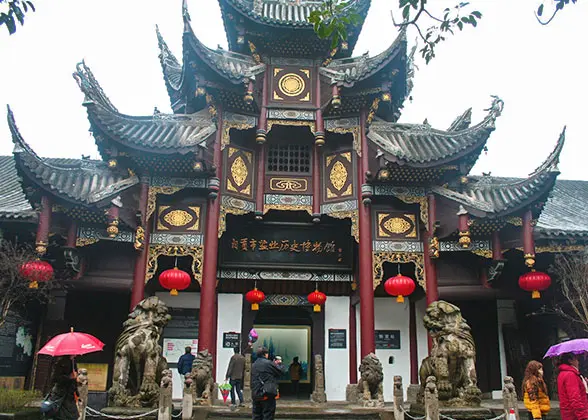 Salt History Museum
Zigong Salt Industry History Museum is the only one of its kind in the whole of China. It was established in 1959 in the center of Zigong City, Sichuan Province.
The museum's mission is to collect, study, preserve and display implements and artifacts relating to salt mining. Large scale mural paintings depict the 2,000 year evolution of mine drilling, salt making, and natural gas usage. The Salt Industry History Museum exhibits over 1,300 different implements including a complete set of over 500 drilling tools. Most of the items displayed are exceptionally advanced for their time. They exemplify not only the prosperity of Zigong's salt making industry, but also the wisdom and engineering skills of the indigenous Chinese people. Visitors to the museum, numbering about 20,000 annually, are actually permitted to operate many of the salt mining devices.
Salt Industry History Museum is composed of two major structures, Xiqin Assembly Hall and Wangye Temple-both of which are major protected cultural relics.
Xiqin Assembly Hall, along with its attached buildings covers an area of 6,303 square meters (about 1.6 acres). This hall was built by merchants from Shaanxi Province in the
Qing Dynasty
(1644-1911), and was later expanded. These merchants reportedly came to Zigong to engage in the salt business and became quite wealthy. The hall was built at a cost over 50,000 tael (about 12,195,000 dollars) and was intended to show off the merchants' financial strength and to provide a place for local citizens to congregate. This hall is a masterpiece combining the palatial architectural styles of the Ming (1368-1644) and Qing dynasties with the folk architectural styles. Therefore, besides salt history, travelers can also appreciate the magnificent quintessence among ancient constructions in the Salt Industry History Museum. The building itself is an architectural masterpiece combining the palatial styles of the Ming (1368-1644) and Qing Dynasties with regional folk styles.
| | |
| --- | --- |
| | |
Wangye Temple was also established in the Qing Dynasty and added a drama house later. Much of the early structure was destroyed in the ensuing years. The property was repaired and restored by the government in 1984. The drama house is surrounded by wooden railings carved with depictions of nature as well as historical characters. It also houses a tea room where visitors can relax and enjoy refreshments.
Salt Industry History Museum is a must-see for travelers. Its marvelous salt making exhibits, historical architectures, and depiction of the unique wisdom of previous generations will create an unforgettable impression.
How to get to Salt Industry History Museum from Chengdu
1. Take buses from
Xinnanmen Bus Station
/ Chadianzi Bus Station to Salt Industry History Museum directly.
2. Take regular buses from Beimen Bus Station, Chengdu General Bus Station, Xinnanmen Bus Station, Chadianzi Bus Station, East Railway Station Bus Station or Airport Bus Station to Zigong. Then change bus no. 33 to Shawan Station. Walk around 200 meters (220 yards) toward north to reach Jiefang Road, turn right and keep walking around 200 meters to find Salt Industry History Museum.
Chengdu Bus / Metro Search
| | |
| --- | --- |
| Entrance Fee | CNY 20 for the Salt Museum |
| Opening Hours | 8:30-17:30 (last entry 17:00) all year round except Chinese Lunar New Year's Eve. |
- Last updated on Apr. 08, 2021 -