72-Hour Visa-Free Transit in China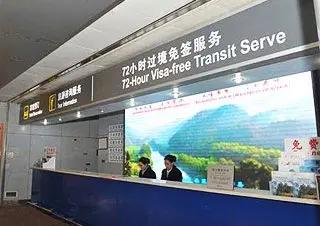 Transit Service Counter
in Beijing Capital Airport
The 72-hour visa-free transit policy in China allows air passengers from 53 countries to transit and stay for up to 72 hours (3 days) in 18 China cities without a visa. In order to facilitate international visitors' short stay in China, the policy is promising to be carried out in more and more cities in the future.

Qualified Countries
24 Schengen Agreement Countries: Austria, Belgium, Czech Republic, Denmark, Estonia, Finland, France, Germany, Greece, Hungary, Iceland, Italy, Latvia, Lithuania, Luxembourg, Malta, Netherlands, Poland, Portugal, Slovakia, Slovenia, Spain, Sweden, Switzerland

15 Other European Countries: Russia, the United Kingdom, Ireland, Cyprus, Bulgaria, Romania, Ukraine, Serbia, Croatia, Bosnia-Herzegovina, Montenegro, Macedonia (FYROM), Albania, Belarus, Monaco

6 American Countries: the United States, Canada, Brazil, Mexico, Argentina, Chile

2 Oceania Countries: Australia, New Zealand
6 Asian Countries: Korea, Japan, Singapore, Brunei, United Arab Emirates, Qatar

Cities Enjoying the Policy
Chongqing, Harbin, Xi'an, Guilin, Changsha
Beijing, Tianjin, Shanghai, Shenyang, Dalian, Nanjing, Hangzhou, Shijiazhuang, Qinhuangdao - Extended to 144-hour Visa-free Transit
Guangzhou, Chengdu, Wuhan, Xiamen, Qingdao, Kunming - To be extented to 144-hour Visa-free Transit since Jan. 1, 2019.

Areas Allowed to Stay

Cities only with the 72-hour free entry policy:
Passengers transiting in Guangzhou, Chengdu, Qingdao, or Changsha are allowed to travel in the whole province.
Passengers transiting in Chongqing, Harbin, Guilin, Kunming, Wuhan, or Xiamen cannot leave the transit city.
Passengers transiting in Xi'an Xianyang Airport are permitted to travel in Xi'an and Xianyang.

Cities where the 72 hours scheme has been extended to 144-hour transit without visa (TWOV):
Passengers transiting in Shanghai, Zhejiang, or Jiangsu can move around the three places. With the implementation of the 144-Hour Visa-Free Transit Policy, they can actually stay for as long as 144 hours.
Passengers transiting in Beijing, Tianjin and Hebei can also move around the three places freely for 144 hours.
Passengers stopping over in Dalian or Shenyang can travel in the whole of Liaoning Province.

Recommended Tours for Transit Passengers in Different Cities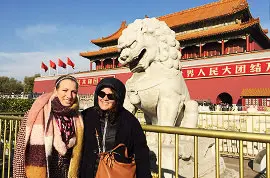 Beijing Layover Tours
To Tiananmen Square, Forbidden City, Great Wall…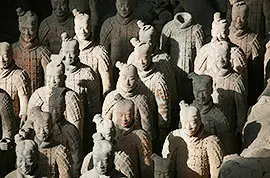 Xi'an One-Day Tours
To Terracotta Warriors, City Wall, Small Wild Googe Pagoda...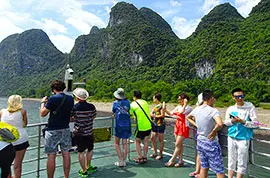 Essence of Guilin & Li River
3 days private tour to Guilin, Longsheng and Yangshuo
Conditions for Application
1. The confirmed seat onward ticket and valid visa to a third country or region (if required) are needed for entry. Based on the latest information, the 72 hours starts from 00:00 the day following the entry date in almost all the airports, except Beijing Airport. For example, if an air passenger arrives in Guangzhou at 08:00 on June 2nd, then the latest time for him to leave is 23:59 on June 5. In this case, the actual stopover time is more than 72 hours. However, in Beijing, the 72 hours count from the scheduled arrival time of the flight. To play on the safe side, passengers are recommended to be more conservative and not to exceed the "strict 72 hours" which counts from the flights' scheduled arrival time to the departure time.

2. The flights can only stop in one Chinese city, meaning passengers have to enter and exit from the same city, except in Shanghai, Zhejiang, and Jiangsu, where the 144-hour visa-free transit has been implemented. For instance, if a flight lands in Xi'an via Beijing, passengers are not able to enjoy the policy. In addition, Hong Kong, Macau and Taiwan are regarded as a third region in terms of transit issues. If a flight passes USA – Beijing – Hong Kong/Macau/Taiwan, passengers are able to enjoy.

3. Only use flights to transfer in China. Passengers using other vehicles (including using flight for single trip) are not eligible to enjoy the policy.

4. Passengers are required to leave from the same airport that they arrive, except in Shanghai, Zhejiang and Jiangsu, where they can enter or leave from any port in Shanghai, Nanjing Lukou Airport, or Hangzhou Xiaoshan Airport.
Documents for Application

Passport valid for at least 3 months from the date of entry. Actually there are cases that some passengers are denied at the immigration counter because the remaining validity of their passport is not more than 6 months, so it's better to keep your passport valid for at least 6 months to play safe.


Visa for a third country or region (if applicable)


A full completed Arrival/Departure Card (including name, nationality, passport no., visa no. & issuance place, flight no., purpose of visit, date of birth, gender)


An onward ticket with confirmed seat are needed
Procedure
Inform the airlines when boarding – Fill an Arrival/Departure Card on the flight - Apply the 72-hour permit – Claim the luggage – Go through the custom - Leave airport

Tips: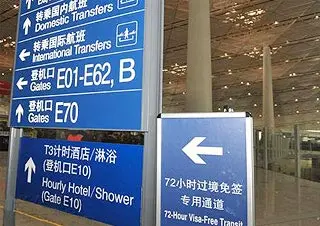 Direction Boards for 72-hour Special Counter
1. It is necessary to inform the airline at check-in, so that they can declare your request to the airport custom before landing. Passengers transiting via Beijing Capital International Airport can apply for this free transit permit after arrival.

2. There is a special counter/lane for the 72-hour free transit at the immigration, so passengers can go there directly by following the signs. For example, the immigration channels 2 to 4 are for 72-hour TWOV passengers in Guangzhou Baiyun International Airport.

3. After the request to enjoy the 72-hour China TWOV is approved, the officer will stamp a stay permit on your passport. The duration of stay is written on the passport. Remember to tell the officer that one wants to use the 72-hour free transit if he/she already has a valid visa for China.

4. After leaving the airport, remember to register at local police station within 24 hours of arrival if one wants to stay over 24 hours. Those who live with family or friends need to go to register in person at the police station with relatives or friends. Those who live in hotels do not need to go, because the hotels will do it for the guests.

5. If visitors are unable to depart on time due to unavoidable reasons, such as flight cancellation or treatment of sudden disease, they need to apply for a visa from Municipal Public Security Bureau (PSB). Otherwise, tourists cannot apply for an extension of stay.
Direct Transit within 24 hours is available for any nationality passenger and it is applicable to any vehicle, while the 72-hour Free Transit is only possible for passengers from designated countries and requires to transit in the airport.

Two pictures are helpful to make you clear.
Other Services for Free Transit
There are service centers for transit passengers in the terminals, offering rest places with drinking water and reading materials if they do not want to leave the airport. For visa-free transit passengers, the airports also provide services for currency exchange, mobile phone rental, car rental, left luggage, as well as local souvenir shops. Tour buses are available from the terminals for the convenience of tourists.



Read FAQ about 72-hour Visa-free Transit



Note:
In case that 1) you can't provide any of the required documents listed above, 2) or your flight route does not qualify, 3) or you have the record of overstaying in a country or getting visa refusal before, your application for the 72-hour visa-free transit permit may be refused. For fear of troubles caused by such cases, please make sure that you are eligible or apply for a regular transit visa in advance.
- Last modified on Dec. 09, 2018 -
Questions & Answers on 72-Hour Visa-Free Transit
Asked by Memguy from UNITED STATES | Dec. 09, 2018 16:26

Reply
Not technically a layover on one ticket
I arrive in Beijing from Indonesia on a Monday on China Eastern. The next day I have flight departing Beijing for the US on Delta. The tickets are NOT linked on one itinerary. Do I need a visa? Or would I be able to still wnter Beijing got the 38 some hours between flights?
Answers (1)
Answered by John Doe | Dec. 09, 2018 16:54

0

0

Reply
Separate bookings are never a problem.
Asked by Scott from ITALY | Dec. 09, 2018 03:39

Reply
Round trip flight. First layover in Shanghai, 2nd in Beijing
I'm an American flying from Italy to Thailand for 10 days. On the way to Thailand I have a 17 hour layover in Shanghai, and on the way back to Italy I have a layover in Beijing for 14 hours. Will I have any issues visiting both Shanghai and Beijing during my layovers, or do I need to apply for a visa?
Answers (1)
Answered by Paul from USA | Dec. 09, 2018 14:32

0

0

Reply
Once you leave to a third country you can then enter china again for another transit
Asked by vas from GREECE | Dec. 08, 2018 15:47

Reply
10 hours layover in Beijing.Can we join the city?
hi, i'm flying to Vietnam with 3 friends on February and we have a layover in Beijing.
We have about 10 hours and we want to visit the city.Is it possible? Do we need to apply for Chinese visa?
We are european citizens and we have greek and UK passports.
Can you tell me what we can really do and how in that short time?
Thank you for your time.
Vas from Greece
Answers (1)
Answered by Paul from USA | Dec. 08, 2018 18:03

0

0

Reply
Its up to immigration if they will let you leave the airport on a same day TWOV. Beijing will likely be ok.
Asked by Ron from INDIA | Dec. 08, 2018 11:41

Reply
From India
Hi,

I'm a U.K. citizen who wants to visit Shanghai for 2 days and then fly to Thailand after. But my flight will be from India, is this ok.
I'm confused if it's the country I start from or it's my nationality and passport that allows the 72 hour twov.

Thanks for any help you can provide
Answers (2)
Answered by Paul from USA | Dec. 08, 2018 18:01

0

0

Reply
Its based on passport.
Answered by Ron from INDIA | Dec. 09, 2018 04:17

0

0

Reply
Thank you, Christmas in Shanghai it is!!
Asked by Sandra from USA | Dec. 07, 2018 17:45

Reply
Do I need a Visa for my trip?
I am a US citizen and am considering a cruise that departs from Hong Kong, stops in Vietnam and Thailand and disembarks in Shanghai I would be flying from and back to the USA. Do I need a visa for my trip? Everything I have read is confusing. Thanks.
Answers (1)
Answered by John Doe | Dec. 07, 2018 19:24

0

0

Reply
You do not if your only port of call in Mainland China is Shanghai, your layover in Shanghai is within 6 days, and you will be departing on a non-stop flight from Shanghai to a destination outside Mainland China.