China Visa Entries / Validity / Duration of Stay
A holder of a valid Chinese visa can enter China during its validity and stay there for the allowed duration after each entry. It's important to carefully check the number of entries, validity and duration of each stay after your visa is issued to avoid any problems.
Number of Entries: Single (01), Double (02) and Multiple (M)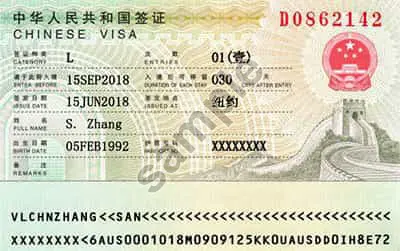 China Visa Sample (click to enlarge)
China issues single, double, and multiple-entry visas. A single-entry visa only allows you to enter China once, a double-entry twice, and a multiple-entry visa enables you to exit from mainland China and re-enter on the same visa for multiple times during its validity.

Once you leave mainland China, you must either have another valid entry on your original visa or obtain a new visa to return. Remember that even a few hours in Hong Kong or Macau is an exit from mainland China in this context. Also, remember that you cannot gain extra entries on a visa once it has been issued. In case you need more entries, you would have to apply for a new visa.

When filling out China Visa Application Form, you can tick the intended number of entries and validity of your visa in Section 2.2. For UK, US, Canada, and Argentina citizens, they can also tick the last option "Other (Please specify)" and express their wish for getting a 10-year China visa with multiple entries in the blank after. However, you are not guaranteed to get the intended number of entries you select. The consular officers may judge by your actual itinerary and make their own decision. It seems that they are less willing to issue multiple entries if you apply outside your home country.

China Visa Validity: 3 Months, 6 Months, 1 Year, 10 Years
The validity of a China visa is the period between the "Issue Date" and "Enter Before" date shown on your visa. It is usually 3 months, 6 months, 1 year, and sometimes even 10 years. Holders please note that they must enter mainland China before 24:00 of the "Enter Before" date. Otherwise, the visa will expire and cannot be extended no matter whether there are entries left, and reapplication is required.

Read more:
10-year China Visa for US & Canadian Citizens
10-year China Visa for UK Citizens

Duration of Each Stay after Entry
Duration of each stay is clearly shown on a China visa, which refers to the maximum number of days the holder is permitted to stay in the mainland of China each time and is counted from the next day after entry.

The granted duration of stay ranges from 7 to 180 days. For transit visas, the duration of stay is 7 to 10 days. For a regular single-entry tourist visa, it's often 30 days. The longest durations of stay for X2, S2, Q2, and J2 visas are 180 days. If you receive Z, Q1, S1, J1, or X1 visas, you may find that the stay duration shown on your visa is 000. In this case, you need to apply for a temporary residence permit from a local exit and entry administration within 30 days after entering China. During the validity of your residence permit, you can stay in China for any number of days as you wish.

Travelers need to keep in mind of the time limit in order not to overstay. Overstaying is against the Chinese laws and regulations, punishments such as fines or even expulsion will be made.

In need of an extended stay, applicants should apply for it at the Exit and Entry Administration of local public security at least 7 days before the allowed stay duration runs out. See China Visa Renewal and Extension.
- Last modified on Sep. 04, 2020 -
Questions & Answers on China Visa Entries / Validity / Duration of Stay
Asked by Ruzhnab from PAKISTAN | Sep. 23, 2020 13:59

Reply
what is the expected date when china re open and issue visit visa
i am awaiting since long for medical tourist visa. just wana know when will it opens
Asked by Clarence Allgood from UNITED STATES | Sep. 21, 2020 11:01

Reply
10 year visa valid after work visa expire??
I had. 10 year visa before my employer issued me a work visa for living and working for a full year , the work visa expired last year October , will my tourist visa still be valid to enter the country now ??
Answers (1)
Answered by Amanda | Sep. 23, 2020 20:52

0

0

Reply
It's no longer valid.
Asked by Ping from USA | Sep. 18, 2020 08:19

Reply
I have a US passport with the 10 year visa. Can I use the 10 year visa to visit China now?
Answers (2)
Answered by Kelly | Sep. 20, 2020 23:30

0

0

Reply
No. After the epidemic ends and China reopens its border, you can enter with this visa.
Answered by Clarence Allgood | Sep. 24, 2020 17:01

0

0

Reply
So my tourist visa is cancelled as well ???
Asked by Jeremy from AUSTRALIA | Sep. 15, 2020 05:37

Reply
Is there a similar 10 year multiple entry visa for Australian citizens?
I have friends who have gotten something of the sort
Answers (1)
Answered by Andrew | Sep. 20, 2020 23:29

0

0

Reply
No. There is no 10 year Chinese visa for Australian citizens.
Asked by B from UNITED KINGDOM | Sep. 10, 2020 05:12

Reply
Are the borders open to Z visas?
Hi there,

I have been offered a teaching job in China and would like to get out ASAP. I haven't previously worked in China but visited as a tourist in January so know some of the visa process, and my documents are undergoing authentication atm. Is it correct that my job will provide me with a work permit for the Z visa, and then I'll change the Z visa to a Work/Resident visa when I arrive? Are the borders currently open to Z visas? Or are they only open to people pre-existing resident permits?

Thank you
Answers (3)
Answered by Ken | Sep. 14, 2020 00:55

0

0

Reply
Yes, your employer will provide you with a work permit for Z visa, and then you'll change the Z visa to a residence permit within 30 days after your arrival. If your employer can also get your the PU invitation letter, it's possible to enter China now.
Answered by Louis | Sep. 15, 2020 22:50

0

0

Reply
Hello Ken, thanks for your feedback, I hold a valid entry of my Chinese visa, need I apply for a new visa and a PU letter as well?
Answered by Ken | Sep. 17, 2020 01:48

0

0

Reply
Yes.