China Visa Entries / Validity / Duration of Stay
A holder of a valid Chinese visa can enter China during its validity and stay there for the allowed duration after each entry. It's important to carefully check the number of entries, validity and duration of each stay after your visa is issued to avoid any problems.
Number of Entries: Single (01), Double (02) and Multiple (M)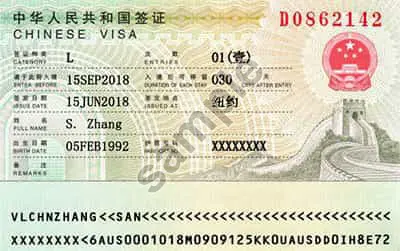 China Visa Sample (click to enlarge)
China issues single, double, and multiple-entry visas. A single-entry visa only allows you to enter China once, a double-entry twice, and a multiple-entry visa enables you to exit from mainland China and re-enter on the same visa for multiple times during its validity.

Once you leave mainland China, you must either have another valid entry on your original visa or obtain a new visa to return. Remember that even a few hours in Hong Kong or Macau is an exit from mainland China in this context. Also, remember that you cannot gain extra entries on a visa once it has been issued. In case you need more entries, you would have to apply for a new visa.

When filling out China Visa Application Form, you can tick the intended number of entries and validity of your visa in Section 2.2. For US, Canada, and Argentina citizens, they can also tick the last option "Other (Please specify)" and express their wish for getting a 10-year China visa with multiple entries in the blank after. However, you are not guaranteed to get the intended number of entries you select. The consular officers may judge by your actual itinerary and make their own decision. It seems that they are less willing to issue multiple entries if you apply outside your home country.

China Visa Validity: 3 Months, 6 Months, 1 Year, 10 Years
The validity of a China visa is the period between the "Issue Date" and "Enter Before" date shown on your visa. It is usually 3 months, 6 months, 1 year, and sometimes even 10 years. Holders please note that they must enter mainland China before 24:00 of the "Enter Before" date. Otherwise, the visa will expire and cannot be extended no matter whether there are entries left, and reapplication is required.

Duration of Each Stay after Entry
Duration of each stay is clearly shown on a China visa, which refers to the maximum number of days the holder is permitted to stay in the mainland of China each time and is counted from the next day after entry.

The granted duration of stay ranges from 7 to 180 days. For transit visas, the duration of stay is 7 to 10 days. For a regular single-entry tourist visa, it's often 30 days. The longest durations of stay for X2, S2, Q2, and J2 visas are 180 days. If you receive Z, Q1, S1, J1, or X1 visas, you may find that the stay duration shown on your visa is 000. In this case, you need to apply for a temporary residence permit from a local exit and entry administration within 30 days after entering China. During the validity of your residence permit, you can stay in China for any number of days as you wish.

Travelers need to keep in mind of the time limit in order not to overstay. Overstaying is against the Chinese laws and regulations, punishments such as fines or even expulsion will be made.

In need of an extended stay, applicants should apply for it at the Exit and Entry Administration of local public security at least 7 days before the allowed stay duration runs out. See China Visa Renewal and Extension.
- Last modified on Nov. 15, 2018 -
Questions & Answers on China Visa Entries / Validity / Duration of Stay
Asked by Nguyen from US | Nov. 15, 2018 19:11

Reply
Do I need to apply for a new China visa due to my US passport expired. I get a new passport. Thanks
Answers (1)
Answered by Well from RUSSIA | Nov. 15, 2018 19:24

0

0

Reply
If you still have valid visa, you can travel by bringing both the old and new passport.
Asked by Alejandro from SPAIN | Nov. 15, 2018 18:53

Reply
Extend visa entries
Hi. I have X2 and it expires on March 2019. I only have 1 entry, and I am living now in Shanghai. I need to travel 4 days to Japan, do I have the option to apply for another entry? I need to leave the country and come back to Shanghai.
Answers (1)
Answered by Wilder from RUSSIA | Nov. 15, 2018 19:24

0

0

Reply
Once you leave for Japan, you single entry X type will be invalid. You need to apply for another visa to re-enter Shanghai.
Asked by Julia from CANADA | Nov. 15, 2018 09:01

Reply
Do I need a flight home when entering?
I have a 10 year multiple entrance visa. Do I need to have a flight home booked when I enter China for my first visit?
Answers (1)
Answered by Warren from RUSSIA | Nov. 15, 2018 19:22

0

0

Reply
You don't have to do that.
Asked by Junaid from PAKISTAN | Nov. 14, 2018 19:25

Reply
Can i enter China two days before expiry of Residence permit
I have already study visa and residence permit. My residence permit will expire on 4 December 2018. I want to go home for 15days. Can i enter in china on 2 December, almost two days before residence permit expire.
Answers (1)
Answered by Enzo from GERMANY | Nov. 14, 2018 19:48

0

0

Reply
Yes, you can enter in china on 2 December.
Asked by Xxxx from XXXX | Nov. 13, 2018 06:10

Reply
Hi I have s1 visa now ,is possible to back within 30 day from China to my hometown ?
Answers (1)
Answered by Wesley from FRANCE | Nov. 13, 2018 18:58

0

0

Reply
If you have a valid Chinese residence permit, you can do that. You are advised to apply for the residence permit within 30 days after your entry to mainland China.