Hong Kong Visa Policy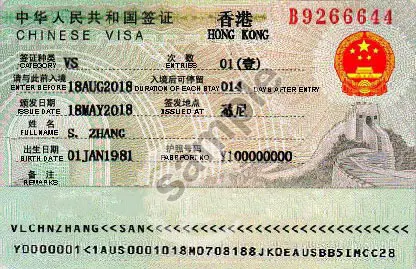 Sample (click to enlarge)
Hong Kong visa is not required for tourists from more than 160 countries. A stay ranging from 7 to 180 days is granted according to nationality. People from those Hong Kong visa free countries, however, need to get a HK visa if they intend to work, study, establish or join in a business there or if their tour is beyond the granted visa-free stay length. Also, other countries' citizens have to get a HK visa before leaving for HK as it's almost impossible to get it on arrival.
Although Hong Kong is a part of China, as a Special Administrative Region (SAR), it has its own entry regulations. This means the normal Chinese visa does not work for Hong Kong and vice versa.
Generally, Hong Kong is very open to foreigners who simply want to visit as a tourist to conduct business activities for an overseas business such as visiting clients and prospects, providing training, or attending trade fairs. Overall, the rules are essentially the same as under the British administration that preceded the SAR's return to Chinese control.
Always remember that all countries and Chinese SARs have the right to refuse entry to any person, whatever the regulations permit, and that even when you have a visa you can be denied entry at the border. Also, the information provided here is for people travelling on standard passports, not special ones like diplomatic or service passports, nor special or restricted passports.
Do I need a visa to visit Hong Kong?
Most tourists do not require a visa for a visit to HK. Please see the
HK Visa Exemption for Foreign Countries/Areas
. All visitors arriving at Immigration control points will be issued with landing slips in lieu of stamping on their passports/travel documents. Conditions and limit of stay in HK, as well as visitor's personal information and arrival date will be included in the landing slip. Upon departure, no slip will be issued and the travel documents will not be stamped.
The most favored are British nationals who, provided they meet the basic criteria, may enter HK for 180 days without obtaining a visa in advance. USA citizens, Canadians, Australians, New Zealanders and most European nationals may enter for 90 days. Others are variously restricted to 30, 14, or 7 days, or in the case of a few countries will only be permitted to enter having previously obtained a visa. Most tourists can easily take the ferry from HK to Macau which has a policy similar to Hong Kong's and typically they will not normally require a
Macau visa
. They can exit Hong Kong and re-enter for another stay. There is usually no problem re-entering unless the immigration authorities feel you are breaking some rules such as being engaged in business. However, you may be allowed to visit for a longer duration by applying for a visa prior to travel - but it is at the discretion of the consular office whether to grant it or not.

Note: From January 23, 2017, Indian nationals will need to make a success pre-arrival registration online before they can visit or transit and enter the HKSAR visa-free. Indians in direct transit by air and not leaving the airport transit area are not required to do so.

Basic Entry Requirements for All Foreign Visitors
• have a minimum validity on passport of 1 month beyond the intended stay, or the duration of the visa may be restricted so that there will be one month after the visa expiry
• properly complete the immigration card on arrival
• have a visa if your nationality is required to have one
• have onward or return travel arrangements
• have sufficient funds for your stay without working, based on Immigration's definition, not yours
• no serious criminal records and unlikely to be involved in crime, nor be considered a security risk
Most travelers, especially from western countries, are not checked for compliance with the last three but all travelers should allow for the possibility that immigration might choose to check you. You should also check with your airline's regulations as they may not allow you to fly if you do not meet the stated entry requirements.

Major Types of HK Visa
Tourist / Business / Transit / Employment and Investment / Training / Working holiday / Study / Residence as Dependants
Visitors are normally not permitted to change the type issued or move from a non-visa situation to obtaining one after arrival but of course it is easy to exit HK and apply for a Hong Kong Visa again.
There is full information on the HK Immigration Department webpage:
http://www.immd.gov.hk/eng/services/visas/immigration-entry-guideline.html
You can get all the forms and the guidelines from the website.



Foreign Consulates in Hong Kong
- Last modified on Jan. 20, 2019 -
Questions & Answers on Hong Kong Visa Policy
Asked by Esther from SOUTH AFRICA | Jan. 18, 2019 10:18

Reply
My son is a hk resident. I visit once a year for 30 days.
I want to visit him end Feb 2019. May I stay longer than 30 days without applying for visa?
Answers (1)
Answered by Ray from VIETNAM | Jan. 20, 2019 19:54

0

0

Reply
If you go to HK for more than 30 days, you need a visa then.
Asked by Callum Moore from UNITED KINGDOM | Jan. 15, 2019 09:04

Reply
Hong Kong Training VISA application for UK national
Hello,

I am looking to apply for a Hong Kong training entry permit and had some questions on the process. I am a UK national living in the UK.

When making the application It is stated I must submit it in person at the UK China embassy - do we need to make an appointment or just show up on the day?

Is it possible for the UK Chinese embassy to approve the entry permit (lead time of few days) or does it always have to be transferred to the HK embassy (6 week lead time)?

I am aiming to go to HK at the start of April which would be risky given the lead time if there are any issues with the application?

Is there anyway which we can adjust the start time of the VISA e.g change the date which I fly out if I did not receive it in time (keeping the return date the same)?

Thanks in advance for your help and support - it's proven to be very tricky finding out this information!
Answers (1)
Answered by Lane | Jan. 15, 2019 19:25

0

0

Reply
You need to make an appointment. You are advised to contact the visa office to inquire the details.
Asked by queenie from CALIFORNIA | Jan. 14, 2019 09:21

Reply
is it true that a Us citizen wants to visit hongkong for 3 days will have problem exiting?
Answers (1)
Answered by Pierce from FINLAND | Jan. 14, 2019 18:10

0

0

Reply
Sorry I haven't heard that. Try to contact the HK immigration to inquire the details.
Asked by Salah from SUDAN | Jan. 14, 2019 06:39

Reply
Refugee travel document
Hello I'm from Sudan and I'm refugee in Korea I hold refugee travel
document (Conversation 1951 )by Korea government can I use it to travel to
Hong Kong? I used it travel to France and other countries
Can I apply for a visa at the Hong Kong Consulate in Korea?
Answers (1)
Answered by Simpson from DENMARK | Jan. 14, 2019 18:09

0

0

Reply
Maybe you can use it to visit HK. Please contact the HK immigration to confirm that beforehand.
Asked by Lois from NETHERLANDS | Jan. 12, 2019 16:30

Reply
Im flying from Rome to Wuhan (layover 1,5h) Wuhan - Hong Kong.
Back flight is Hong Kong - Beijing (layover 7h) - Amsterdam.
Is a visa required? or is a transit g alright?
Answers (1)
Answered by Hicks from DENMARK | Jan. 13, 2019 23:26

0

0

Reply
You can use the free transit twice. No need to apply for visa.