Shanghai Pudong Airport Shuttle Bus

Notice: Currently, the shuttle bus line 3, line 6 and line to Disneyland Park are suspended and it is unknown when they will re-open.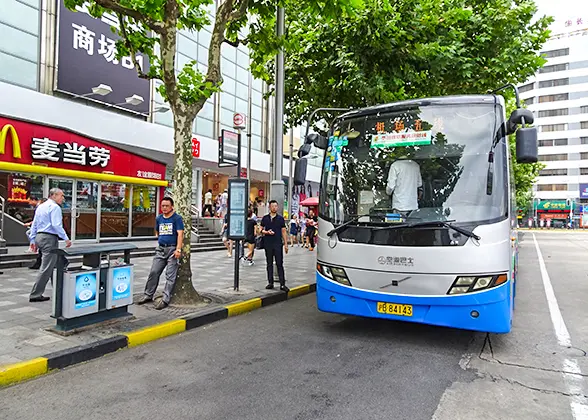 Shanghai Pudong Airport (PVG) operates 9 airport shuttle bus lines to downtown and suburban areas, including Hongqiao Airport, Shanghai Railway Station, South Railway Station, People's Square, Jing'an Temple, Longyang Road, and Xinzhuang. Among them, there is an airport night line, which is a cheaper and safer way to go to hotels in downtown in late night compared with taxi. Besides, the EGoBus Company provides transfers from the airport to hotels in high streets of People's Square, the Bund, Lujiazui, and Xujiahui.



Service Hours of Shanghai Pudong Airport Shuttle Bus:
PVG → Downtown: 07:00 - 23:00, plus one night line from 23:00 to 45 mins. after the last flight arrival
Downtown → PVG: 06:00 - 21:30



Single Journey Time: Pudong Airport bus to Hongqiao Airport, Shanghai Railway Station and South Railway Station takes 70 to 80 minutes. It is suggested to get on the shuttle bus 3.5 hours ahead of time for domestic flights and 5 hours ahead for international flights.



Ticket Prices of Pudong Airport Bus: CNY 8-30



How to Buy Airport Bus Ticket: Pay cash to the conductor onboard.



Boarding Points at Pudong Airport: between T1 and T2 (south end of the 2F of Airport Bus Parking Lot)

Pudong Airport Pick-up and See-off Service: private car, professional driver, low price


Airport Bus to Nearby Cities: From PVG T1 & T2 to Suzhou, Hangzhou, Yiwu, Wuxi, Wenzhou, Jiaxing…

Shuttle Bus from Shanghai Pudong Airport to Downtown – 9 Lines
Hereunder are timetables of Pudong Airport to downtown buses, with main stops, service hours, frequencies, prices and hotlines.
Note: T1 – Terminal 1, T2 – Terminal 2

Shuttle Bus Line 1: Stations & Schedule
Pudong Airport → Hongqiao Traffic Hub East Center
Hongqiao Traffic Hub East Center → Pudong Airport
T1: 07:00 - 23:00; T2: 07:05 - 23:05
06:00 - 23:00
Frequency: 15 - 25 minutes; Duration: 70 minutes; Ticket Fare: CNY 30
Main Stops
Pudong Airport T1 → Pudong Airport T2 → Hongqiao Airport T2 → Hongqiao Railway Station → Hongqiao Traffic Hub East Center
Hongqiao Traffic Hub East Center → Hongqiao Railway Station → Hongqiao Airport T2 → Pudong Airport T2 → Pudong Airport T1
Hotline: +86 021-68346612
Shuttle Bus Line 2: Stations & Schedule
Airport → City Termial Building (Jing'an Temple)
City Termial Building (Jing'an Temple) → Airport
T1: 06:30 - 23:00; T2: 06:35 - 23:05
05:00 -21:30
Frequency: 15 - 25 minutes; Duration: 70 minutes; Ticket Fare: CNY 22
Boarding Point in Downtown: No.1600, West Nanjing Road
Hotline: +86 021-68346612
Shuttle Bus Line 4: Stations & Schedule
Airport → Hongkou Football Stadium
Hongkou Football Stadium → Airport
T1: 07:00 - 23:00; T2: 07:05 - 23:05
05:00 - 21:30
Frequency: 15 - 25 minutes; Duration: 80 minutes; Ticket Fare: CNY16 - 22
Main Stops: Longyang Rd Subway Station, Dapu Rd, Zhaojiabang Rd Tianping Rd, Galaxy Hotel
Main Stops
T1 → T2 → Deping Road Pudong Avenue → Wujiaochang → Handan Road → Guobin Road → Yunguang Xincun → Hongkou Football Stadium
Hongkou Football → Dabaishu → Orient Shopping Center → Wujiaochang → Deping Road Pudong Avenue → T2 → T1
Hotline: +86 021-68346830
Airport → South Square of Shanghai Railway Station
South Square of Shanghai Railway Station → Airport
T1: 06:30 - 23:00; T2: 06:35 - 23:05
05:00 - 21:30
Frequency: 15 - 25 minutes; Duration: 70 minutes; Ticket Fare: CNY 16 - 22
Main Stops
T1 → T2 → Longyang Road Metro Station → Century Avenue South Pudong Road (East Hospital) → East Yan'an Road Middle Zhejiang Road → People's Square → South Square of Shanghai Railway Station
South Square of Shanghai Railway Station → Hongchangxing Muslim Restaurant → East Yan'an Road Middle Zhejiang Road → Century Avenue South Pudong Road (East Hospital) → Longyang Road Metro Station → T2 → T1
Hotline: +86 021-68346830
Shuttle Bus Line 7: Stations & Schedule
Airport → South Square of South Railway Station
South Square of South Railway Station → Airport
T1: 07:30 - 23:00; T2: 07:35 - 23:05
06:30 - 21:30
Frequency: 20 minutes; Duration: 80 minutes; Ticket Fare: CNY 8 - 20
Main Stops: T1, T2, Chuansha Road East Huaxia Road, Shangnan Road West Huaxia Road
Hotline: +86 021-51515519
Shuttle Bus Line 8: Stations & Schedule
Airport → Nanhui Bus Station
Nanhui Bus Station → Airport
T1: 07:00 - 19:30; T2: 07:05 - 19:35
06:00 - 18:40
Frequency: 15 - 60 minutes; Duration: 90 minutes; Ticket Fare: CNY 2-10
Main Stops: T1, T2, Airport Authorities Building, Haitian 3rd Road Qi'hang Road, Traffic Command Office, Customs Depot, Aviation Oil Station, Eastern Airlines, West Hebin Road Checkpoint, Airport Free Trade Zone, Jinwen Road Wenju Road, Zhupan Road Chuannanfeng Road, Qianhui Road Nanzhu Road, Nanzhu Road Zhouzhu Road, Nanzhu Road Zhucheng Road, Nanzhu Road Weiting Road, Salt Warehouse, Renmin Road Chengdong Road
Hotline: +86 021-68022000
Shuttle Bus Line 9: Stations & Schedule
Airport → East Xinjian Road Baocheng Road
East Xinjian Road Baocheng Road → Airport
T1: 07:00 - 23:00; T2: 07:05 - 23:05
06:00 - 21:30
Frequency: 30 minutes; Duration: 70 minutes; Ticket Fare: CNY 22
Boarding Point in Downtown: North Square of Xinzhuang Metro Station
Hotline: +86 021-68346612
Ring Line No.1: Stations & Schedule
Airport → Hangcheng Park
Hangcheng Park → Airport
T1: 08:00 - 19:15; T2: 08:05 - 19:20
07:10 - 18:45
Frequency: 30 minutes; Ticket Fare: CNY 2 - 3
Main Stops: T1, T2, Airport Authority Building, Airport Public Security Bureau, Airport Headquarters, Customs Warehouse, Eastern Airlines, Shiwan
Hotline: +86 021-68346612
Pudong Airport Night Bus Service
| | |
| --- | --- |
| Route | Airport → Hongqiao Traffic Hub East Center |
| Service Hours | From 23:00 in T1 and 23:05 in T2 to 45 minutes after the last flight arrival |
| Frequency | Less than 45 minutes |
| Main Stops | T1, T2, Longyang Road Fangdian Road, Century Avenue Metro Station, East Yan'an Road Middle Zhejiang Road, Middle Yan'an Road Huashan Road, West Yan'an Road Hongxu Road |
| Ticket Price | CNY 16-30 |
| Hotline | +86 021-68346612 |
Shanghai Pudong Airport Hotel Shuttle Bus – by EgoBus
EGoBus Company provides minibuses transferring passengers from Pudong Airport to hotels in Lujiazui, People's Square, Hongqiao Railway Station, Jing'an Temple, the Bund, and Xujiahui Area. Make online reservation on its official website or dial 400-920-1984 to book bus tickets in advance.

Price: Super Shuttle: CNY 68/person; Private Shuttle: CNY 380/car
Service Center: International Arrival Hall on 2F of T2
Pick-up Sites: Outside Gate 9 on 1F of T1; Outside Gate 27 on 1F of T2
Drop-off Sites: Outside Gate 7 on 3F of T1; Outside Gate 26 on 3F of T2
Hotline: +86 400-920-1984

Routes Temporarily Out of Service
Disneyland Line
Airport → Disneyland West Transit Hub
Disneyland West Transit Hub → Airport
Duration: 30 minutes; Ticket Fare: CNY 30
Hotline: +86 021-68339986
Shuttle Bus Line 3
Airport → Galaxy Hotel
Galaxy Hotel → Airport
Main Stops: Longyang Road Metro Station, Dapu Road, Zhaojiabang Road Tianping Road, Galaxy Hotel
Shuttle Bus Line 6
Airport → Zhongshan Park
Zhongshan Park → Airport
Main Stops: Longdong Avenue Keyuan Road, Longyang Road Metro Station, Zhangyang Road Dongfang Road, Laoximen, Middle Yan'an Road Shimen 1st Road, West Yan'an Road Huashan Road
-