Shanghai Maglev Train (SMT)
SMT Facts:
Open Date: Dec. 31st, 2002
Total Length: 30 kilometers (19 miles)
Highest Speed: 300km/h (168.4 mi/h)
Duration per Single Journey: 8 minutes
Frequency: 15-40 minutes
Route: Longyang Rd. – Pudong International Airport (PVG)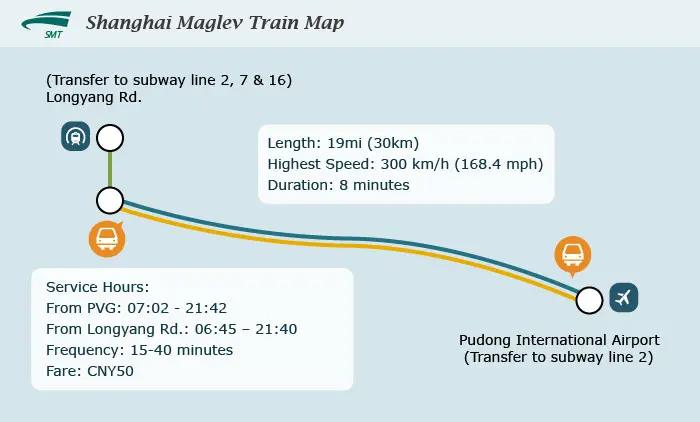 Shanghai Maglev Train Map

Shanghai maglev train is suggested if you are just arriving at Pudong International Airport of the city. You will be impressed by the amazingly fast speed of the train and have an exciting first experience in the city.
Build with the technological help from Germany, SMT has been operated since the end of 2002. It is the world's first and only commercialized maglev train line in operation. It runs from Pudong International Airport to Longyang Rd. Station located at the intersection of Longyang Road and Baiyang Road in Pudong New Area.

Any questions or complaints, you may go to the SMT Ticket Center established by the company on the second floor of Longyang Rd. Station and Pudong International Airport Station.


Hotline: 021-64370000

The following is a guide to facilitate your trip on SMT, including introduction to Maglev Train stations, speed, schedule, ticket, transfer and some useful tips.

Train Stations
1. Longyang Rd. Station
Surroundings: New International Exhibition Center (SNIEC), Century Park, Longyang Road, Baiyang Road
2. Pudong International Airport Station
Surroundings: Pudong International Airport, Lingkong Agriculture Garden, Les Charmes Outlet Boutiques, Yingbin Avenue
| | |
| --- | --- |
| SMT in Shanghai | Comfortable Carriage of Maglev |
line 2
,
line 7
,
line 16
&
Line 18
, as well as many buses which can take you to the urban area of Shanghai.
Service Hours

Timetable
Station
First Train
Last Train
To Pudong International Airport
To Longyang Rd.
To Pudong International Airport
To Longyang Rd.
Longyang Rd.
06:45
—
21:40
—
Pudong International Airport
—
07:02
—
21:42

Interval
Period of Time
Interval
Longyang Rd. Station
Pudong International Airport Station
06:45
—
15 min.
07:00 - 21:00
07:02 - 21:02
30 min.
21:00
21:02
40 min.

Tips:
1. The ticket has date printed on it. Please be sure to get to the ticket examiner in the stations at least five minutes before the departure time of the train you plan to take on the day.
2. If you are curious about the train, you can go to Shanghai Maglev Transportation Science and Technology Museum at the bottom of Longyang Rd. Station in Pudong New Area. The museum opened in the summer of 2007 is built to exhibit the history, actuality and future of the SMT technology as well as the advantages of the train.

Further Reading:
8 Unique Things to Do in Shanghai Only
- Last updated on May. 04, 2023 by Gabby Li -
Questions & Answers on Shanghai Maglev Train
Asked by George from USA | Apr. 08, 2020 12:59

Reply
What is the best route to walk from the Maglev station at Longyang Road to Shanghai Metro Line 7 ?
I've taken the Maglev from PVG to Longyang Road Station twice now and cannot find a good path to the Shanghai Metro Station for Line 7. I always have luggage and have yet to find a direct walking path between the two stations. There must be one. I'm probably just missing the signs pointing the way. Can any one tell me the easy way to make this connection?
Answers (2)
Answered by David from FINLAND | Apr. 12, 2020 19:35

0

0

Reply
Well, I went there before. But I didn't remember the exact route and direction. I just follow the signs after arriving at Longyang Road. Don't worry. You can pay attention to the signs carefully. Or you can also ask help for the staff. :)
Answered by George from U.S.A. | Apr. 28, 2020 18:58

0

0

Reply
Thank you David from Finland. I thought there would be good signage. I'll pay more attention for signs again next time. I asked some of the Transit Police once I was outside, but none spoke english.

Ended up dragging luggage into and through the shopping center for the second time. Hoping for a smooth transition next time.
Asked by cc from MALAYSIA | Jan. 13, 2020 20:25

Reply
can pls adv how to i get to Hangzhou from Pudong airport ?
Answers (1)
Answered by Nate from UNITED KINGDOM | Jan. 14, 2020 19:54

0

0

Reply
You can take direct intercity bus from the airport to Hangzhou at 8:40, 9:50, 11:00, 12:00, 13:00, 14:00, 15:00, 16:00, 17:00, 17:40, 18:20, 19:00, 20:00, 21:00. The ticket fare is CNY120. The duration is around 3 hours on the way.
Asked by ANNIE NELEMAN from AUSTRALIA | Jan. 01, 2020 03:42

Reply
Shang Hai Pu Dong Airport to Raddisson Hotel
Hi, may i ask what will be the convenient way to travel from Pu Dong airport to Radisson Hotel at 88 Nanjing Road (W), for four person (two adults and two teenagers) with a few luggage? thank you.
Answers (1)
Answered by Sally from AUSTRALIA | Jan. 02, 2020 18:23

0

0

Reply
You guys can take metro line 2 to Renmin Square station (Exit 8), then walk north around 250m to the hotel. It takes around 1 hour with CNY7.
Asked by John from SWITZERLAND | Dec. 27, 2019 05:03

Reply
What is fastest / easiest / cheapest way to get to Wuning Road station from Pudong Airport?
Take the Maglev Train or not? Go to Longyang and then take the taxi?
Answers (1)
Answered by Chris from USA | Dec. 29, 2019 22:43

0

0

Reply
The cheapest way: Take metro line 2 to Renmin square station, then transfer to metro line 1 to Hanzhong Road station, then take metro line 13 to Wuning Road station. It takes around 1.5 hours with CNY7.