Shanghai Pudong International Airport Maps

Click the map to enlarge it
.

Map of Pudong Airport Terminal 1 (T1)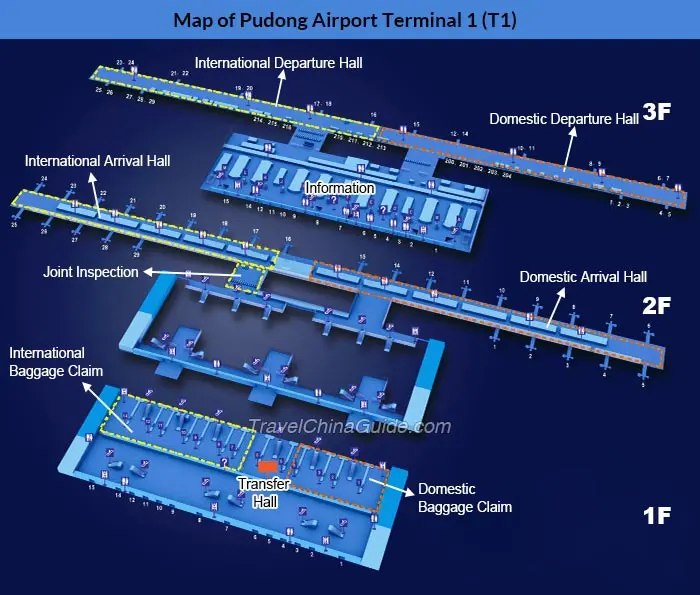 Introduction to
Shanghai Pudong International Airport
Map of Pudong Airport Terminal 2 (T2)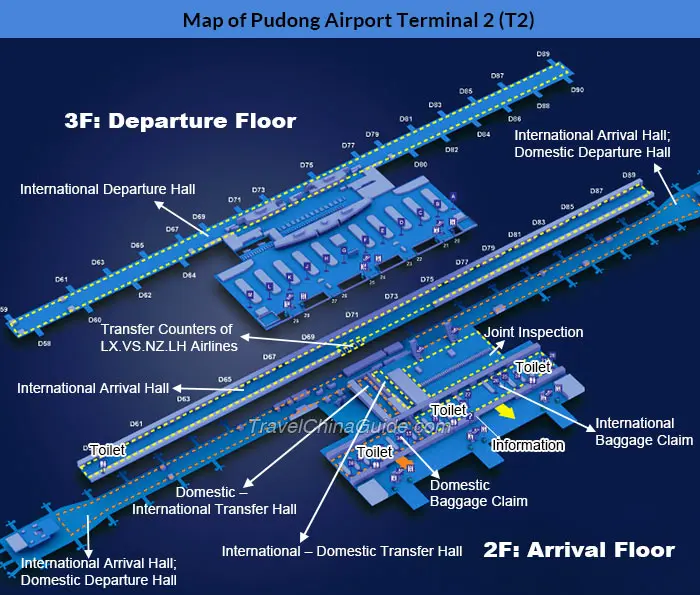 Pudong Airport Terminal Shuttle Bus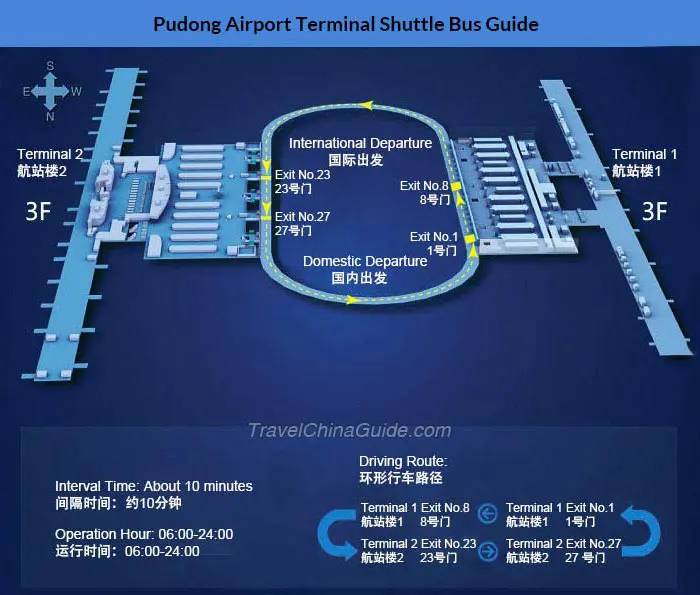 Pudong Airport Transfer Maps
→ More Shanghai Maps
- Last modified on Nov. 15, 2019 -
Questions & Answers on Shanghai Pudong International Airport Maps
Asked by sam from USA | Nov. 14, 2019 21:47

Reply
Transit from Terminal 1 to Terminal 2 possibly at Shanghai Pudong Airport?
I'm flying in from the US to PVG 3:15pm, but I am going to Seoul. How much time would be needed in between my flight? I can save myself $100 USD if I can take a 4:45pm flight vs a 5:40 flight , but I didn't know if it wasn't in terminal 2 (where im landing) how much security/bus or train or walking to get to my connecting flight would be.
Answers (3)
Answered by Benny from NEW ZEALAND | Nov. 18, 2019 00:52

0

0

Reply
From T1 to T2, you can take shuttle bus line 8 and it takes around 40 minutes with CNY2.
Answered by sam from USA | Nov. 18, 2019 06:43

0

0

Reply
So be safe and book the later flight. Thank you!
Answered by Nancy from SINGAPORE | Nov. 18, 2019 17:12

0

0

Reply
Hi, you can walk to T2 from T1. There are clear signs you can follow in the airport and it takes around 10 minutes on foot.
Asked by Sergeja from SLOVENIA | Nov. 12, 2019 02:40

Reply
Transit at PVG from international fl (AF) to domestic fl (China Eas.) - luggage pick up yes or no?
I'm arriving from CDG to PVG with AF to T1 and leaving from PVG to TAO with MU from T1. I only have 2h20min between flights. I know I have to go through joint inspection but I got different info about luggage. Do I have to pick it up and check it again for domestic flight or not? Thank you and kind regards, Sergeja
Answers (2)
Answered by Lisa from THAILAND | Nov. 14, 2019 18:26

0

0

Reply
You need to pick up your luggage.
Answered by Sergeja from SLOVENIA | Nov. 15, 2019 00:13

0

0

Reply
Lisa, thank you for your answer and with kind regards, Sergeja
Asked by Audrey from FRANCE | Oct. 30, 2019 01:02

Reply
Shanghai Pudong Airport PVG airport - going to a hotel close by T1 without a Visa ?
Hello / bonjour :)

Arriving Pudong airport T1 at 7am from CDG.
Departing Pudong T1 at 7:45pm to MEL, Australia.
Long stop over ! 12hrs+

Question 1: can I go to a hotel (actually Da Zhong Pudong Airport), located between T1 and T2, 5 minutes walking from airport, without a VISA? As I'm not planning to ask for any Visa as staying less than 24hrs within PVG.
Or do i need a transit Visa ? If so, can this visa be asked when arriving, during/after immigration ?

QUestion 2: after arrival, what best transfer procedure would you recommend ?

Many thanks
Audrey
Answers (4)
Answered by Gary from CANADA | Oct. 31, 2019 18:13

0

0

Reply
1. There is 24 hour visa free transit instead of transit visa. So you need to tell me what your flight route is to see whether you are eligible for it.
2. There are clear Engligh signs you can follow.
Answered by Audrey from FRANCE | Nov. 01, 2019 02:49

0

0

Reply
Hi Gary

First of all: many thanks for your reply.
Here is my Route :

CDG-PVG 28/12
Departure 12:25pm
Arrival 7am on 29/12

Stop over in PVG 12:45 hrs

PVG-MEL on 29/12
Departure 7:45pm
Arrival 10am on 30/12
Answered by Gary from CANADA | Nov. 03, 2019 19:33

0

0

Reply
OK. You are eligible for 24 hour visa free transit. After arrival, you should apply for the Stay Permit at the airport. Please complete the "embarkation/disembarkation card", together with your travel documents, boarding pass for the onward connecting flight and travel itinerary, go to the inspection counter of China Immigration Inspection to apply for 24h stay permit.
Answered by Audrey from FRANCE | Nov. 04, 2019 03:40

0

0

Reply
Many thanks Gary.
Thus I have nothing to do in advance. Just at the airport!
Merci beaucoup 😉
Asked by Richie Kock from ARUBA | Oct. 27, 2019 08:55

Reply
question regarding 144 hours visa
Hallo,
On December 7th, I will be transiting through Shanghai on my way to Bali, Indonesia (arriving from JFK, USA). I have a 13 hrs layover! I am arriving with China Eastern.
I have the DUTCH nationality, but I am from an island in the Caribbean (ARUBA) which belongs to the DUTCH KINGDOM. My passport mentions 'DUTCH PASSPORT', but it was ISSUED ON ARUBA.
question 1: could they refuse to grant me a visa on that basis?
question 2: on arrival: do I have to follow the 144 hrs visa signs, or should I go to transit?
question 3: if I go to transit, can I still exit to request the 144 hrs visa?

I would really appreciate an answer to my questions, because the 144 visa procedure is pretty confusing :)
Super thanks! Richie Kock
Answers (1)
Answered by Mason from CANADA | Oct. 28, 2019 23:55

0

0

Reply
For your information, it is 144 hour visa free transit instead of visa. If you intend to apply for it, you just need to inform the carrier when boarding, fill an Arrival/Departure Card, apply for the 144-hour visa-free stay permit upon arrival, claim the luggage, go through the customs, then you can leave the airport.
Asked by nancy from USA | Oct. 10, 2019 13:25

Reply
IF I land in terminal 1 at shanghai pudong for 8 hour layover can I access terminal 2 lounge
I am flying out of terminal 1 and wondered if I can hang out in terminal 2 lounge and come back to 1
Answers (2)
Answered by Jackson from GERMANY | Oct. 10, 2019 20:32

0

0

Reply
Don't worry. You can walk from T1 to T2.
Answered by Jeff from USA | Oct. 19, 2019 01:20

0

0

Reply
Hi Nancy,

Did you access the lounge at terminal 2 with a boarding pass for terminal 1?