How to Travel between Shanghai and Yiwu
Flights are not available between
Shanghai
and
Yiwu
. Their distance is 280 km (174 mi), and travel by Shanghai – Yiwu high speed train is the best option. The journey takes 1.5 - 2.5 hours and a second class seat costs CNY123. Shanghai Pudong Airport has direct buses to Yiwu, taking 4.5 hours and costing CNY180. There are also buses running from Shanghai Intercity Bus Terminal or South Long-distance Bus Station to Yiwu, taking 3.5-4 hours and costing around CNY100. Reaching Yiwu by either train or coach, one can then go to the International Trade City easily by bus or taxi.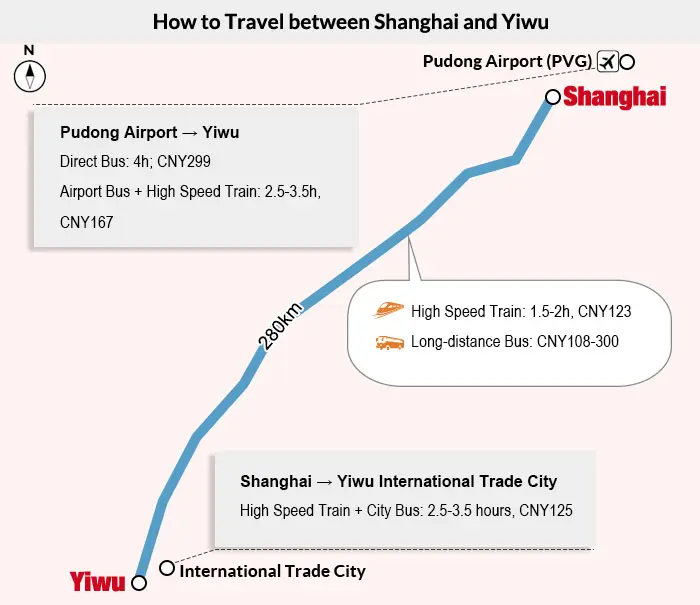 How to Travel between Shanghai and Yiwu
1

From
Shanghai Hongqiao Railway Station
: about 45 bullet trains per day between 06:11 – 20:44

From
Yiwu Railway Station
: about 45 trains per day between 07:28 - 21:49
Ticket Fare: CNY123 for a second class seat, CNY201.5 for a first class seat, and CNY377.5 for a business class seat.
Budget Alternative – Normal Train: 3.5-4 hours, CNY46.5

From
Shanghai South Railway Station
: about 40 trains per day between 00:50 – 23:58

From Yiwu Railway Station: about 40 trains per day between 00:02 – 20:12
Ticket Fare: CNY46.5 for a hard seat, CNY73.5-92.5 for a hard sleeper, and CNY112.5-140.5 for a soft sleeper.
2
Shanghai – Yiwu Long-distance Bus: 3.5-4 hours, about CNY100
Shanghai to Yiwu Bus: CNY96
| | |
| --- | --- |
| South Long-distance Bus Station | 08:49, 09:15, 13:23, 13:27, 14:47 |
| Intercity Bus Terminal | 07:45, 13:55 |
Yiwu to Shanghai Bus: CNY110
From Shangmaocheng Passenger Transport Center, also known as International Trade City Bus Station
Schedule: 9:20, 12:30, 14:20, 16:50
3
Taxi – Not Recommended: >3 hours, CNY1,500+
It is not easy to hire a taxi to travel between Shanghai and Yiwu due to the long distance. If you still prefer a private ride by taxi, you need to reserve one in advance. Hereunder are the most reputable taxi companies in Shanghai and their hotlines:
Dazhong, +86 021 – 96822
Jinjiang, +86 021 - 96961
Haibo, +86 021 – 96933
Qiangsheng, +86 021 - 62580000
---
1. Direct airport bus: 4.5 hours, CNY180
Boarding site: Long-distance Bus Station of Pudong Airport, located at the east side of B1 floor of P1 parking lot
Schedule: 09:00, 11:30, 14:10, 17:10, 18:40
→ Travel from Yiwu to Pudong Airport: 4.5 hours, CNY120
Buses can be taken at Shangmaocheng Passenger Transport Center at 06:15, 09:30, 12:30, 14:45 and 16:30, or Yiwu Railway Station Bus Terminal at 06:40, 10:00, 13:00, 15:15 and 17:00.
2. Airport bus + high speed train: 2.5-3.5 hours, CNY153
Take Pudong Airport Bus Line 1 to get to Shanghai Hongqiao Railway Station in an hour and it costs CNY30. Or take metro line 2 to from the airport to the railway station within 1.5 hours at a cost of CNY8. Then take a bullet train to Yiwu.
---
1. High Speed Train: 2.5-3.5 hours, CNY125-170
→ Take a high speed train from Hongqiao Railway Station to Yiwu: 1.5-2.5 hours, CNY123
→ City bus no. 801 or 802: 1 hour, CNY1.5; or taxi to International Trade City: 30-40 min., CNY40-50
2. Bus: 4 hours, CNY96-105
→ Take a long-distance bus from Shanghai South Bus Station to Yiwu Shangmaocheng Passenger Transport Center: 3.5-4 hours, CNY96
→ Walk to the International Trade City within 15min, or take a taxi to arrive there at a price of CNY8.
- Last modified on Apr. 09, 2019 -
Questions & Answers on How to Travel between Shanghai and Yiwu
Asked by BRATEANU ANA from ROMANIA | Mar. 31, 2019 07:31

Reply
Shanghai Pudong Airport to YIWU by train
Ni hao!

1. Please confirm, if the following schedule is correct!
I would reach PVG Airport on 9th April. From the airport I will take Metro Line 2 to Hongqiao railway station for the final destination to Yiwu International Trade.
2. Which is the name of the station for the Yiwu International Trade?
3. From the final station, do you recommend a taxi to reach the trade area complex?

Thank you!
Look forward to your reply!
Answers (1)
Answered by Andrew from GERMANY | Apr. 09, 2019 19:04

0

0

Reply
From Hongqiao Railway Station, you will finally at Yiwu Railway Station. After arriving, you are suggested to take a taxi to the Yiwu International Trade Center. The cab fare is around CNY40.
Asked by Mo Benhamou from UNITED KINGDOM | Jan. 08, 2019 04:16

Reply
is it possible to carry large cardboard box or two on the bus or high-speed train?
From Shanghai to Yiwu

is there much luggage space or any pictures of bus etc?
Answers (1)
Answered by Freda from FINLAND | Jan. 10, 2019 19:11

0

0

Reply
Yes, you can take them on the high-speed train or on the coach. Don't worry. Generally speaking, there will have enough space to put them. :)