Yiwu Travel Guide
Yiwu Facts: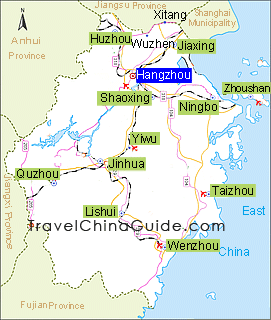 Chinese Name: 义乌 (yì wū)
Population: 818362
Area: 1,105 square kilometers (about 426 square miles)
Location: in the central area of Zhejiang, east China
Area Code: 0579
Zip Code: 322000
GDP (2019): CNY 142.114 billion (USD 20.60 billion)
The World's Capital of Small Commodities
Yiwu, subordinate to the Jinhua City of Zhejiang Province, is located in the central part of Zhejiang Province. It is 55 kilometers (34 miles) from urban Jinhua and 158 kilometers (98 miles) from Hangzhou, the capital of Zhejiang Province. Known as the world's capital of small commodities, Yiwu is the world's largest wholesale market of small commodities which has 236 categories and more than 1.8 million kinds of commodities. They are exported to more than 210 countries and regions. So most of the people from abroad you see in Yiwu are businessmen rather than tourists. And the place where they will visit is Yiwu Commodity City which consists of the Yiwu International Trade City, the Huangyuan Clothing Market and the Binwang Market. All kinds of goods such as clothes, toys, accessories, furniture and electronic products can be found there. To cater to the city's prosperous economy and accelerating its urbanization, the city has developed a number of public facilities, including star-rated hotels, convenient transportation and amusement places.
Beautiful Xiuhu Lake and cliffy Songpu Hill attracted a series of historic poets and scholars who were compelled to express their appreciation of the city's beauty. Yiwu is also the hometown of a number of historic people from ancient times. For example, Luo Binwang - one of the great patriotic poets in the Tang Dynasty (618-907), Zong Ze - the patriotic general of Northern Song Dynasty (960-1127), Zhu Danxi - one of the four famous doctors of the Jin and Yuan dynasties as well as Chen Wangdao, Feng Xuefeng and Wu Han, all of whom have made their contributions to the modern China. During your visit to this city, you will have chances to visit their hometowns which lie around.
You can access the city from Hangzhou Xiaoshan Airport by frequent shuttle buses, or Yiwu Airport in the city also operates some hot air routes from/to Beijing, Guangzhou, Xi'an and Chengdu. Yiwu welcomes visitors from all over the world. If you would like to explore the city on your own, convenient buses will take you to any corner of the city.
See also Yiwu Railway Station, Yiwu Train Schedule
Weather
-
Yiwu Travel Tips

History: In the year 222 BC, the Emperor Ying Zheng of the Qin Dynasty (221BC-206 BC) set up a county here. Compared with the other big cites of China, the city is small, but it has the largest commodity market in China. This, along with its mild climate has made it a tourism highlight in recent years.



Special Local Products: Handicrafts: Yiwu is renowned as a shopping paradise for small commodities. The flourishing markets which take up a large area of the city should not be missed. It provides a different kind of tour experience, for it is a composite of shopping and sightseeing. The International Trade City here which makes up the China's Commodities Trade City with Huangyuan Market and Binwang Market presents you with the city's unique vigor. This is an excellent place to purchase souvenirs for you and your relatives and friends.
Foods: On the way, it is easy for you to find some delicious local foods. You can have a good dinner either at the reasonable and friendly roadside booths or at one of the quality restaurants. In addition, foods from other regions of China and western food are available here.
- Last updated on Jul. 24, 2023 -
Questions & Answers on Yiwu Travel
Asked by Imran from PAKUSTAN | Jul. 24, 2023 03:11

Reply
How far is yiwa from Kashgar
How far is the yiwa from urmachi , train ticket
Answers (1)
Answered by James | Jul. 24, 2023 20:17

0

0

Reply
There is no direct train between Yiwu and Kashgar or Urumqi. If you choose to transfer, it takes more than 2 days.
Asked by Lesli from USA | Mar. 07, 2023 08:49

Reply
Guestimate of Cost to ship a package
I ordered something off the internet that was made in Yiwu City, Zhejiang Province (I was unaware it came from this far). What would the cost be (guestimate) to ship back?
Answers (1)
Answered by Nina | Mar. 09, 2023 18:10

0

0

Reply
It depends on the weight of the package, distance to cover and what kind of express service you choose. You did not give enough info to calculate the cost.
Asked by Bella from CHINA | Jul. 16, 2021 07:55

Reply
should we print train tickets to buy online?
Answers (1)
Answered by Jason | Jul. 19, 2021 01:48

0

0

Reply
No, you can use your passport or the QR code you got after booking the tickets online to scan while entering the train platform.
Asked by GLC from USA | Dec. 22, 2020 18:38

Reply
How to write correct address to China
Is this the correct way to write?
Name
No. 157 Jingfa Avenue Jiangdong Street
Yiwu City
Zhejiang Province 322000
China

Thank you for your time.

Answers (1)
Answered by Elizabeth | Dec. 24, 2020 18:57

0

0

Reply
Don't worry. It is correct. :)
Asked by MARLYNE from PHILIPPINES | Aug. 03, 2020 21:58

Reply
ADDRESS VERIFICATION
No. 220, Zhenxing Road is this a place in Yiwu City, Jinhua
City, Zhejiang Province, China?
Answers (2)
Answered by Parker from DJIBOUTI | Aug. 06, 2020 17:39

0

0

Reply
322003
Answered by Jeams M. Liu | Aug. 14, 2022 19:29

0

0

Reply
Yes,it is.