Jinhua Travel Guide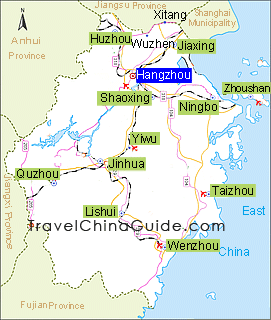 Jinhua Facts
Chinese Name: 金华 (jīn huá)
Population: 5,624,000
Area: 10,942 square kilometers (4,225 square miles)
Location: in the middle area of Zhejiang, east China
Administrative Division: 2 district (Wucheng, Jindong); 3 counties (Wuyi, Pujiang, Pan'an); 4 county-level cities (Lanxi, Yongkang, Yiwu, Dongyang)
Area Code: 0579
Zip Code: 321000
GDP (2019): CNY 455.991 billion (USD 66.095 billion)
Famous for Jinhua Ham & Oriental Hollywood - Hengdian World Studios
Located in the middle of Zhejiang Province, Jinhua is neighbor to Taizhou to the east, Lishui to the south, Quzhou to the west and Shaoxing and Hangzhou to the north. When Chinese talk about Jinhua, it is Jinhua Ham and Hengdian World Studios that occurs to their mind. The Jinhua Ham is savory and sweet, fatty but not greasy. It is delicious and rich in protein, fat, vitamins and minerals.

The Hengdian World Studios is the world's largest film and television shooting base with large-scale imitated building complexes from the Qin Dynasty (221 BC - 207 BC) to the Qing Dynasty (1636 - 1912). Here, you can also put on special clothes to take photos or take your own short films. Walking around the spot, you may meet some crews which are shooting films or TV series. Yiwu, the world's largest small commodity distribution center is only 55 kilometers (34 miles) from urban Jinhua, conveniently for you to purchase some stuff.
Attractions - Things to Do

Double Dragon Scenic Area: Located in the north of the city, this area is famous for the karst cave 'Double Dragon Cave', Taoism culture and mountain forests scenery.

Duke Shi's Palace of the Taiping Heavenly Kingdom (1851-1864): Located in the east of the city, it is a palace of the Duke Li Shixian of Taiping Heavenly Kingdom, which was established in the late Qing Dynasty (1644-1911) by rebellious farmers. This palace is the largest and best kept architectural relic of that period, with countless mural paintings, carving and other precious art crafts.

Hengdian World Studios: Located about 36 kms (22 miles) away from Yiwu, it is the largest movie base in Asia and honored as 'China's Hollywood' in the world. The seven areas show the scenic or cultural sceneries from West Zhou Dynasty (11th century BC-771BC) to present.

No.1 Family in South China: Located in north of Pujiang, it is a well kept house of Zhen's family. The harmonious family last from Southern Song Dynasty (1127-1279) to milled Ming Dynasty (1368-1644) for about 360 years. It fully illustrates the Chinese traditional family culture.

Other Spots: Underground River, Pujiang Xianhua Mountain, Huaxi Scenic Area, Fangyan Scenic Area, Zhuge Eight Diagrams Village, Camellia Culture Garden
How to Get to Jinhua
As the commercial and cultural center of west and middle Zhejiang, Jinhua has easy accesses. Two airports Yiwu Airport (YIW) and Hangzhou Xiaoshan International Airport (HGH) are both near the city. Railways go across the city in every direction. Its West Railway Station is the center of the transportation net extending to Shenyang, Wenzhou, Nanchang, Shanghai and other inland cities. Cross-province long distance buses can be found in the West Bus Station beside the West Railway Station. Other two bus stations in the south and east of the city manage shuttle buses to the nearby counties and cities.



See more Jinhua Railway Station, South Railway Station, Train Schedule

Major Rail Lines from Jinhua to:

See also Shanghai - Yongkang Train, Hangzhou - Yongkang Train
Weather
-
The region belongs to the subtropical monsoon climate zone. Four seasons are distinctive here. Spring is warm; summer is hot and dry; autumn is cool and humid; winter is cold and dry. The annual average temperature is about 17.52

C (63.52

F). The coldest month is January while the hottest is July or August. October is a colorful month with various festivals including Yiwu International Commodities Show, China Orchids Festival, Jinhua International Huangdaxian (a Taoist figure) Tourism Festival and Bullfight. Moreover, October has the most pleasant climate of a whole year.
Jinhua Travel Tips

History: In the Spring and Autumn Period (770BC-476), this area belonged to Yue State. Dongyang Shire was set up in the Three Kingdoms Period when the area firstly appeared in the history as a county. In 1360, it was named as 'Jinhua'. In 1949, it became the eighth administrative area of Zhejiang. In 1985, it turned into a prefecture-level city from a county-level one. It was not until 2004 when the present administrative division formed.

Physical Features: Encircled with mountains in three directions, most areas here are hills and basins. The main feature is high in north and south while low in the middle.

Local Highlights: This is a famous national historical and cultural city. Wu culture was once an important sector of the Confucianism in the history. Its 400-year Wu Ju (the local opera) is the second most important operas of Zhejiang. Many Chinese elites in literature, political and business fields were born there. Yiwu, the county-level city of Jinhua, has the largest commodity market of the country -China Commodities City, which are famous in the international market for its strong competitive power. It is a beautiful city as well. Double Dragon National Scenic Area is the most famous one through out the country.

Handicrafts: woodcarving

Foods: chayote, Chinese dates, camellia, Chinese gooseberry, ham, bean-curd sheets, Baizijiu Liquor

Jinhua Tour Information:
Hiking Tour: Information about hiking in Jinhua for your reference
- Last updated on Sep. 23, 2020 -
Questions & Answers on Jinhua Travel
Asked by Aron from SOUTH AFRICA | Sep. 11, 2019 07:50

Reply
what is distance from Hangzhou to Jinhua?
Answers (1)
Answered by Mosley from AUSTRALIA | Sep. 11, 2019 19:35

0

0

Reply
The distance is around 175km. Take bullet train from Hangzhou East Railway Station to Jinhua. It only takes around an hour on the way.
Asked by Nico from FRANCE | Jan. 12, 2019 08:43

Reply
How can i go from Jinhua to Daci cliffs and Zhuge village?
Answers (1)
Answered by Elijah from FRANCE | Jan. 15, 2019 00:29

0

0

Reply
Well, I cannot find the public transportation. Thus for your convenience, you are advised to hire a private car to go there.
Asked by Clarice from PHILIPPINES | May. 20, 2017 07:51

Reply
Is there a bus from Jinhua to Lanxi liudongshan underground river?
Answers (1)
Answered by Tom from USA | May. 24, 2017 02:03

1

0

Reply
You can take a shuttle bus at JH South Bus Station to Lanxi Passenger Transportation Center first. Then you can transfer another bus no.301 to the scenic spot directly. The operating time is from 05:45 to 17:20 with the interval of 15-20 minutes.
Asked by johan from CANADA | Mar. 20, 2017 13:27

Reply
I am travelling from Shanghai to Lanxi later this month.
Which Jinhua train station is the easiest to arrive at if I plan to take a bus from there to the Lanxi Railway Station?
Can I pay the bus driver or do I need a pre purchased ticket?
Answers (1)
Answered by Paisley from UNITED KINGDOM | Mar. 22, 2017 22:54

0

0

Reply
Actually, there are several direct long-distance buses from Shanghai to Lanxi. You don't need to transfer at JH. The buses from Shanghai General Bus Station depart at 07:45 and 13:55. The ticket fare is CNY 106 per person. There are ticket service counters. You can purchase the tickets there and then take the bus.