Zhoushan Travel Guide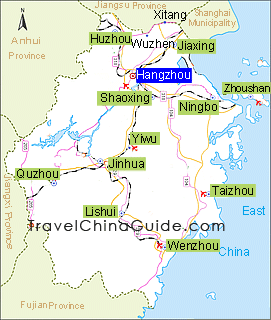 Zhoushan Facts
Chinese Name: 舟山 (zhōu shān)
Population: 1,176,000
Area: 222,000 square kilometers (85,715 square miles)
Location: in the east of Zhejiang, east China
Administrative Division: 2 districts (Dinghai, Putuo); 2 counties (Daishan, Shengsi)
Area Code: 0580
Zip Code: 316000
GDP (2019): CNY 137.16 billion (USD 19.88 billion)
Famous for Mt. Putuo & Composed of 1,390 Isles
Located south to the mouth of the Yangtze River, Zhoushan is in the coastal area of eastern Zhejiang in the fringe of Hangzhou Bay. It is the only city established on the basis of a group of islands, the Zhoushan Archipelago. The city backed on the Yangtze River Delta megalopolis is an important pass to the opening up of the Yangtze River Basin and the delta area. Floating on the East China Sea, the area is listed on the world's four largest fishing grounds. The unique island scenery endows Zhoushan with endless charm. Blue sky, clear sea, beautiful islands, sun-kissed beaches, fresh seafood are always the essential parts of Zhoushan tourism.

The Buddhist culture and temples of Mt. Putuo attract many devout believers. Mt. Putuo is a holy place for Guanyin Bodhisattva to enlighten all beings. And a bronze statue of Guanyin on the mountain is the landmark. There are many temples and bathing beaches on the mountain. The best time to visit Zhoushan is from June to October. Taohua Island, Dong Ji Island, Zhujiajian and Shengsi Archipelago are the best places to take a summer vacation.
Attractions - Things to Do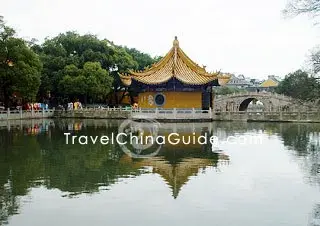 Putuoshan, Zhoushan

Mt. Putuo : Reputed as the Buddhist kingdom on the sea, Mt. Putuo, together with the Mt. Emei in Sichuan, Mt. Jiuhua in Anhui and Mt. Wutai in Shanxi, are known as China's four famous Buddhist mountains. The Puji Temple, Fayu Temple and Huiji Temple constitute the major sceneries of the mountain. Every year, several Buddhist ceremonies will be held, gathering numerous devotees from far and near.

Zhujiajian: Through the sea-crossing bridge, Zhujiajian is connected with the Main Island, and it is only ten minutes' drive south of the Putuo Mountain by yacht. The island is famous for sand and rocks, comprising nine beaches stretching 5,000 meters. They are undoubted perfect places for sand sculpture.

Taohua (Peach Blossom) Island: Located in the southeast of the Zhoushan Archipelago, the Taohua Island boasts the highest peak, the deepest port and the number one rock among all the islands.

Dinghai: Dinghai is the head of the islands in the area, where the city government is seated. It is a historical and cultural town with rich relics, including ancient battlefield, complex of old buildings. Dinghai Old Town is specially the highlight of the region.

Other Scenic Spots:
Daishan Island: famous for pleasant weather as well as charming and gentle sceneries of mountains, harbors, sand, rocks and old buildings
Shengsi Archipelago: famous for the amorous scenes of fishing ground and mirage
| | |
| --- | --- |
| Buddhist Temple | Burning incense to pray |
How to Get to Zhoushan
1. Zhoushan Putuoshan Airport stands on the north of Zhujiajian Island. From the airport, city buses are accessible to Dinghai. Flights to Beijing, Shanghai, Xiamen and Tianjin are available.
2. The Main Island is linked by cross-sea bridges with Zhujiajian Island and the Mainland Zhejiang, and it has mainly three bus stations connecting them: the central bus station in Ring Road (South), Putuo bus station in Donghai Road (Middle) and Banshengdong bus station in Bingang Road. Several buses shuttle from Shanghai, Ningbo and Hangzhou daily.
3. Ship/Ferry is the main vehicle in the city. Docks link the island together. In addition, Zhujiajian Island has bridge connecting with the Main Island. Buses from the main island will arrived at Zhujiajian for about thirty minutes. Then, visitors can easily get to the airport or to the Mt. Putuo from the Zhujiajian Wugongzhi Wharf. In the Putuo Dock, visitors can take ships not only to the Main Island or many other islands around, but also to Shanghai and Ningbo.
Weather
-
Strongly affected by the sea, the region has a humid and temperate climate without winter chilliness and summer heat. The annual average temperature is about 16.1C (61F). Typhoon may concentrate on the period from July to September. The best time to pay a visit is during June to October. During the typhoon period, weather forecast and marine information should be followed closely.
Zhoushan Travel Tips

History: According to the historical relics discovered, human beings have already dwelled here as early as 5,000 years ago. During the Qin Dynasty (221BC-206BC), it was well known as the place where one of the three celestial islands locates. Some explorers visited the island seeking for a longevity drug. Administrative unit began to be established here in the Tang Dynasty (618-907).

Physical Features: Zhoushan Main Island is the fourth largest island second only to the Hainan, Taiwan and Chongming islands, and the whole city consists of some one thousand islands of all sizes with ninety-eight of them inhabited. Further more, it has a vast sea area over twenty thousand kilometers (about 7722 miles).

Local Highlights:
Fishery, Taoist culture and seashore are the advantages to the development of the city. Centered by the three main features, the city holds several festivals yearly.
Seafood Festival: in Shenjiamen Port, Zhoushan Main Island, during July to October
Putuo Mountain Nanhai Kwan-yin Cultural Festival: in Putuo Mountain during November
International Sand-sculpture Festival: in Nansha Scenic, Zhujiajian Town (Zhujiajian is the fifth largest island southeast of Zhoushan), during July to October

Special Local Products: shell carving, fisherfolk tapestry, Putuo Buddha tea, sea product (eel, crab, jellyfish, mud snail and yellow croaker)
- Last updated on Apr. 12, 2021 -
Questions & Answers on Zhoushan Travel
Asked by Dennis from CHINA | May. 05, 2019 00:49

Reply
I want to take my car from Shanghai to Shengsi Island and stay there for about a week.
I cannot find any information on ferry service.
Can you tell me where the correct ferry terminal is, and what is the schedule?
Or, can you give me contact information for the ferry?
Thank you.
Dennis
Shanghai
Answers (1)
Answered by Emma from NETHERLANDS | May. 07, 2019 01:57

0

0

Reply
You can buy bus+ferry tickets at Nanpu Bridge Coach Station. The combo ticket costs around CNY120-140. The bus departs there from 7:15, 7:30, 8:40, 9:30, 12:10, 14:00, 17:30 and ferry departs from Shenjiawan Port from 9:30, 10:40, 11:30, 14:10, 16:10, 20:00.
Asked by Joe from THAILAND | Sep. 04, 2018 06:11

Reply
Fastest way from Zhoushan Airport to Liuheng Island.
Hey!
Which port would be the best to get to from the airport and if there are the ferry timings from that port as well?
Thank you for the help in advance!
Answers (1)
Answered by Kelvin from CANADA | Sep. 04, 2018 20:32

0

0

Reply
You can walk east about 5 minutes to take Bus Line 25 to Putuo Changyun and then transfer to Bus Line 330 to Haizhenyuan. After arrival, walk south about 7 minutes to Shenjiamen Duntou Port to take a ferry. The ferries depart from 7:00 to 17:00 with an interval about 1 hour. The ferry fare is about CNY 20.
Asked by lizzyglitzy from SINGAPORE | Sep. 03, 2018 20:49

Reply
I'll be to Liuheng Island and I would like to check if there is a ferry that can take me there?
Which ferry port should I go to and what are the ferry schedules heading to Liuheng Island?

There seems to be very limited information online and it would be extremely helpful if someone can help me with this.

Thank you!
Answers (3)
Answered by Selina from GREECE | Sep. 04, 2018 00:58

0

0

Reply
You can take a ferry from Dinghai Port and the departure time is at 7:30, 10:00, 13:00, 14:20, 14:30 and 16:30.
Answered by Lizzyglitzy from SINGAPORE | Sep. 04, 2018 05:33

0

0

Reply
Thank you Selina. It's very helpful. Is it easy to travel around China as a non Chinese speaking tourist?
Answered by Selina from GREECE | Sep. 04, 2018 18:52

0

0

Reply
It is not very difficult to travel in some large cities like Beijing, Shanghai but will be not easy in some small cities since there are not so many people speaking English.
Oh, using a translating app helps a lot!
Asked by lim from MALAYSIA | Feb. 28, 2018 12:29

Reply
Can someone, please, recommend some accommodations near the Impression Putuo Theatre
Hi
how do I do the hotel booking. How far are the accommodations to the theatre?
Where can I get the schedule of the shows for the month of September?
Can I book the ticket online and may I have the website address.
How do I get to the theatre from Putuoshan.

Thank you.

Answers (5)
Answered by Nicole from USA | Feb. 28, 2018 20:45

2

0

Reply
As I know, many hotels are nearby the theatre like ZS Zhujiajian Four Season Inn, Jinshayang Inn and Ruyi Inn. They are all within 200meters to the theatre and you can book them from Elong.

Two shows are available at 20:00 and 21:20 and you can book it from websites of many travel agencies. But I don't think they provide an English version, so you need look for help from your Chinese friends.
You can take a ferry to Zhujiajian Port and the hire a local car to the theatre!
Answered by lim from MALAYSIA | Mar. 01, 2018 10:19

0

0

Reply
Dear Nicole
Thank you for your reply.

Lim
Answered by lim from MALAYSIA | Mar. 01, 2018 10:30

0

0

Reply
Dear Nicole
You mentioned the time of the shows. Is it daily or do they have it on certain days in a week.

Thank you.
Lim
Answered by Harvey from CANADA | Mar. 01, 2018 19:25

1

0

Reply
It's daily show time.
Answered by lim from MALAYSIA | Mar. 02, 2018 10:57

0

0

Reply
Hi Harvey
Thank you very much.

Lim