Quzhou Travel Guide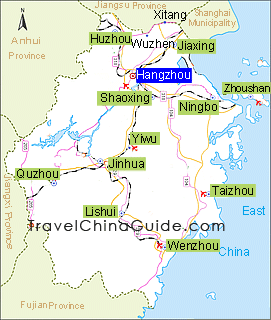 Quzhou Facts
Chinese Name: 衢州 (qú zhōu)
Population: 2,580,000
Area: 8,844 square kilometers (3,415 square miles)
Location: in the west of Zhejiang, east China
Administrative Division: 2 districts (Kecheng, Qujiang); 3 counties (Changshan, Kaihua, Longyou); 1 county-level city (Jiangshan)
Area Code: 0570
Zip Code: 324000
GDP (2019): CNY 157.351 billion (USD 22.808 billion)
A Transportation Hub & Southern Confucianism Communication Center
Quzhou is situated in the west of Zhejiang Province, lying in the upper reaches of the Qiantang River. As the connection point of four provinces, it is neighbor to Nanping in Fujian Province, Jingdezhen in Jiangxi Province, Huangshan in Anhui Province and the provincial city Hangzhou and Jinhua. Thus, Quzhou has been a transportation hub since ancient times. It is also awarded the title of the famous historical and cultural city with a history of more than 1,800 years. Parts of ancient city walls and gates can still be seen.

The descendants of Confucius once lived here to spread Confucian culture. Located in the urban area of Quzhou, the Nanzong Confucius Temple is one of the only two Confucian family temples in China. This city is also known as the birthplace of Go culture. As early as the Eastern Jin Dynasty (317 - 420), there was a story about Wang Zhi, a woodcutter, playing Go with an immortal in Lanke Mountain. This is the earliest written record of the origin of Go in China. In addition, Quzhou has beautiful natural scenery including mountains, karst caves and bamboo sea.
Attractions - Things to Do

National Scenic Spots: Jindingzi National Geographic Park, Longyou Karst Cave, Mt. Jianglang, Mt. Lanke Scenic Area, Nine Dragon Lake, Bamboo Sea of Longyou County

Historical and Cultural Spots: Nanzong Confucius Temple, Ershibadu Ancient Town, Quzhou Ancient City, Xiashan Ancient Residence, Xianxia Pass
How to Get to Quzhou
Quzhou is the connection city of Fujian, Jiangxi, Anhui and Zhejiang provinces. It has been playing important role in China's transportation since the ancient times. Quzhou Airport (JUZ) is located in the downtown area of the city. It has directly flights to Beijing, Chengdu, Chongqing, Dalian, Guiyang, Haikou, Jinan, Kunming, Qingdao and Shenzhen. Zhegan Railway (Zhejing to Jiangxi) go across the city, extending to Beijing, Shanghai, Nanjing, Xiamen, Nanchang, Wuhan, Guangzhou, Nanning, Chongqing, Kunming and many other provincial cities. Long Distance Bus Station in the city has scheduled buses to many important cities both in Zhejiang and other provinces. Scenic spots in the urban city can be reached by city bus.
Weather
-
The region enjoys a subtropical monsoon climate with distinctive four seasons. Spring and summer are abundant in rain and sunshine. Late summer is when typhoon frequently happens. Autumn is cool and pleasant without too much rain. Winter is cold and snowy. Best time to visit Quzhou is spring or late autumn. Every March in Chinese lunar calendar, the locals hold various temple fairs which are full of traditional flavors. In October, Tourism Cultural Festival is held when interesting activities such as rock climbing, Confucianism culture tour and the Go Game culture tour attract millions of visitors.
Quzhou Travel Tips

History: Quzhou belonged to the Yue State before and in the Spring and Autumn Period (770BC-476). In the Eastern Han Dynasty (25-220), the government set up Xin'an Shire, which was the original form of Quzhou. In 1949, the city was liberated and it became a prefecture-level one in 1985. In 1994, the city got its honor of 'National-level Historical and Cultural City' and in 2006, it was listed into one of the 'China Top Tourist City'.

Physical Features: Mountains in the south and north form a basin in the middle, which is high in the west and low in the east. Mountains and hills occupy about 85% of the whole area, leaving the 15% plains and basins.

Local Highlights: Over 1,800-year-history endows Quzhou many historical and cultural heritages. Nanzong Confucius Temple is a rare Confucius architecture in China. Situated in the upper reaches of Qiantang River, the city has quite good environment, hence its name 'Green Source of Zhejiang'. Mountains, stone forests, karst caves and many forest parks provide an ideal holiday resort for visitors.

Special Local Products: Handicrafts: Yingbai Porcelain (white porcelain)
Foods: oranges, Shaoyongfeng cake, Jiangshengji salty peanut, Dajuyuan dried bamboo shoot
- Last updated on Sep. 23, 2020 -
Questions & Answers on Quzhou Travel
Asked by John from CHINA | Mar. 03, 2019 21:23

Reply
Are there any western restaurants in quzhou?
Is there a large number or foreigners in the city or bars
Answers (2)
Answered by Eli from CANADA | Mar. 04, 2019 18:27

0

0

Reply
You can find several western restaurants in the city, like Pizza Hut. It is located at Nanhu Shopping Mall, No.147, Shangjie Street, Kecheng District.
Answered by Scott from CHINA | Sep. 03, 2019 05:25

0

0

Reply
Hi John,

Yes there is a foreign owned bar and restaurant called Bella Pizza. It is on the west side of the city not far from the Enjoy Hotel. Great food and large drink selection and this is also the main place that foreigners meet in Quzhou. Chinese name is 贝乐披萨屋 and Chinese address is 仙霞中路226号 (226 Xi'an Xia Zhong Rd). Phone (0570) 3072121. You can also find it on Wechat Maps, Baidu Maps and Google Maps.

Scott
Asked by Kamal Panchal from INDIA | Jul. 17, 2017 12:43

Reply
Do we get indian food in quzhou ?
Answers (1)
Answered by Lisa from NEW ZEALAND | Jul. 17, 2017 22:32

1

0

Reply
Well, you can go to Roast Pork & Rice in the Shitouping, Kecheng District, where provides Indian Pork curry.
Asked by Low from MALAYSIA | Aug. 09, 2016 19:16

Reply
I will be in Quzhou for small project on 20 to 26 August and i need to know any tourist attraction.
Answers (1)
Answered by Locas from FINLAND | Aug. 09, 2016 20:53

0

0

Reply
Hi, this city has several popular natural and historical scenic areas. You are advised to visit Jindingzi National Geographic Park, Longyou Karst Cave, Mt. Jianglang, Mt. Lanke Scenic Area, Nine Dragon Lake, Nanzong Confucius Temple, Ershibadu Ancient Town and QZ Ancient City. Have a nice journey!
Asked by La Main from CHINA | Dec. 15, 2014 05:07

Reply
i please to visit quzhou from 19 to 21 0f Dec, 2014, which cheapest hotel can i book?
i wish to know if there are any cheap hotels or motels around the train station or even in the interior.
i just want something cheap and comfortable
Answers (3)
Answered by Alice from NETHERLANDS | Dec. 16, 2014 03:25

1

0

Reply
Hey, according to your demand, I recommend these two hotels to you:
1. Tianhui Hotel: no. 78, Baihui Road, Kecheng District.
2. Huayang Hotel: no. 326, Hehua Road, Kecheng Dsitrict.

Answered by Nde Rabelais from CAMEROON | Dec. 19, 2014 00:08

0

1

Reply
thank you my dear, i will give it a try to these two hotels. i just hope i can get rooms for 50 rmb per night.
Answered by Ben from PARAGUAY | Dec. 19, 2014 03:22

1

1

Reply
As I know, there is no such cheap hotels. With CNY 150 around, you can get an economical hotel in low quality. You may change your budget a little bit for an economical chains hotel, like Hanting Hotel, Home Inn, seven Days Inn.