Shaoxing Travel Guide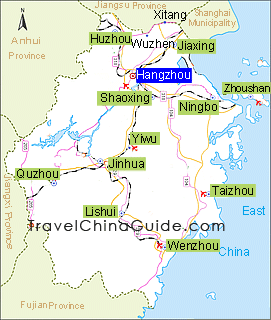 Shaoxing Facts
Chinese Name: 绍兴 (shào xīng)
Population: 5,057,000
Area: 8,273.3 square kilometers (3194.3 square miles)
Location: in the north-central of Zhejiang, east China
Administrative Division: 3 districts (Yuecheng, Keqiao, Shangyu); 1 county (Xinchang); 2 county-level cities (Shengzhou, Zhuji)
Area Code: 0575
Zip Code: 312000
GDP (2019): CNY 578.1 billion (USD 83.8 billion)
Famous for Shaoxing Yellow Wine – Traditional Chinese Cooking Wine
Lying to the south of the Yangtze Delta and in the north of the centrally located Zhejiang Province, Shaoxing, like a pearl with simple but elegant light, stands between Hangzhou and Ningbo. Shaoxing is famous for producing a kind of low alcohol brewing rice wine with full-bodied fragrance and rich in 21 kinds of amino acids. It is always used for cooking in the Chinese kitchen. However, as one of the three ancient wines in the world, Shaoxing Yellow Wine can be drunk as well. On a trip to Shaoxing, the Yellow Wine can be found even in corner stores.

Besides the wine, many famous people's former residences, historical attractions, Anchang Ancient Town with old streets and bridges add more charm to this city. Shaoxing is also home to Lu Xun (1881 - 1936), a leading writer of modern Chinese literature. His former residence offers a glimpse of his life.
With a history of thousands of years, the region is renowned for the abundant tourism resources including cultural relics like the
Yu the Great Mausoleum
and many residences of famous figures in Chinese history. In fact, Shaoxing is recognized as one of the Famous Historical and Cultural Cities in the country. Moreover, as a city to the south of the Yangtze Delta, the natural scenery here is totally charming and varied with an intriguing landscape of numerous green hills and clean waters. Shaoxing is also known variously as the 'City of Waters,' 'City of Bridges,' 'City of Calligraphy,' 'City of Tea,' and 'City of Scholars.' It gives off an image of an elegant and peaceful locale with deep cultural connotations, south of the Yangtze River.
| | |
| --- | --- |
| Lu Xun Former Residence | Shaoxing Old Town, Zhejiang |
Until nowadays, this city doesn't have its own airport. Hangzhou Xiaoshan International Airport (HGH) is the nearest one. The distance is about 30 kilometers (18.6 miles). Upon landing, passengers can take the convenience shuttle buses to Shaoxing directly. Also there are two railway stations in the city: Shaoxing Railway Station and North Railway Station. And train routes in the city extend to Beijing, Shanghai, Guangzhou and Xi'an. Tourists can also take a train to Zhuji Railway Station from Beijing, Shanghai, Hangzhou and Ningbo. The city is equipped with well-developed road system that highways extend in all directions. In addition, city-bus and taxi are favorable ways to tour around downtown area.
See also Train Schedule
Shaoxing Travel Tips

Features: Although the city appears quite simple and peaceful, the economy here has been developing rapidly, especially with regards to the textile industry. Thanks to the advanced silkworm rearing over thousands of years, silk products here are famous all over the country for their high quality as well as a large quantity. Every year, there are various textile exhibitions and fairs featuring silk goods production. The China Light & Textile Industrial City in Keqiao Town here is one of the largest professional marketers of light and textile products and the largest marketers of cloth in Asia.

History: It is one of the famous historical cities in China. Numerous accomplished scholars or figures were born or lived here such as
Yu the Great
in the far ancient China and the famous writer Lu Xun in modern times. This city thus boasts the title of 'City of Personages.' It was also the seat of the ancient Yue Kingdom during the Spring and Autumn Period (770 BC-476 BC) and quite prosperous during that time. Owing to its long history, this old city reveals less vanity and tinsel than some modern metropolis. What's commonly seen and felt here is a kind of leisurely and peaceful ambience.

Local Highlights: A local highlight is surely the delicacies here. As an important branch of
Zhejiang Cuisine
, Shaoxing dishes are famous for their rural style in ingredients, such as duck fed with vinasse-the sweet residue of the distillery process- and the pollution-free local chickens. Owing to this raw material, the local dishes serve up a fresh taste teeming with nutrition.
Recommended Tour Itinerary:
Hiking Tour
: Information about hiking in Shaoxing for your reference.
- Last updated on Apr. 12, 2021 -
Questions & Answers on Shaoxing Travel
Asked by Fi from IRELAND | Apr. 25, 2020 00:45

Reply
Train station Shaoxing
Hi, I have two questions.Which train station in Shaoxing is closest to most tourist attractions ? I want to do a day trip from Shanghai . I have a green QR code . Is it possible to travel ?
Answers (1)
Answered by Easton from AUSTRALIA | Apr. 26, 2020 20:47

0

0

Reply
You are suggested to arrive at Shaoxing Railway Station, which is located at No.210, Chezhan Road, Yuecheng District.
Asked by Peta from SPAIN | Oct. 09, 2019 09:34

Reply
Train from pudong airport to shaoxing
Is this possible?
Answers (1)
Answered by Grace from UNITED KINGDOM | Oct. 09, 2019 20:42

0

0

Reply
There is no direct train or bus from PVG to Shaoxing.
Upon landing, take metro line 2 to Zhongshan Park and transfer to metro line 3 to South Railway Station, Exit 2. Then walk southeast around 350 meters to find South Coach Station. There are many coaches that bound for Shaoxing.
Asked by Geoff from AUSTRALIA | Sep. 22, 2019 14:10

Reply
Shaoxing North Railway Station to Holiday Inn Fan Li Road
How do you transfer from the station to the Holiday Inn, is there train, bus or how much is taxi?
Answers (1)
Answered by Alby from NEW ZEALAND | Sep. 24, 2019 19:59

0

0

Reply
You can take bus brt1/70 to Songmeiqiao station with CNY3, then take taxi to your hotel.
Asked by Joseph from RWANDA | Sep. 06, 2019 00:56

Reply
is it possible to travel from Guangzhou to shaoxing in one day? if so how long is the journey?
Answers (2)
Answered by Lila from CANADA | Sep. 08, 2019 19:57

0

0

Reply
No, the time is too tight. It takes 18 hours by train and there is no direct flight between them.
Answered by Johnny from CHINA | Nov. 10, 2019 08:37

0

0

Reply
It is possible to travel from Guangzhou to Hangzhou by flight it takes about 2:30 (the price for flight and railway is almost the same price but there is a huge time difference) then you can take the high speed train from Hangzhou west railway station to Shaoxing north railway station and this will take you about 15 min.