Shaoxing Dining - What to Eat
Shaoxing dish is a main branch of Zhejiang Cuisine like Hangzhou dish and Ningbo dish. What's different is that the preferred ingredient of the Shaoxing dish is river food and poultry resulting in a dish full of the flavor of rural life. With its tender, smooth and delicate taste, the dish here boasts a refreshing flavor and mild fragrance. Also, most of the food is cooked with mild Shaoxing rice wine so that the dishes are accompanied with the special fragrance of rice wine.

What to Eat
Shaoxing dishes have three main courses: 'Mei', 'Zui', and 'Jiang'. 'Mei' means preserved vegetable or food like beancurd, beancurd skin or soy bean. The typical dish of 'mei' is the Steamed Pork with Preserved Vegetables where a little sugar and rice wine is added to the sliced pork with preserved vegetables, and then steamed until the pork becomes soft and smooth. This dish possesses a good texture as well as a strong fragrance of both the pork and preserved vegetables.
Another famous dish is the Fried Strong Smelling Beancurd. Though the beancurd smell is quite unpleasant but it tastes wonderful when fried until golden crisp outside and soft and fragrant inside. When tasting it with the special chilli or sweet sauce you surely will not forget this delicious food with the special flavor.
'Zui' in Chinese means 'drunk'. Here, it refers to the cooking method with rice wine vinasse (the residue of the wine making). The most common dish in this style must be Zui Ji (Wine Chicken). The ingredient is the local Yue chicken with its delicate texture and the rice wine vinasse. After being boiled, pickled with some flavoring and cooked with vinasse juice, the chicken becomes more delicious with that special fragrance of rice wine.
Food cooked by the 'Jiang' method is also very popular in Shaoxing. 'Jiang' is Chinese for 'bean sauce'. Here it means pickled food with bean sauce. The representative dish is Duck with Bean Sauce. The clean dressed duck is soaked in the bean sauce for several days. Next, after being washed with boiled water, is hung in the sunshine for several days with its abdomen stretched. Then, the delicious duck with its strong flavor of bean sauce is ready.
In addition to the representative dishes above, Chicken in Light Soup should also not be missed. The spring chicken is stewed on a low heat with black mushroom, ham and bamboo shoots. With an attractive clean appearance, the chicken tastes pretty good with its delicate texture and fragrant soup.
Shaoxing also boast various snacks with special flavors such as Broad Bean, Fermented Beancurd and Pickled Cucumber. Broad bean is famous for its description in the famous novel of Lu Xun, who is one of the most outstanding novelists in the country. However, the broad bean itself is a popular local snack. The dried broad bean is stewed in the water with many flavorings such as fennel, Chinese cinnamon and salt. It boasts a fragrant taste.
Fermented Beancurd is quite common in China. The fine square beancurd block is fermented, added to rice wine and preserved until summer. Then, the Fermented Beancurd is ready. It tastes a little salty with an aroma of the rice wine and the beancurd. What's more, the fermented beancurd is nutritious for it is rich in protein, sugar and calcium which are good for your health.
Pickled Cucumber is made from fresh cucumber. The cucumber is first salted and then mixed with thick sweet flour sauce. After some ten days, the pickled cucumber is ready. It is tasty and refreshing with a salty but also sweet flavor. Pickled cucumber pieces seasoned with sesame oil tastes quite delicious.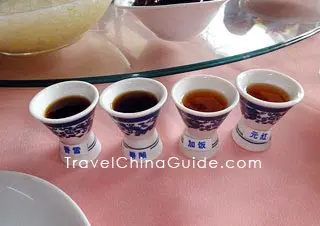 Shaoxing Rice Wine
Shaoxing Rice Wine
, also
Shao Wine
, is one of the oldest wines of China, whose earliest record was two thousands years ago. Made of fine sticky rice and clean lake water, the wine appears clear yellow, tastes mild a little sweet with a strong fragrant smell. This wine can be preserved for a long period and the longer it is kept, the more fragrant it becomes. Generally speaking, rice wine is a kind of light wine with a low alcohol percentage of 15~20, which makes it a popular drink for most people. You can enjoy it in various ways. One is warm drink: put the rice wine into a jug and place it into hot water or on a stove to warm it up. The warmed wine tastes much milder but more fragrant, and is a pretty good drink in the cold winter. The other is as a cold drink: add ice to the wine plus a piece of lemon according to your taste.
- Last modified on Oct. 24, 2019 -
Questions & Answers on Shaoxing Dining - What to Eat
Asked by AIZACANLAS | Jun. 21, 2018 20:12

Reply
How much rmbs do I need to spend for my meals in a day if I'll be in Shaoxing?
breakfast, lunch and dinner
Answers (1)
Answered by Luna from USA | Jun. 24, 2018 20:49

1

0

Reply
It depends on the restaurants you choose. Generally, it takes about CNY 80 one day.
Asked by Xayrullo from UZBEKISTAN | May. 26, 2013 02:25

Reply
Is there a mosque and muslim restaurants in Shaoxing?
I want to go to SX University to study chinese language. During this time Can I find halal food in the city? Are there any mosques in the city or near it? Do Muslims live there?
Answers (2)
Answered by Jocy from PAKISTAN | May. 27, 2013 02:16

1

0

Reply
I did not see a mosque there. I heard that there is a certain community for muslim people, so it is hard to find them.
I know a muslim restaurant call Pamier on No. 367, Wanshang Road, but I am not very clear about whether it is clear to you.
Generally speaking, every college in China has its muslim restaurant, so please do not worry about the eating problem.
Answered by Xayrullo from UZBEKISTAN | May. 27, 2013 05:00

0

0

Reply
Thanks for your reply!
Asked by Ms.maziah from MALAYSIA | May. 20, 2010 11:58

Reply
any suggestion where to find Halal Restaurant at Keqiao, Shoaxing? I will travelling to shoaxing next week.
Please recommend me the nearest hotel to Textile City and near to Halal Restaurant.

Thanks
Answers (2)
Answered by Mr.Hank | May. 20, 2010 22:44

0

0

Reply
Halal food is not so popular in Shaoxing, but you could ask the hotel staff to recommend one close to the hotel.


Answered by Mr.NIRAVCHINA from CHINA | May. 30, 2011 00:05

0

0

Reply
There are many Pakistani , Yamni and Indian Resturents servs HLAL food.
Check moon resturent (Pakistani) or Jashn Resturent (INDIAN)
Asked by Ms.Lucia | Jun. 09, 2009 22:07

Reply
Can you give me some recommendations about the restaurants in Shaoxing?
Answers (2)
Answered by Mr.Andy | Jun. 10, 2009 02:35

0

0

Reply
Kuiji REstaurant on the right side of the entrance of Luxun Former Residence is well spoken of. I once got the the former residence and met the restaurant. It looks good, but I did not dine there. My friend there told me it is nto bad. You can try. :)
Answered by Ms.Evelyn | Jun. 10, 2009 04:41

0

0

Reply
If you want to try the local food, just go to the Luxun Road Middle in the city. The restaurant Xianheng is situated at 179 Luxuan Road Middle. The fennel beans and stewed pork with dried vegetable are well worth trying.