Shaoxing Weather
7-Day Shaoxing Weather Forecast
Averages for Shaoxing Weather
High/Low Temperatures of Shaoxing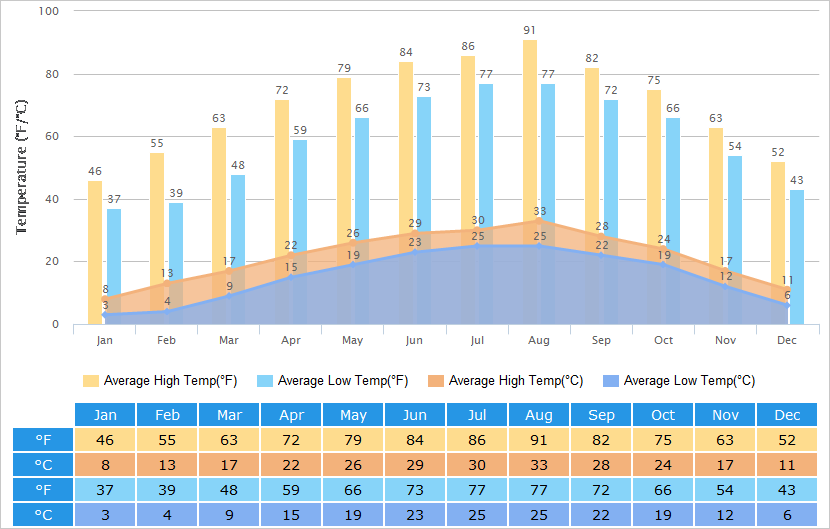 Average Temperatures of Shaoxing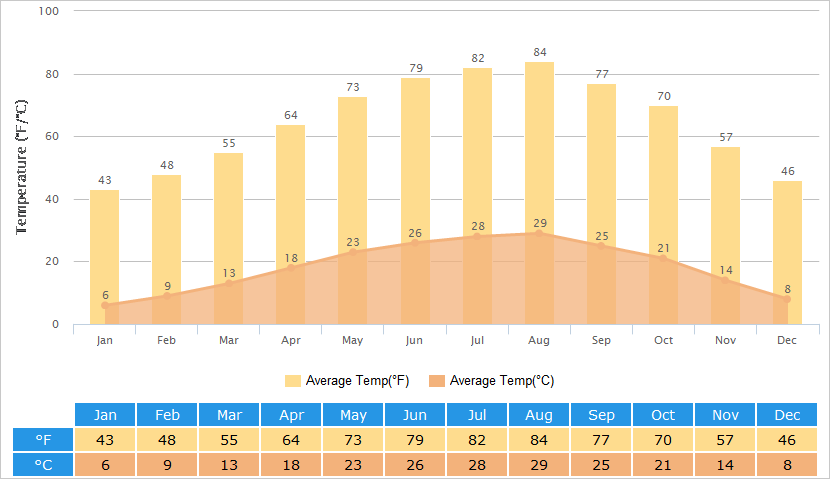 Air Quality of Shaoxing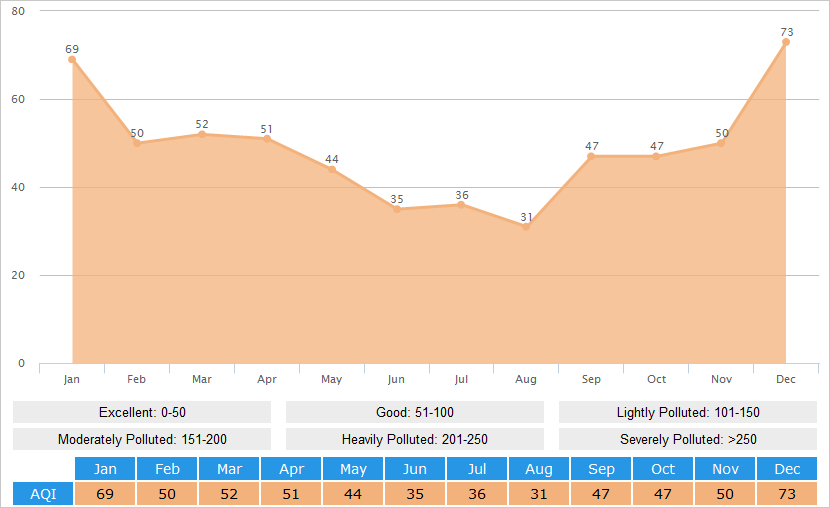 Shaoxing Climate - Seasons & Travel Advice
With its subtropical monsoon climate, Shaoxing weather is warm and moist with four distinct seasons. The average annual temperature is 16.5

C (61.7

F). The highest temperature is usually in July and the highest record is 39.5

C (103.1

F), while the lowest temperature is -10.1

C (13.82

F) in January. The average annual rainfall is 1438.9 millimeters (56.6 inches). The region has heavy rainfall through two rainy seasons: one during March to June and the other during September. In the rainy seasons, the climate is usually humid and hot. During April and May, although still in the rainy season, the weather is comfortable.
Some of the local festivals are held at this time like the Lanting International Calligraphy Festival and the Peachblossom Festival in Hou Mountain. During May to October, the waterfalls in Wuxie Scenic Spot are much more spectacular because of the sudden increase in water run-off in the rainy season. Autumn in Shaoxing is the most pleasant season, for the sky is clear and the air is crisp. There is less rain during this season.
Lanting International Calligraphy Festival is held in Lanting Pavilion (Orchid Pavilion) on March 3 (lunar calendar) every year. On that day, many famous calligraphers get together here to display their calligraphic skills and their works. People meet to share their experiences on calligraphy and to drink together.
Peachblossom Festival in Hou Mountain is held in Hou Mountain in March every year, when people hike in the charming peach blossom mountain, appreciating the beautiful scenery.
Rice Wine Festival of Shaoxing is held during October every year. It is a grand and wide-ranging festival including series of programs such as discussions on wine culture and rice wine, and a Gourmet street, evening lantern show and the calligraphy-painting exhibition on rice wine.
- Last modified on Sep. 17, 2019 -
Questions & Answers on Shaoxing Weather
Asked by Melonie Croeser from SOUTH AFRICA | Sep. 14, 2019 05:57

Reply
Hi. Im competing in sport in Shaoxing in October. What will the weather be like?
Answers (1)
Answered by Rodney from CANADA | Sep. 17, 2019 01:37

0

0

Reply
Based on the history weather condition, the temperature will be 15-25C in October. It will be wet and cool.
Asked by siva from INDIA | Jan. 08, 2018 17:23

Reply
iam from south India iam traveling to shaoxing on 18 the January. please suggest me about climate
Answers (1)
Answered by Laura from CANADA | Jan. 08, 2018 19:15

0

0

Reply
It will be rainy and the temperature ranges from 6 to 11C. You need to take your sweaters, jackets and warm pants. Have a nice trip!
Asked by sachin aneja from INDIA | Oct. 30, 2017 11:57

Reply
what will be weather in shaoxing from nov 13-20?
Answers (1)
Answered by Cecilia from FRANCE | Oct. 30, 2017 21:28

0

0

Reply
It may be 14-23C with some cloudy days. You need to take you shirts, wind coat and jeans.
Asked by vincent mcgee from UNITED KINGDOM | Jul. 20, 2015 08:01

Reply
what is the expected temperature for end august in shaoxing?
Answers (1)
Answered by Siry from INDIA | Jul. 20, 2015 21:50

2

0

Reply
It will be hot and rainy at that time, the average temp is about 80 – 82 F, and it just light rain, which will not last for a whole day. You need to wear T-shirts ad shorts.
Asked by Delbert from MALAYSIA | May. 25, 2014 11:08

Reply
Preparation to visit to Qi Yang Gong Lu, Qi Xi'an Town, Shaoxing Country, Zhejiang Province.
I am going Qi Yang Gong Lu, Qi Xi'an Town, SX Country, Zhejiang Province on 22 to 25 July 2014.
1) What is the weather condition?
2) I have only 2 days free on Friday and Saturday flight on 10pm. Any recommendation, I must visit , must eat and must buy ?
3)Local security situation at night and day time?
4) Is it far from Dong Guan, Shuzhou, Guandong Pu Ling....
5) Any others , please advise...Thank you.
Answers (1)
Answered by Eden from AUSTRIA | May. 25, 2014 20:49

0

0

Reply
Currently, it is so early to tell the exact weather in July this year, because it is so early. Generally speaking, that time is the local summer time with average temperature is around 27t o 36C based on the previous records.

Since you only have two days, you can suggested to visit the SX city only. In this city, you can see the East Lake, Former Residence of Lu Xun, Shen Garde and Zhuji City. After that, you can visit the Anchang Ancient Town if you still have enough time.

It is safe at night and day time, so please do not worry.

The distance between Dongguan and SX is around 1300 to 1400km by road. To Suzhou, there is around 200km.

Hope these information can help you ~