Shaoxing Attractions

Anchang Ancient Town


East Lake


Kuaiji Mountain


Lu Xun Native Place


Orchid Pavilion


Shenyuan Garden
Shaoxing, as a beautiful city south of the Yangtze River, has experienced a splendid history of over 2500 years since the Yue Kingdom was built here in the Spring and Autumn Period (770 BC-476 BC). On this fertile land, many legends and stories about famous historical figures such as Xishi (one of the 'Four Beauties' in Chinese history) and
Yu the Great
(a legendary leader of the primitive society in China) have been passed down in an area rich in related relics. Moreover, the charming green hills and numerous clear waters endow the city with a kind of spirituality of peace which reveals the harmony between human and nature.
Places of Historic Interest
It boasts an atmosphere rich in culture. Many famous literary figures and scholars in Chinese history were born or settled here. Some of their former residences remain and continue to tell people of the lives of these outstanding figures. The most famous one of all is that of Lu Xun (1881-1936), one of the most excellent authors in China. Situated in Luxun Road (Middle), the well-preserved Former Residence of Lu Xun represents the full version of this Chinese literary giant's daily life and the place where he worked on his literature. This is where he was born and spent his childhood and the site provides a true feeling of his life with most of the building, mentioned in his novel, still to be seen.
| | |
| --- | --- |
| Former Residence of Lu Xun, Shaoxing | Orchid Pavilion |
With its strong atmosphere of culture, most of the spots here provide a background to the literature or literary figures like the Shen Garden and the Orchid Pavilion. The 800 years old Shen Garden was originally a private landscape garden with classical architecture style. What is so different in this garden is that it was the setting for the moving love story of Lu You, quite a famous poet in Song Dynasty (960-1279), and his wife whilst the thousands of years old Orchid Pavilion is an integration of mountain landscape and water town scene. Most of the settings have interesting stories to tell about the figures that visited.
As well as those residences and historical cultural sites, the relics from ancient years are also well worth a visit. 6 kilometers (3.7 miles) to the southeast of the city center lies the Kuaiji Mountain Scenic Area in which the Yu the Great Mausoleum is located. For his great project of controlling the floods, this great king of the primitive society has become a household figure all over China. Embraced by green hills and clear waters, the simple and solemn mausoleum consists of the mausoleum itself, the Yu Memorial Hall and the Yu Temple. These three magnificent building groups provide a series of sacrificial areas for people respecting this legendary figure.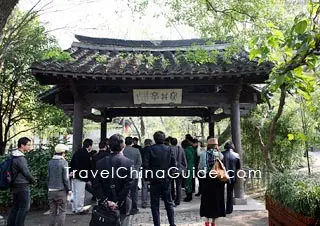 Shen Garden, Shaoxing
Natural Scenic Spots
Although ancient history has left the region with abundant historical relics, the special landscape also forms an area of fascinating natural beauty like the East Lake, one of the three famous lakes in Zhejiang Province. Unlike the beautiful and elegant
West Lake
in Hangzhou, the East Lake is famous for its fantastic water scenery companied by some intriguing rocks and a series of strange caves.

What is so convenient is that the holiday tourist lines in Shaoxing City could enable you to get around all the high spots mentioned above within just one day.

Keyan Scenic Resort (in Shaoxing County)
Surrounding Shaoxing City, Shaoxing County boasts charming natural scenery such as in the Keyan Scenic Resort, 8 kilometers (5 miles) west of the city proper. Intriguing sceneries left by stone quarrying in ancient times present a different natural scenery including strange caves, cliffs and remarkable rocks. This scenic area contains building groups in the architecture style of the Tang Dynasty. Moreover, the newly developed nearby Lu Town Scenic Area adds much to the air of local culture.

Transportation: To get to the Keyan Scenic Resort, you can take the Bus No.603 at the south gate of Shaoxing City and get off at the stop - Keyan Scenic Resort.

Zhuji City
Zhuji City is the hometown of Xishi, the famous beauty in Spring and Autumn Period. Her story of devotion to her country has been passed down generation to generation and, to commemorate her, local people built a temple. Nowadays, based on the original temple, a brand new Xishi Hometown Tourist Zone has been built up along the Huansha River to revive the custom as well as the beautiful scenery of this town in ancient times.
In addition to the human landscape, the famous Wuxie Scenic Spot betrays an attractive and natural scenery lying, as it does, in the west of Zhuji. The Wuxie Scenic Spot is renowned for its various waterfalls.
- Last modified on Apr. 12, 2021 -
Questions & Answers on Shaoxing Attractions
Asked by TRAVEL4BEAR | Jun. 25, 2016 19:33

Reply
Is there a local guide in Shaoxing to give this tour?
My father is from this city. I would like tour the city but would need a local guide. I plan to be in there on Oct 14, 2016. Could you recommend a guide? Is there an english tour that i could pick up in the city?
Answers (1)
Answered by Nelson from UNITED KINGDOM | Jun. 26, 2016 01:44

0

0

Reply
Sorry, I don't know a guide there, but you can post a thread on the forum of this website you are visiting now. Many people exchange their opinions about traveling and many guides explain, so you may be lucky to find one.

Additionally, I know some hotels, especially chain hotels and star hotels may arrange tours for their guests. You may also have a try, and good luck!
Asked by SY | Jan. 21, 2013 22:45

Reply
Is there a Shaoxing Wine Factory in Shaoxing
Answers (2)
Answered by Kelly | Jan. 22, 2013 00:24

1

1

Reply
Hi, actually, there are more than one Wine Factory there, such as SX County Wine Factory, Sanjiang Wine Factory and Dongxing Wine Factory.
Answered by SY | Jan. 22, 2013 09:26

3

1

Reply
So how do we go and visit these wine factories?