Orchid Pavilion (Lan Ting)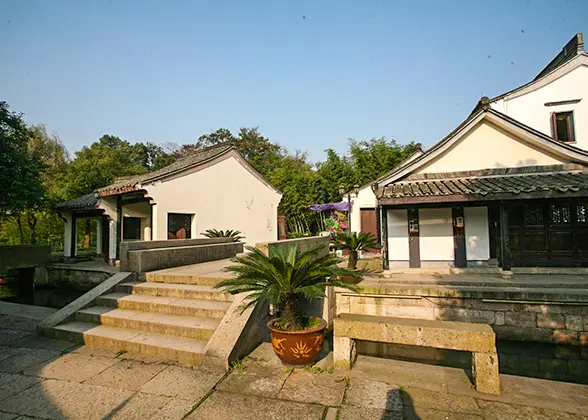 Orchid Pavilion, Shaoxing, Zhejiang
Located in the southwest suburb of Shaoxing City, Zhejiang Province, the Orchid Pavilion is a key point of interest. Its attraction not only comes from magnificent landscape and graceful southern China gardening sights, but also from profound historical culture and its unique and vast reputation in the calligraphic field.
The Orchid Pavilion (Lan Ting) was originally the site where Gou Jian, the King of the Yue State during the Spring and Autumn Period (770 BC - 476 BC), planted orchids. Later it became famous for Wang Xizhi, a renowned calligrapher of the Eastern Jin Dynasty (317-420). His 'Preface to the Orchid Pavilion Anthology' has made the Orchid Pavilion the Calligraphic Mecca, at the same time making himself the sage of calligraphy.
The Goose Pond Stele
The first thing you see as you enter the pavilion is the Goose Pond. Several geese are swimming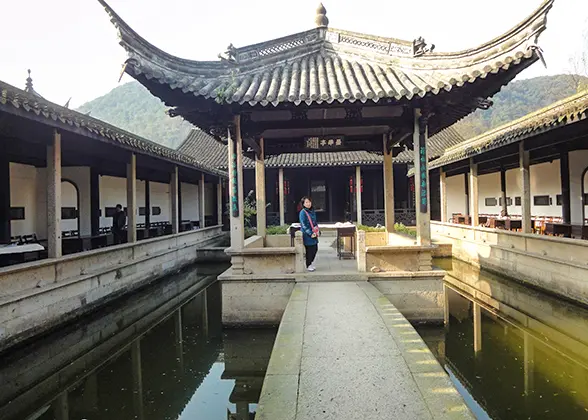 Goose Pond Stele
happily on the idyllic crystal clear water. On the left hand side of the pond is a small triangle pavilion which contains the famous Goose Pond stone stele, standing in its center. Two Chinese characters '鹅池 (Goose Pond)' are carved on the stele. It is said that the two characters were written respectively by Wang Xizhi and His son, Wang Xianzhi - a famous calligrapher. You can easily see that the two characters on the stone stele have a different style of writing.
Liushang Pavilion
Liushang Pavilion is the center here, where Wang Xizhi and his friends drank wine and composed poems. Here Wang Xizhi finished his famous 'Preface to the Orchid Pavilion Anthology'. In front of this Pavilion is a spacious flat surrounded by bamboos. A wandering stream zigzags through this flat. In Wang Xizhi's time, he and his friends sat on both sides of the wandering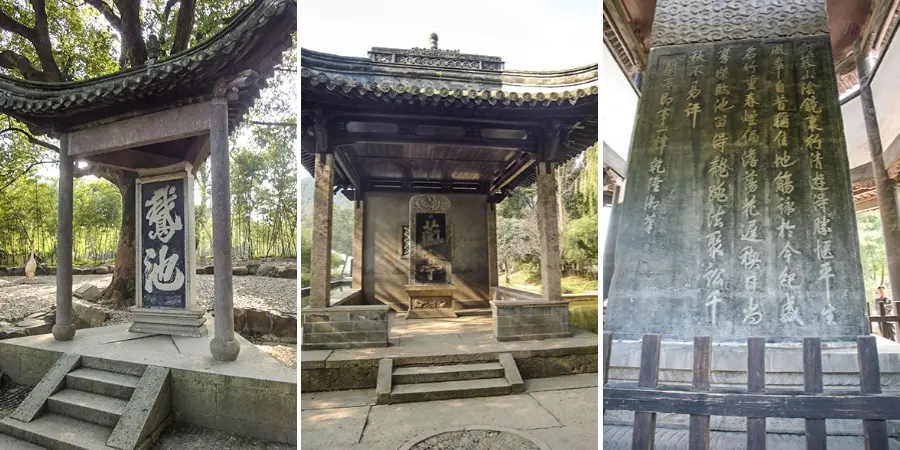 stream and would set a Chinese drinking cup in the flowing water, and before whoever the cup stopped would compose an impromptu poem or have to drink three cups of wine as punishment. Now every year many calligraphers and calligraphy lovers come here and imitate these ancients.

In the Orchid Pavilion, many other sites including the Wang Xizhi Memorial Temple and the Orchid Pavilion Calligraphy Museum are not to be missed.
| | |
| --- | --- |
| Admission Fee: | CNY 40 |
| Bus Route: | 3, 303 |
- Last updated on Jul. 19, 2022 -