Shenyuan Garden
Shenyuan is one of the most typical Chinese Gardens in Shaoxing. Built in
Song Dynasty
(960~1279), Shen Garden has been more than 800 years old. It is the private garden of the Shen family at the beginning, but is widely known for the love story between Lu You and Tang Wan.
Lu You was a famous poet in
Southern Song Dynasty
(1127~1279). After marrying his wife Tang Wan, they loved each other so much and stayed together all the time, which was thought to be having no desire to make progress in Lu's mother's eyes. Therefore she forced Lu You to divorce Tang Wan on the excuse of Lu's not working hard as well as Tang Wan's not having a baby in three years' marriage. They had no choice but to obey, as in ancient China children had to obey their parents without conditions. Ten years later, they came across in Shenyuan Garden. Tang Wan asked her servant to send some food to Lu You. Looking at the food, Lu You was utterly depressed and wrote the outstanding poetry 'Phoenix Hairpin' to express his love for Tang Wan as well as his unwillingness for their separation. Heard of this poetry, Tang Wan wrote another to reply to Lu You and showing the same emotion and died for depression several days later. Lu You loved Tang Wan so much that he never forgot her and even come to Shenyuan to recall Tang Wan in his old age.
Till today, you can see many sites related to the poor lovers in Shen Yuan, with major ones listed below:
Duanyun Rock
Duanyun has a similar pronunciation with "Duanyuan", literally meaning the ending of love relationship. The rock is broken in the middle but still stay very close to each other, just like Lu You and Tang Wan, who were forced to separate but still love each other. This also shows the loving theme of Shenyuan. It is at the entrance of Shen Garden.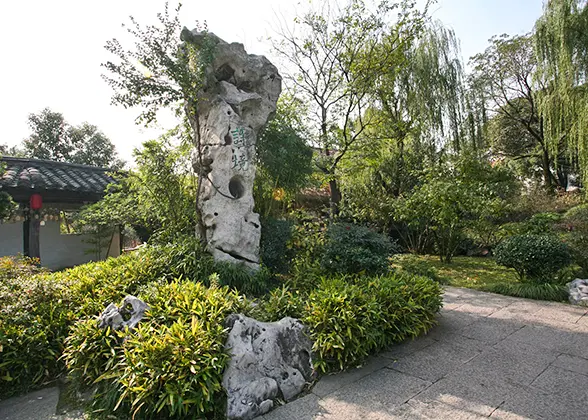 Poetic Atmosphere Park
Poetic Atmosphere Park
To remember Lu You, people constructed the park, in which the Rock with Chinese characters 'Poetic Atmosphere' is situated. The two Chinese characters on the rock are imitating Lu You's handwriting. This rock is of five features:

The two characters on it look a little thin because the upper part is bigger than the lower;

If you light a smoke and put it into one of the holes of the rock, the exhaust gas will fume from all the holes;

When there is water on the rock, it will percolate from the top to the bottom while the holes are not connected with each other;

The grains touches like the wrinkles on peoples' forehead;

The rock is terribly ugly, but with high appreciation value, because in China human beings are valued for their beauty, but stones for their ugliness.
Appreciating Plum Blossom Pavilion
Lu You loved plum blossom very much and wrote more than 200 poems about this kind of flower. Appreciating plum blossom in the garden also shows his fortitude and braveness. When winter comes, the whole garden is filled with the sweet fragrance of the plum blossom flowers. Visitors may come here to admire the flowers at this time, which will make you relaxed.
Six-Dynasties Well Pavilion
The pavilion has been there since the
Tang Dynasty
(618~907) and is the witness of the long history of Shen Garden. There is a well in the pavilion, whose roof has a hole to receive rain and sunshine, indicating that Lu wanted to take back the "spilt milk", and expressing later generations' yearning for freedom of marriage.
Solitary Crane Pavilion
This is the center of Shenyuan Garden. Lu You compared himself as the solitary crane, implying his lonely and miserable life: reluctantly divorcing his beloved wife, finding no way to save his country and help his countrymen because the emperor didn't treasure him and even demoted him from time to time.
Stele with Poetry "Phoenix Hairpin"
On the stele is Lu You's poetry, which was written after meeting Tang Wan ten years after their separation. In the poetry he expressed that he was grieved after they were separated and was missing Tang Wan all the time. He loved her so much but couldn't write a letter to her for they both get married again with others. He could do nothing but to think of her in his heart. This love story has moved a lot of people and that is because of this poetry that Shenyuan gets widely known.
| | |
| --- | --- |
| Solitary Crane Pavilion | Stele with Poetry "Phoenix Hairpin" |
Gourd Pond
The pond is named so as it looks like a gourd, which is used for planting lotus. This pond is said to be the one where Lu You and Tang Wan came across after they have divorced for ten years. Lu You often came here alone, looking at the water in the pond, recalling the sweet memories between him and Tang Wan.
Double Osmanthus Hall
There are two osmanthus trees in front of hall, so the hall is named as Double Osmanthus Hall. The hall is an imitation of Song architecture which is added many exquisite decorations. This is also the place in which the Shenyuan Night Party is held, when the Shaoxing Opera telling the love story between Lu You and Tang Wan will be performed.
East Park
This park is also called the Love Park, with the Praying Terrace, the heart-shaped Precious Jade Pool, the Magpie Bridge, the Pavilion of Deep Love, and the lovers' declaration on small wooden plates in it, creating a romantic atmosphere here, as well as making some unforgettable memories for lovers visiting it.
Memorial Hall of Lu You
As a poet, Lu You wrote more than 9,000 poems in his life. He expected to be a governor to make the country strong and prosperous but found no way to make it. There are many materials, portraits, poetries of him in the hall which shows Lu You's life experience.
Lianli Park
The park is a Chinese style garden with cute ponds, dainty pavilions, and rockeries assembled together, which make visitor feel fresh and comfortable. Visiting the park with your beloved, whispering some sweet words may bring you a cheerful day.
Night in Shenyuan
The night in Shenyuan Garden is distinguished from the day because there are many entertainment activities for visitors to enjoy. You will be led by the servants in the dress of Song Dynasty to get Song currency, taste the snacks, admire the night scenes, listen to the Shaoxing Opera, and so on. Besides, visitors may take part in the performances, expressing the love for their lovers, and other interesting activities.
Transportation

Take bus of line 8, 10, 13, 16, 24, 88, 316b, 316c and get off at Lu Xun Native Place Station, then walk about 200 yards (180 meters) to get there.

Take bus of line 52 and get off at Shenyuan Station.
Admission Fee
Day Time: CNY 40.
Night Time: CNY 138 for A-class seats; CNY 118 for B-class seats; CNY 80 for C-class seats.
* Children of 3.9 – 4.9 feet (1.2 - 1.5 meters) enjoy half price tickets for day-time tickets and C-class seat tickets for Night of Shen Yuan;
* Children below 3.9 feet (1.2 meters) enjoy free tickets and they need to come into Shenyuan Garden together with their guardians
Opening Hours
Day Time: 08:00-17:00;
Night Time: 17:30-22:00
Nearby Attraction
Lu Xun Native Place
: The birthplace of Lu Xun, a great writer and thinker in China modern history. Visitors can walk to the main entrance of Lu Xun Native Place in about ten minutes from Shenyuan Garden.
- Last modified on May. 15, 2019 -