Lishui Travel Guide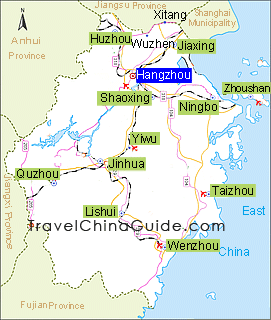 Lishui Facts
Chinese Name: 丽水 (lí shuǐ)
Location: Lishui lies in the southwest of Zhejiang Province neighboring Wenzhou in the southeast. The city is bordered by Fujian Province in the southwest boundary. It is 126 kilometers (78 miles) from Wenzhou, 292 kilometers (181 miles) from Hangzhou and 512 kilometers (318 miles) from Shanghai.

Population: 2,514,000
Area: 17,928 square kilometers (6,922square miles)
Nationalities: Han
Administrative Division: 1 district (Liandu); 6 counties (Jinyun, Qingtian, Yunhe, Suichang, Songyang, Qingyuan); 1 autonomous county (Jingning She Autonomous County); 1 county-level city (Longquan)
Useful Telephone Numbers:
Tourist Complaints: 0578-2106018
Weather Forecast: 121
Zip Code Inquiry: 184
Attractions - Things to Do

Fengyangshan-Baishanzu National Nature Reserve: As is implied by the name, the nature reserve consists of two parts. Among them, the Fengyangshan Nature Reserve is characterized by rich storage of rare plant and animal species; the wonderful summer resort, Fengyang Mountain; the highest peak in Jiangsu and Zhejiang area, Mount Huangmaojian. While the Baizushan features especially for the endangered Baishanzu Fir and its breathtaking natural scenery.

Daji: Located 40 kilometers (25 miles) southwest of Jingning She Autonomous County, the scenic area stands in the alpine basin of 1,600 meters (5249) surrounded by mountains. The spectacular Xuehua Ji (Snow Waterfall) is the presentative scenery of Daji. In addition, there are also some old building worthwhile visiting. The Shisi Temple is one of the only three wooden buildings of Song (960-1279) and Yuan (1271-1368) dynasties.

Xiandu National Park: During the October, tourism festival will held annually offering opportunities for visitors to admire the folk customs, meanwhile to closely approach to the natural beauty of the park. Dinghu Apex is the highlight. It is praised to be the largest stone pillar in the world and regarded as the symbol of Xiandu.
How to Get to Lishui
1. Lishui has two principal bus stations. The West Bus Station is situated in the No.109, Nan Huan Xi Lu, and the East Bus Station is in No.399, Liqing Road. The west station mainly operates bus routes within the province.
2. Lishui is 1.5 hours' drive from Wenzhou. The Wenzhou Haunglong Bus Station in Lucheng Road dispatches buses to the city every forty minutes. From the Hangzhou South Bus Station in Qiutao Road, nearly twenty buses will run to Lishui for about 4 hours.
Weather
-
Belonging to the subtropical monsoon climate, the area has shorter spring and autumn comparing with the time duration of summer and winter. Weather in spring varies rapidly. The plum rain period emerges in summer bringing intense rainfall or even rainstorms. Autumn is cool and winter is dry and chilly due to the influence of cold wave from North China. Summer is the most pleasant period to pay a visit, because this is a city never lacking of summer resorts. Moreover, around the third day of the third lunar month, participating the celebrations and activities of the She minority is also an amazing option.
Lishui Travel Tips

History: Human activities initiated over 4,000 years ago. The Sui Dynasty (581-618) established Chuzhou which is the original form of present Lishui City. Although its name was changed into Kuozhou later, Chuzhou is finally regained in the year of 779.

Physical Features: Medium mountain and hill areas constitute the main landform of the city. The general terrain declines from the southwest to the northeast. Medium mountains occupy the majority of the southwestern territory, while the northeastern part is mainly lower mountain interleaving with river valleys and basins. Mountains in the area mainly belong to the expansion of Wuyi Mountain.

Special Local Product: mandarin orange, Chinese mushroom, stone carving of Qingtian County, celadon and double-edged sword of Longquan City
- Last modified on May. 07, 2018 -
Questions & Answers on Lishui Travel
Asked by lampung from CHINA | May. 06, 2018 10:38

Reply
hello, How to get to lishui from Shanghai?
Thank you!
Answers (1)
Answered by Kaitlyn from NEW ZEALAND | May. 07, 2018 02:03

0

0

Reply
It is advised to take bullet train from Shanghai Hongqiao Railway Station to the destination directly. The duration is around 3 hours. The ticket fares of 1st Class Seat, 2nd Class Seat and Business Cls. Seat respectively are CNY289.5, CNY177.5 and CNY543.5.
Asked by Mr. Sloth from CHINA | May. 22, 2017 05:25

Reply
Hello is there a bus that can take us to from Lishui to Nanjianyan and then the return way?
We would like to do a 1 day trip if possible.
Are Hotel is near the High Speed Rail Station. If not is there bus that can take us to SuiChang?
Thanks
Answers (1)
Answered by Nancy from CHINA | May. 25, 2017 03:10

0

0

Reply
I'm afraid that there is no direct bus operating between two places, but there is a coach to Suichang. You can take a coach at the High Speed Railway Station. This coach works from 06:42 to 18:42 with the interval of 40-60 minutes. The ticket fare is CNY39/person.
Asked by cindy from SINGAPORE | Jun. 18, 2016 11:49

Reply
Hi, I want to travel from longyou/quzhou to suichang in lishi, any idea how?
Answers (1)
Answered by Nancy from CANADA | Jun. 19, 2016 02:50

0

0

Reply
At Longyou North Bus Station, frequent buses are scheduled to Suichang. I remember the buses are available from 07:00 to 17:30. You can go and buy the ticket on the spot.
Asked by JimmyGirl from CHINA | Jan. 25, 2016 18:06

Reply
Going to Wenzhou Airport from Lishui
Hello! Is it better to ride the bus going to Wenzhou airport rather than take the speed train? I heard that the bus goes straight to the airport gate. Is it more convenient?
Answers (3)
Answered by Daniel from CANADA | Jan. 26, 2016 02:55

0

0

Reply
Yes, taking direct long-distance bus from the West Bus Station to the airport is more convenient. The bus schedules are 06:20, 07:50, 09:10, 10:30, 12:05, 13:30, 15:06, 16:20 and 17:50. The duration is about 2 hours 10 mins. It costs CNY 60 per person.
Answered by JimmyGirl from CHINA | Jan. 27, 2016 00:03

0

0

Reply
Thanks! Do I have to pay for my 2 year old son in riding the bus?
Answered by Patrick from FINLAND | Jan. 27, 2016 00:58

0

0

Reply
Well, children under 3.9 feet (1.2 meters) can enjoy the free ticket. Children between 3.9 to 4.9 feet (1.2 to 1.5 meters) need to buy the half-price ticket. In addition, children above 4.9 feet (1.5 meters) should buy the full price ticket.