Jiaxing Travel Guide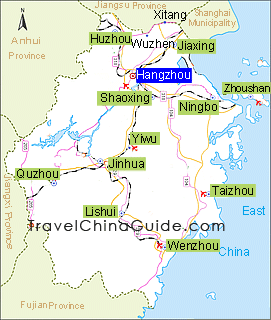 Jiaxing Facts
Chinese Name: 嘉兴 (jiā xīng)
Location: Situated in northeastern Zhejiang Province, central part of the Yangtze Delta, Jiaxing holds an advantaged geographic location, adjacent to the Taihu Lake in the north. It lies across the Hangzhou Bay from Shaoxing and Ningbo and connects to Huzhou in the west. Located on the route between Suzhou and Hangzhou, it is no more than one hundred kilometers (62 miles) from Shanghai, Suzhou and Hangzhou.

Population: 3,355,500
Area: 3,915 square kilometers (1,512 square miles)
Nationalities: Han
Administrative Division: 2 districts (Nanhu, Xiuzhou); 2 counties (Jiashan, Haiyan); 3 county-level cities (Pinghu, Haining, Tongxiang)
Useful Telephone Numbers:
Tourist Complaints: 0573-2159703
Weather Forecast: 121
Zip Code Inquiry: 184
Bank of China: 0573-95566
Attractions - Things to Do

Water towns are the most distinctive landscape of Jiaxing.

Lakes
:

South Lake
: The Lake gained its name for its location in the south of the city. In Tang Dynasty (618-907), it has become a well-known attraction for its enchanting natural landscape. The mid-lake islet was formed by the deposition of earth left after the completion of a fosse in Ming Dynasty (1368-1644).

Nanbei Lake: As a matter of fact, it is a reservoir built relying on the seaside lagoons, being divided into north and south parts with many sights in it, including pavilions and hills.

| | |
| --- | --- |
| Life on riverside | time-honored store in old street |

Towns:


Wuzhen: 17 kilometers (11 miles) north of Tongxiang City, the town of Wuzhen is crowned as one of the six ancient towns south of the Yangtze River with a history of more than one thousand years. It displays its profound historical and cultural accumulations in the four crossed old streets, stone bridges above the mild waters and a multitude of Ming and Qing buildings on the sides of the time-honored streets.

Xitang: This elegant historic town boasts of its 250 thousand square kilometers (62 acres) complex of Ming and Qing architecture that is well preserved. It is built along river, and has 27 stone bridges, 122 old lanes and many corridors that constitute the primary characteristic of the ancient town.

Other Scenic Spots: Haining Leather Town, Yanguan Seawall, East Lake Scenic Area
| | |
| --- | --- |
| Wuzhen | Xitang Old Town |
How to Get to Jiaxing
1. Jiaxing has the north and west bus station undertaking the main passenger transport to Shanghai, Hangzhou, Suzhou and many other cities. Noted is that the city bears a good location. It is 100 and 90 kilometers (62 and 56 miles) from Shanghai and Hangzhou respectively. The exit of Shanghai-Hangzhou Expressway out of the city is only 6 kilometers (4 miles) from the city proper.
2. Jiaxing is one hour's drive from the Shanghai Hongqiao International Airport, one and a half hours' drive from Shanghai Pudong International Airport and one hour plus ten minutes' drive from the Hangzhou Xiaoshan International Airport. All these facilities greatly simplify the transport in and out of the city by air.
3. Visitors can take direct buses to Wuzhen from Jiaxing or transfer in Tongxiang City. Furthermore, there are buses running straightforwards from Shanghai and Hangzhou to Wuzhen. For example, the Hutai Road Long-Distance Bus Station offers buses to Wuzhen for about two hours' drive. In the Hanzhou South Bus Station, buses to Wuzhen are easily to get, too. They will make stops in Tongxiang and then arrive at Wuzhen within one hour.
Weather
-
Belonging to the subtropical monsoon climate, the area is abundant in rainfall and sunshine with wet spring, torrid summer, dry autumn and cold winter. It has an annual average temperature of nearly 16

C (61

F), and rainy muggy days in summer are much fewer than dry chilly days in winter. Spring and autumn are the best time to come here for the tourist and folk festivals.
Jiaxing Travel Tips

History: Jiaxing was a place of fish and rice. More than 7,000 years ago, there were inhabitants living on fishery and animal husbandry. It made a great progress in economy during the Sui Dynasty (581-618) due to the construction of the Jiang Nan He, Hangzhou to Zhenjiang section of the Grand Canal. The canal helped the region to be a bread basket in southeast of China, and a place wealthy in cotton fabric and silk.



Physical Features: The terrain of the area is flat and low, generally descending from the south to the north. Water-filled depressions are mainly distributed in the area nearby the Taihu Lake. Within the city, plain areas crisscrossed by a net work of rivers and trenches.



Local Highlights: Jiaxing South Yangtze River Culture Festival (in South Lake during October to November)
China International Qiantang Tidal Bore Festival (in Haining City in the sixth day of the eighth lunar month)
Nanbei Lake Tour Festival (in Haiyan County during April to May)

Special Local Products: water chestnut of South Lake, blue calico (Blue printed colored or flower cloth) of Tongxiang City, silk floss of Wuzhen