Taizhou Travel Guide
Taizhou Facts: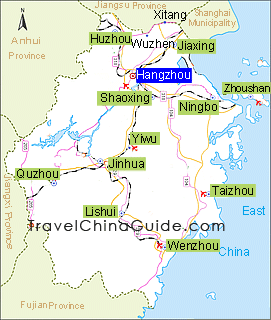 Chinese Name: 台州 (tāi zhōu)
Location: Located in middle Zhejiang, Taizhou is south to Ningbo and Shaoxing, north to Wenzhou, east to Jinhua and Lishui and west off the East China Sea.
Population: 5,570,000

Area: 9,413 square kilometers (3,634 square miles)
Administrative Division: 3 districts (Jiaojiang, Huangyan, Luqiao); 4 counties (Sanmen, Tiantai, Xianju, Yuhuan); 2 county-level cities (Linhai, Wenling)
Useful Telephone Numbers:
Tourist Consultant: 0576-88535773
Tourist Complaints: 0576-88535755
Taizhou Hospital: 0576-8112241
Taxi Complaints and lost property find: 96520

Attractions - Things to Do

South China Great Wall: It is a well kept ancient Great Wall under the state protection in Linhai, the national historical and cultural city. It is said to be the original version of the
Badaling Great Wall
.

Tiantai Mountain: It is a national AAAA scenic area, not only famous for its breath-taking scenery, but also for its Buddhism and Taoism culture.

Shenxianju Scenic Area: Located in Xianju County, it attracts visitors with its fairy landscape. The highlights are the unusually shaped mountain peaks, rocks and waterfalls.

Taozhu Provincial Scenic Area: It is a national geological park in Linhai. Taozhu Ancient Town and Coral Rock are most famous there.

Fangshan-Nansong Mountain Scenic Area: Linked with the famous Yandang Mountain, it is composed of three parts: Fangshan Mountain, Lion Peak and Longjiangmen Gateway.

Changyu Dongtian Scenic Area: It is a national AAAA scenic spot in Wenling. The grand cave scenery formed due to the stone exploration 1,500 years ago. Thousands of caves link and form a natural music hall.

Other Spots: Shitang Fishing Village, Dalu Island, Dachen Island, Shepan Island, Sea World, Wu Zixiong Glass Art Exhibition Hall, Yuhuan Agricultural Sightseeing Garden, Shaddock Orchard
How to Get to Taizhou
Taizhou Huangyan Airport (HYN) is located in Luqiao District. It has direct flights to Shanghai, Guangzhou, Chongqing, Fuzhou, Wuhan, Xiamen, Xi'an and other cities. Taizhou Railway Station has connected the city with Beijing, Shanghai, Hangzhou, Xiamen, Fuzhou, Ningbo, Shenzhen and many other cities in China by high speed trains. The city has well developed highways. Its Chief Bus Station, located in Luqiao District, operates long distance buses to many other cities in the mainland. Haimen Port is the third largest port of Zhejiang. The passenger wharf has scheduled routes to many islands. No.901 city bus link the city's three districts together, providing quite convenient way for traveling around the city.
Weather
-
The region belongs to the subtropical monsoon climate zone. Summer there is quite hot especially in July when the average temperature can be as high as 34C (93F). Winter is long but not too cold. The average temperature is about 4C (39F) to 8C (46F). Early May, late June and early September are its rainy season. Best time to pay a visit is from April to October. Every year from April to May, the Azalea Festival and Stone Culture Festival are held. The China Taizhou Tourism Festival is held between May and September. The South China Great Wall Tourism Festival is held from October to November. These interesting festivals can be the good reference for choosing the time to visit.
Taizhou Travel Tips

History: This land has been cultivated since the Neolithic Age. In the Qin Dynasty (221BC-206BC), it was called Puxiang, which was changed into Puxian Shire in the Western Han Dynasty (206BC-24AD). In 621 of the Tang Dynasty (618-907), it was called Haizhou State. The name of Taizhou came into being in 622. It was in 1994 when it became a prefecture-level city under the approval of the State Council.

Physical Features: With the East China Sea to its east, the land here inclines from high west to low east. It is covered with various landforms including hills, plains, mountains, islands and sea.

Local Highlights: Taizhou is newly developed harbor city. It is an important manufacture base of Zhejiang with the most renowned productions of mold and water pump. It has the second largest coal-fired power plants in Zhejiang. It is also one of China's main bases of fruit and fishing industry.

Special Local Products: Handicrafts: glass sculpture, bamboo sculpture, stone sculpture, tree root carving, shell carving, waxwork, paper lantern, pearl
Foods: satsuma, waxberry, loquat, orange, shaddock, chestnut, long persimmon, sugarcane