Taizhou Railway Station
Taizhou Railway Station is about 22 miles (35 kilometers) from South China Great Wall, 43 miles (70 kilometers) from Tiantai Mountain, 30 miles (50 kilometers) from Taozhu Scenic Area, 60 miles (95 kilometers) from
Shenxianju Scenic Area
, and 19 miles (30 kilometers) from Luqiao Airport.
Address: Wanglin Village, Huangyan District

Train Schedule and Ticket Booking
Taizhou Train Station mainly operates high speed trains to/from Beijing, Shanghai, Hangzhou, Xiamen, Fuzhou, Ningbo, Shenzhen and many big and neighboring cities in China.

See more Taizhou to Shanghai Train, Taizhou to Ningbo Train, Hangzhou - Taizhou Train

(Last Update on Jan 5, 2021)
To
Trains
Duration
Ticket Fare (CNY)
First/ Second Class Seat

Beijing South

G58, G168, G56 from 06:37 to 10:53
8h00m - 8h46m
CNY 1,150/ 686.5
USD 178/ 106

Shanghai Hongqiao

G7504, G7572, G7506, G7576...
27 departures from 07:13 to 20:22
2h56m - 3h50m
CNY 276/ 173
USD 43/ 27

Hangzhou East

G58, G590, G7504, G7482...
54 departures from 06:37 to 20:22
1h46m - 3h57m
CNY 172/ 108
USD 27/ 17

Xiamen North

D3219, D3239, D3111, D3145...
21 departures from 08:07 to 18:13
4h5m - 7h7m
CNY 360/ 225
USD 56/ 35

Fuzhou South

D3219, D3239, D3111, D3145...
25 departures from 08:07 to 19:15
2h42m - 3h4m
CNY 233/ 146
USD 36/ 23

Shenzhen North

D3111, D2287, D377, D2281...
9 departures from 09:51 to 15:12
7h51m - 8h19m
CNY 685/ 428
USD 106/ 66

Ningbo

G58, G590, G7504, G7482...
55 departures from 06:37 to 21:31
0h54m - 1h25m
CNY 81/ 50
USD 13/ 8

The above schedule is for reference only. For real-time schedule and ticket booking, please click the arrival stations.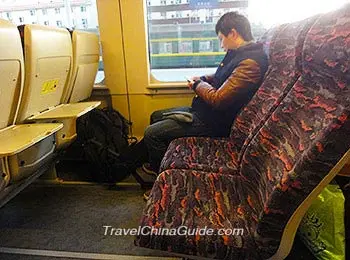 Second Class Seats
Station Plan
Taizhou Railway Station has a front square and a 3-storey terminal building.
1F: Platform
2F: Ticket Office, Waiting Rooms
3F: Waiting Rooms
Front Square: Bus Station, Parking Lot
The boarding gate no.1 and waiting rooms no.1 and 2 are located on the second floor of the terminal building; passengers traveling to the north should wait and get onboard here. The boarding gates no.2, 3, and 4 and waiting rooms no.3 and 4 are on the third floor, passengers bound for the south should handle the boarding process here.
Passengers can find city buses 205, 206, 207, 903, 916 or 912 at the front square of the station to the downtown area or other places. Besides, a long-distance bus station is under construction on the north side of the square. When put into use, railway passengers can easily take a long-distance bus to nearby cities upon arrival.
Transportation to other places from Taizhou Train Station

South China Great Wall:
Passengers can take a bullet train to Linhai Railway Station. It just takes around 11 minutes. Then change to bus no. 102 or 211 to Linhai Passenger Transport Center. After, take bus no. 209 to get there.

Taozhu Scenic Area:
Passengers are also recommended to take a high speed train to Linhai, then change to bus no.102 or 211 to Linhai Passenger Transport Center. There passengers can take bus no. 218 to Taozhu Ancient Town.

Tiantai Moutain
:
Take bus no. 903, and get off at Passenger Transport Terminal (Ke Yun Zong Zhan) Station. There passengers can take buses to Tiantai North Coach Station. Duration is about 2 hours. Upon arrival, take a tourism bus to Guoqing Temple on Tiantai Mountain.

Luqiao Airport:
Take bus no. 916, and get off at South Passenger Transport Station. After, take bus no. 304 to Luqiao Airport.
Print

- Last modified on Nov. 15, 2019 -
Questions & Answers on Taizhou Railway Station
Asked by Jim from GERMANY | Dec. 29, 2017 23:11

Reply
How do i go to Shenxianju scenic area from Taizhou Railway station?
Answers (1)
Answered by Sagar | Jan. 01, 2018 00:42

0

0

Reply
You could take taxi / bus No. 205 or 207 from the railway station to Taizhou West coach station, then take coach to Shenxianju.