Huzhou Travel Guide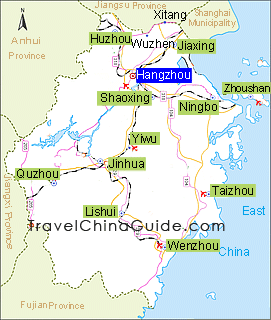 Huzhou Facts:
Chinese Name: 湖州 (hú zhōu)
Population: 2,625,600
Area: 5,817 square kilometers (2,246 square miles)
Nationalities: Han
City Flower: Lily
City Tree: Ginkgo

Administrative Division: 2 districts (Wuxing, Nanxun); 3 counties (Changxing, Deqing, Anji)
Useful Telephone Numbers:
Tourist Complaints: 96118, 0572-2058829
Weather Forecast: 121
Zip Code Inquiry: 184
Bank of China: 0572-2026041

Location: Located in the north part of Zhejiang Province, Huzhou City stands on the south bank of the Taihu Lake and adjacent to Jiangsu and Anhui provinces. It enjoys an advantageous location, 75 kilometers (47 miles) north of Hangzhou, 160 kilometers (99 miles) west of Shanghai.

History: The city has a history of over 2,200 years since it was set as a county of Chu Kingdom in the year of 248 BC. The Sui Dynasty (581-618) governed this area as a prefecture and named it as Huzhou for its adjacency to the Taihu Lake.

Physical Features: The city's terrain slopes downward from southwest to northeast. The northern part is a mountainous region whilst the east is a low, flat plain.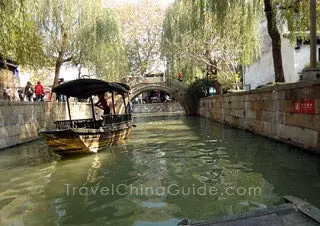 Nanxun Old Town, Huzhou, Zhejiang

Climate
:
This city has a subtropical humid monsoon climate with an annual average temperature of 16

C (61

F) and rainfall of 1,200 millimeters (47 inches). Generally, the climate of the city is warm and humid.

When to Go: Visitors can choose to visit the city at any season, but especially in spring and autumn.

Special Local Products: Handicrafts: brocade and silk, brush writing, feather fans, purple-grit tea pots of Changxing County
Foods: Taihu lily bulbs, ginkgo-nuts of Changxing County and zisun tea

Scenic Spots:


Nanxun Ancient Town: Located in the east of the city, Nanxun Ancient Town is a typical water town of south China. It was once the richest area in Zhejiang in history and is now a popular destinations with ancient archetectures, culture relics and interesting folk customs.



Mogan Mountain: Located in the west of Deqing County, it is one of the four famous summer resorts in the country. Bamboo, cloud and spring compose the supreme beauty of this tranquil, green and cool mountain resort.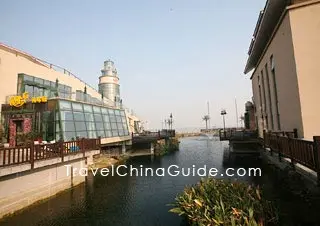 Taihu Lake Tourist Zone, Zhejiang

Feiying Pagoda: The stone pagoda was built in the Tang Dynasty (618-907) to restore Buddha relics and Buddhist sculptures. In Song Dynasty (960-1279), a new wooden pagoda was built to protect the stone pagoda inside. It is an art treasure of ancient Buddhist buildings.

Other Scenic Spots: Taihu Lake Tourist Zone, the Chinese Bamboo Sea, Longwang Mountain



Huzhou Travel Tips:
With the operation of Huzhou Railway Station, transportation from the city to Hangzhou and Shanghai is very convenient. Visitors can get to the cities within half an hour and two hours respectively by bullet train. Due to the expressway between Shanghai and Zhejiang, the distance between Huzhou and Shanghai is now nearer and a ride by a coach takes about 3 hours.

See Huzhou-Shanghai Train