Huzhou Travel Guide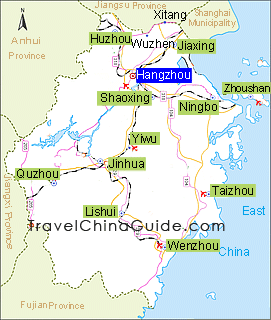 Huzhou Facts
Chinese Name: 湖州 (hú zhōu)
Population: 2,980,000
Area: 5,820 square kilometers (2,247 square miles)
Location: in the north of Zhejiang, east China
Administrative Division: 2 districts (Wuxing, Nanxun); 3 counties (Changxing, Deqing, Anji)
Area Code: 0572
Zip Code: 313000
GDP (2019): CNY 312.24 billion (USD 45.26 billion)
Featuring Top Ink Brush & Nanxun Water Town
Located in the north part of Zhejiang Province, Huzhou City stands on the south bank of the Taihu Lake and adjacent to Jiangsu and Anhui provinces. It enjoys an advantageous location, 75 kilometers (47 miles) north of Hangzhou, 160 kilometers (99 miles) west of Shanghai. Huzhou produces Hu Calligraphy Brush which is one of the "Four Treasures of the Study". The most important feature of the brush is that it has a neat and transparent tip that is usually made of high-grade goat wool through nearly 100 processes. In the Tang Dynasty (618 - 907), the accomplishment of the world's first monograph on tea culture by Lu Yu made Huzhou one of the birthplaces of tea culture.

Today, the eco-friendly cityscape, the quaint Nanxun Water Town ranking among the 10 most charming towns in China, the beautiful Mogan Mountain, and the Chinese Bamboo Sea in Anji where the Oscar-winning film Crouching Tiger, Hidden Dragon was once filmed lure tourists from around the world.
Attractions - Things to Do

Nanxun Water Town: Located in the east of the city, Nanxun Water Town is a typical water town of south China. It was once the richest area in Zhejiang in history and is now a popular destinations with ancient archetectures, culture relics and interesting folk customs.

Mogan Mountain: Located in the west of Deqing County, it is one of the four famous summer resorts in the country. Bamboo, cloud and spring compose the supreme beauty of this tranquil, green and cool mountain resort.

Feiying Pagoda: The stone pagoda was built in the Tang Dynasty (618-907) to restore Buddha relics and Buddhist sculptures. In Song Dynasty (960-1279), a new wooden pagoda was built to protect the stone pagoda inside. It is an art treasure of ancient Buddhist buildings.

Other Scenic Spots: Taihu Lake Tourist Zone, the Chinese Bamboo Sea, Longwang Mountain, Xinshi Ancient Town
| | |
| --- | --- |
| Nanxun Water Town, Huzhou, Zhejiang | Taihu Lake Tourist Zone, Zhejiang |
How to Get to Huzhou
With the operation of Huzhou Railway Station, transportation from the city to Hangzhou and Shanghai is very convenient. Visitors can get to the cities within half an hour and two hours respectively by bullet train. Due to the expressway between Shanghai and Zhejiang, the distance between Huzhou and Shanghai is now nearer and a ride by a coach takes about 3 hours.


See Huzhou-Shanghai Train
Weather
-
This city has a subtropical humid monsoon climate with an annual average temperature of 16

C (61

F) and rainfall of 1,200 millimeters (47 inches). Generally, the climate of the city is warm and humid. Visitors can choose to visit the city at any season, but especially in spring and autumn.
Huzhou Travel Tips

History: The city has a history of over 2,200 years since it was set as a county of Chu Kingdom in the year of 248 BC. The Sui Dynasty (581-618) governed this area as a prefecture and named it as Huzhou for its adjacency to the Taihu Lake.



Physical Features: The city's terrain slopes downward from southwest to northeast. The northern part is a mountainous region whilst the east is a low, flat plain.



Handicrafts: brocade and silk, brush writing, feather fans, purple-grit tea pots of Changxing County



Foods: Taihu lily bulbs, ginkgo-nuts of Changxing County and zisun tea
- Last updated on Aug. 22, 2022 -
Questions & Answers on Huzhou Travel
Asked by Uche Enendu from NIGERIA | Oct. 20, 2019 08:43

Reply
Pls hw can i get to Huzhou University from shanghai pudong airport?
Please i am an international student arriving in China. Pls hw can i get to Huzhou university from Shanghai pudong airport
Answers (1)
Answered by Hailey from MALAYSIA | Oct. 22, 2019 19:56

0

0

Reply
You can take intercity bus from airport to Huzhou first. It departs from 10:00, 11:20, 13:10, 15:20, 17:20, 19:30, 20:50. Then you can take bus 39 to Huzhou Vocational and Technical College station, and walk east around 500m to your destination.
Asked by Roxanne Barcelona from PHILIPPINES | Jun. 04, 2019 17:44

Reply
How to get to Huzhou from Hangzhou?
Answers (1)
Answered by Kevin from AUSTRALIA | Jun. 04, 2019 18:52

0

0

Reply
You can take high speed train from East Railway Station to Huzhou. It takes about 20 mins and the ticket price ranges from CNY32.5-103 per person.
Asked by Mustafa from BANGLADESH | Apr. 07, 2019 22:58

Reply
Which place is very popular in huzhou?
Could you pls help me.
Answers (1)
Answered by Mark from SINGAPORE | Apr. 09, 2019 00:08

0

0

Reply
Nanxun Ancient Town and Mogan Mountain are the most popular attractions.
Asked by Charlie from INDONESIA | Sep. 17, 2017 10:42

Reply
How to go huzhou from shanghai pudong airport? Also same for the return trip?
Answers (1)
Answered by Lisa from AUSTRALIA | Sep. 17, 2017 20:25

0

0

Reply
There are Shuttle buses directly to the city, which leave at 11:20, 15:50 and 20:20, and it takes CNY85 and 2h 30 minutes. As for returning bus, you can take it from HZ East Bus Station, which leaves at 6:30, 9:50 and 15:20.
Asked by saba fariash from BANGLADESH | Oct. 07, 2016 09:02

Reply
How to get to HZ Main Bus Station from Huzhou University?
I am desperately searching a city map in English. Is there any way to get it?
And how should i go to bus station from university?
Answers (1)
Answered by KiKina from AUSTRALIA | Oct. 07, 2016 21:14

0

0

Reply
From the campus, you can take public bus no.2 to get to the Bus Station directly. The transportation is convenient. Or you can just take a taxi. It costs around CNY 25 in usual time.

About the English city map, I'm afraid that you can try to download on your phone from Google Map in advance.