She Nationality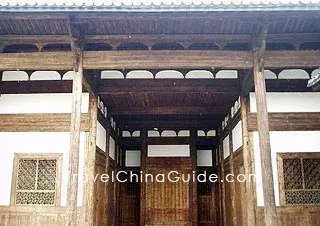 Residential House of She Nationality
With a population of 709,592, the She people live primarily in the mountainous areas of Fujian and Zhejiang Provinces, and to a lesser extent in Jiangxi, Guangdong, and Anhui. They refer to themselves 'Shanha' where Shan means mountain and Ha means customers, 'customers of the mountain'.

Language and Character:
The She language belongs to the Miao-Yao group of the Sino-Tibetan phylum and is similar to the Hakka language, one of the seven dialects in China. Because they do not have their own written language, they choose to write in Chinese.

Belief:
The She people believe in the power of ancestors and totems. The legend of their original ancestor, Pan Hu is painted onto a piece of cloth and passed onto each generation. The cloth is referred to as Zutu or Pictures of Ancestors. Each time, ancestors are worshipped, pictures are hung on the memorial temple as totem. Also regarded as a totem, each family has a crabstick, on which a dragon's head is carved on the top end.

Economy:
As early as the 7th century, the She people settled in Fujian, Guangdong and Jiangxi. At that time, they survived primarily through agriculture and hunting. Now their main staples include: rice, corn, beans, and potatoes. These areas are also abundant in tea, mushrooms and precious medicinal herbs. The She enjoy their tea and yellow wine brewed with rice and wheat.

Arts and Crafts:
The She people enjoy singing and most sing impromptu. It is said that, during the wedding ceremony, the bridegroom will only receive each dish and dishware by singing. For example, if he needs a pair of chopsticks, he must sing the Song of Chopstick.
Women of She ethnic minority are quite adept at embroidery and weaving. Their handicrafts, waistbands and handkerchiefs are as delicate as beautiful. Now these are produced as exports. The men take pride in their martial arts, which has been popular for hundreds of years.

Clothes:
The She men and children dress similar to the Han people but the women are much more distinctive. They wear short black shirts with flowery laceworks and lines. The Phoenix set which serves as the wedding dress of She women, is extremely beautiful.

Festivals:
Besides the traditional festivals like Chinese New Year, Mid-Autumn Day, and Chongyang Festival, they also have three special days to worship ancestors and spirits on the fifteenth day of the second, seventh and eighth lunar months. Sumptuous dinners with meat, wine and Ciba (a cake made of glutinous rice) are prepared.
The She people are warm, polite, and intelligent. Once one have the chance to the beautiful Lijiang, do not forget to visit them.



More Ethnic Group in Fujian Area: Gaoshan
- Last updated on Sep. 27, 2018 -