Yiwu Dining
Due to Yiwu's prosperous economy people from all over the country swarm there all year round. This means they bring their local cuisines to the city which is great news for anyone looking for something delicious to eat. There is a fabulous choice awaiting you from a wide variety of top class restaurants to the more humble snack stalls. Of course, this does not mean that Yiwu has none of its own local food for visitors to sample. There is no need to worry; the city enjoys an advantageous position and a mild climate, which means it has several of its own products, some of which have long been world famous.



Dining



Snacks

Ham, jujube (sometimes known in the West as the Chinese Date) and brown sugar are considered to the three treasures of Yiwu. In the city, an old saying goes that eating three jujubes every day will stave off senility in human beings. At the same time, the city is also noted as the hometown of brown sugar which is richer in nutrition than white sugar. Finally, don't forget to sample Yiwu Ham. All these can be bought in the shops here.

This is not the end of tasting the delicious food to the full. Coming to the city's streets and lanes, you must have a try of Donghe Meat Cake and Yiting Pulled Noodles. The Donghe Meat Cake is a very thin cake made from half-lean pork. They originated from Donghe Village and considered to be a good wife's standard. Highly popular with the locals, the cake and noodles are very famous in Yiwu, and you are able to sample them both at roadside stalls as well as in deluxe restaurants. Now, you will find several cake diners in Huagong Road.

As well as these, other townships in Yiwu City have their own specialties. For example, the crisp cake made in Fotang Town, the sesame cake in Suxi Town and the fried cake of Ersanli Town.



Local Restaurants



Huafeng Snack World
Reasonable prices and various kinds of snacks, fast food, hot pot and seafood attract many of locals and visitors.
Address: the 1st floor of Huafeng Restaurant, Canghou Road



Jilaoda Big Plate Chicken
Address: No.31, 4th Road, Binwang Business and Trade Zone, Dada Dumpling Restaurant (dumpling of Yantan, Shandong Province)
Address: No.38, 8th Road, Binwang Business and Trade Zone



Haichen Restaurant (Xinjiang flavor)
Address: No.188-10, Chezhan Road



Paguoer Restaurant (Sinkiang flavor)
Address: No217, Huangyuan Road



Guangshan Restaurant (Chaozhou cuisine)
Address: No.1-2, No.321 Alley, Huagong Road



Laohu Porridge (porridge, snacks of Jinhua City, Zhejiang Province)
Address: No.137, Chouzhou West Road

Foreign Restaurants

One Thousand and One Nights (Middle East flavor)
Address: No.83, 4th Road, Binwang Business and Trade Zone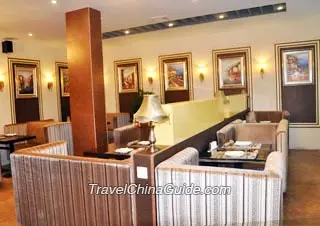 Venice Restaurant

Mayide Restaurant (Arabian flavor)
Address: No.235, Chouzhou North Road



Venice Restaurant (Western flavor)
Brief Introduction: Venice restaurant, located at the back of the International Hotel, is close to Empire Bar. It has top western food chef from Australian and shanghai city, and provides weatern food and coffee. Free wireless internet and western music are available in the restaurant.
Address: No.10, Building 2, Binwang International Mansion
Operating Hours: 10:00~01:00 (the next day)
Bus Routes: K1, K123, K121, 201, 100
Tel: 0579-85571172



Nightlife



Café

Dio Coffee
Binwang location: No.18-22, the 2nd Street, Shangmao District, Binwang Road
Dinuo location: No.1-7, Danxi North Road, Renmin Square
Jiangbin Road: No.342-348, Jiangbin Middle Road

Ming Tien Coffee Language
Address: the 2nd floor of International Mansion, No.208, Binwang Road
UBC Coffee
Address: No.168, Gongren North Road



Clubs and Pubs

Gold Coast Theatre Entertainment
Address: No.128, Chengzhong Middle Road

- Last modified on May. 08, 2019 -
Questions & Answers on Yiwu Dining
Asked by Michiko from INDONESIA | Oct. 12, 2016 09:20

Reply
Is there any vegetarian restaurant near Yiwu international trade city? thanks.
Answers (1)
Answered by Fred from POLAND | Oct. 13, 2016 21:10

0

0

Reply
Yes. You can go to Kang Duo Fu Restaurant and Futian Vegetable Food Restaurant.
Kang Duo Fu Restaurant: No.656, North Gongren Road, Choucheng Street
Futian Vegetable Food Restaurant: the opposite of No.62, Changchun 8th Street
Hope you like. :)
Asked by mohamed from SOUTH AFRICA | Mar. 02, 2015 15:40

Reply
I am looking for halal big plate chicken in yiwu
Answers (2)
Answered by Alan from SPAIN | Mar. 02, 2015 20:14

0

0

Reply
Oh, I know one halal restaurant named 'Maedah Restaurant' that has authentic halal food. Of course it has big plate chicken. It's located at No.235, North Houzhou Road. Hope you like.
Answered by Nadia | Mar. 02, 2015 21:30

0

0

Reply
I know a Mehmet Xinjiang Restaurant in the city with delicious big plate chicken. It is located at the opposite of Zone 1, the International Commercial & Trade City.
Asked by JPS from FINLAND | Feb. 16, 2014 10:10

Reply
Local/Chinese restaurants In Yiwu
We are the best local/Chinese restaurants in YW? What´s the price range for quality dining in the city? No KFC/ fastfood incuded, please.
Answers (1)
Answered by Bob from USA | Feb. 16, 2014 20:52

0

0

Reply
The local Ji Mao Huan Tang Cu Cai Guan (鸡毛换糖粗菜馆) is suggested and it is located at Chouguan First Street.
The average price for have a meal in this restaurant is around 60RMB per person.
Generally speaking, if you go to the local small restaurant, the fare is around 10 to 15RMB per meal. If you go to larger ones with well environment, it is around 50 to 60RMB.
Asked by Louise | Oct. 30, 2012 07:30

Reply
Western food at good prices in Yiwu.
Answers (1)
Answered by Austin | Oct. 30, 2012 22:35

0

0

Reply
Hi, the local Pizza Hut, Matador and Haoshanghao Western Food are very popular.
Also you can go to No. 8, Street Four, Binwang Commercial Area to taste the western food there. You will not be disappointed.