One Day Shanghai Highlights Tour
Shanghai Museum - Yu Garden - Yuyuan Market - the Bund - Huangpu River Cruise - Nanjing Road
Trip Highlights:
►
Marvel at over 120,000 exquisite Chinese ancient artworks in Shanghai Museum.
►
Stroll around Yu Garden to enjoy clear ponds, ancient pavilions, and strange rocks.
►
Take a relaxing cruise along the Huangpu River to enjoy the Bund view and stunning skyscrapers in Pudong.
►
Wander along prosperous Nanjing Road to experience the liveliest Shanghai.
Itinerary:
Your professional guide and driver will meet you in your hotel at around 09:00 in the morning, and then transfer you to
Shanghai Museum
to start today's Shanghai day tour.
This museum, covering an area of 40,000 square meters (47,840 square yards), is a huge treasure house of ancient Chinese art. It has 12 themed showrooms displaying over 120,000 exquisite exhibits, including varied bronze wares, ceramics, calligraphy works, jade wares, and paintings. You will have enough time to explore these fantastic collections. Among them, the most valuable treasure is Da Ke Ding, an ancient Chinese bronze ding vessel, once used as ritual ware in the Shang and Zhou dynasties (1600 - 256 BC). Through its inscriptions, visitors can learn about the etiquette, land system and slavery 3,000 years ago.
After that, your guide will accompany you to visit the
Yu Garden
, with a history of about 400 years. Occupying an area of over 20,000 square meters (24,000 square yards), the Yu Garden was once a private garden owned by a court official. It was considered a jewel of the classical gardens along the southern Yangtze River. The buildings in the architectural style of the Ming and Qing dynasties (1368 - 1911 AD) are worthy of close appreciation. Here you will also see the clear ponds, magnificent rockeries and lush plants harmoniously blend together, which creates a natural atmosphere throughout the garden.
Leaving the garden, you will come to the nearby
Yuyuan Market
, a place that blends history and art, tradition and modernity, where you can also have lunch at your own expense. Your guide will be glad to offer some dining suggestions. The most famous snack here is Xiao Long Bao, aka Soup Dumpling, a kind of steamed stuffed soupy bun. It has a thin wrapper and rich fillings with juicy broth. Be careful when you bite into it since the tasty hot soup may ooze out.
In the afternoon, we will continue the visit to the
Bund
, where you can capture the essence of both old and modern Shanghai. The Bund, about 1.5 kilometers (0.9 miles) long, is known for dozens of distinctive buildings in different styles and the charming view of the Huangpu River. To the west of the Bund, you will see a total of 52 exotic and classic buildings, which have earned the Bund the title of International Architecture Exhibition. To the east of the Bund, you will see the amazing Huangpu River. Across the river is the most prosperous Pudong area, where stands the Oriental Pearl TV Tower, Jin Mao Tower and many other high-rise buildings.
From there you will take a one-hour
Huangpu River cruise tour
. Cruising on the river will provide you with a superb experience of viewing the Bund, enjoying the beauty of the river and taking marvelous photos of the high-rise architectural complex of Pudong from a different perspective.
Finally, we will pay a visit to the famous
Nanjing Road
to fully experience the city's prosperity and jolly atmosphere.
This Shanghai 1 day tour will end here, and we will escort you back to the hotel. We sincerely hope that you have had an exhilarating day!
►
Dinner Recommendation
Shanghai Hengshan Moller Villa Hotel is around 15 minutes' drive from Nanjing Road. If you are interested in history and ultimately want to find something different from the typical downtown, you may try a dinner with Chinese style here. The villa was built in 1936 by a merchant as a private house, featuring a three-story Nordic Norwegian style building. Enjoying dinner here, you will feel like a step back in time because of its classical features.
Note:
If you want to enjoy a big dinner at Moller Villa Hotel, we are glad to make a dinner reservation for you and escort you there after the trip. If you prefer a dinner around Nanjing Road by yourself and enjoy night views of the Bund, we may leave you free time and you can get back to hotel by taxi. The schedule is flexible to adjust and please contact your travel consultant for arrangements.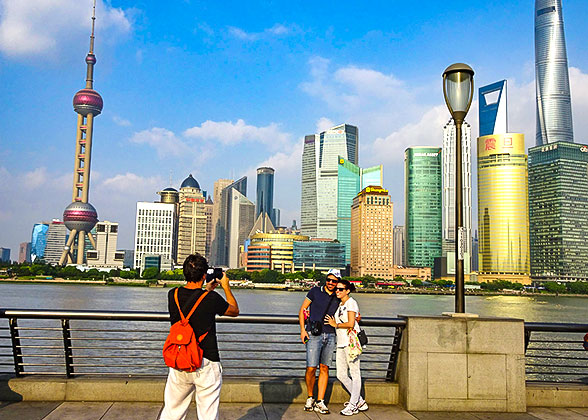 The Bund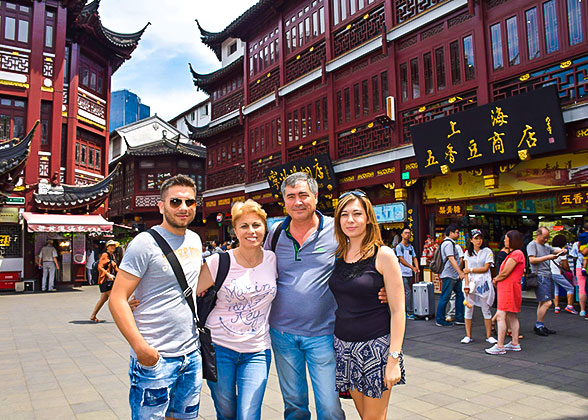 Yu Garden
Tour Prices
| 1 traveler | 2-3 travelers | 4-5 travelers |
| --- | --- | --- |
| USD259 | USD169 | USD119 |
Prices are per person in US Dollars.

Price Includes
Private English-speaking guide
Private driver & air-conditioned vehicle
Entrance fees to tourist sites
Price Excludes
Hotel accommodation with breakfasts
Lunches and dinners
Tips or gratuities for guide and driver
Why Travel With Us
Itineraries you may also like: