One Day Shanghai Jewish Tour
Tilanqiao Jewish Isolation Region - Jewish Refugees Museum - White Horse Inn - First Refugee Center - Huoshan Park
Trip Highlights:
►
Listen to the notable events behind the Shanghai Ark during World War II.
►
Visit Jewish Refugees Museum for the impressive past about over 20,000 Jewish refugees.
►
Learn about once Jewish life scenes by sightseeing First Refugee Center and Huoshan Park.
Itinerary:
At the appointed time this morning, your guide and driver will meet you at your own booked hotel. The Shanghai private one day tour just starts and you will be guided to visit the former
Tilanqiao Jewish Isolation Region
first, also named Shanghai Ark Area, meaning the city protected nearly 20,000 Jewish refugees from Europe and erected a "Noah's Ark" for them. This trip will introduce the Jewish dwelling district before and during World War II (1939 - 1945).
Before Italy declared war on Britain and France on June 10, 1940, some German-Jewish refugees went to Italy first, taking more than one month, to take a cruise to reach Shanghai. Tilanqiao had become their first stop upon landing due to its convenient location and low cost of living at that time.
We will first visit the
Jewish Refugees Museum
, the most important part of the Tilanqiao area. As an old site of the Jewish synagogue, it has now been transformed into a museum to commemorate the history of over 20,000 Jewish refugees in Shanghai during World War II.
The Museum's exhibition hall is divided into six parts, Fleeing Shanghai, Life in Refuge, Sharing the Same Ship, Parting after the War, Special Friendship, and Sharing the Future. Up to 161 notable events during the Jewish's stay are displayed with around 1,000 exhibits and historical materials. You will be amazed by the real stories and memories collected in the museum.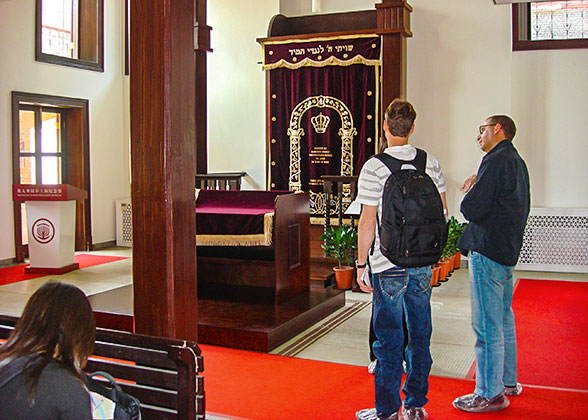 Ohel Moshe Synagogue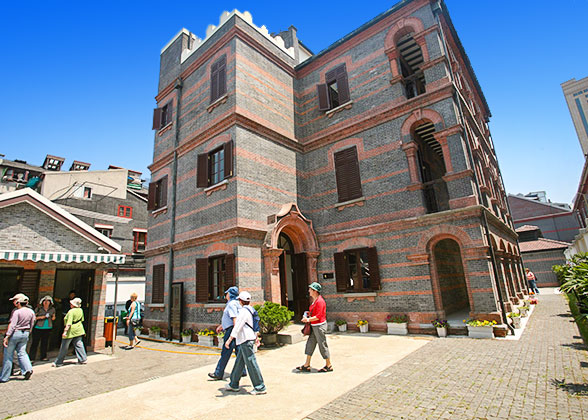 Jewish Refugees Museum
A lace wedding dress embroidered with a lily flower has impressed many visitors. Her owner's name is Betty. In June 1939, Betty's father and his family fled from Germany to Shanghai. While living in Shanghai, Betty met Oleg, a Russian who taught at the Shanghai Yeshiva. They had a date on the Bund and customized the wedding dress on Nanjing Road. The city of Shanghai witnessed their love and the special history.
Opposite the Shanghai Jewish Refugees Museum, you will find the
White Horse Inn
, which was opened by a Jewish refugee family during the war. Served as a restaurant, bar and night club, so it became a daily gathering place for Jewish refugees. Unfortunately, it was demolished many years ago, and the present café was rebuilt in 2015. The second floor is a small gallery collecting precious historical materials. It is a good idea to have a lunch break here to recall the past and be prepared for your afternoon tour. You need to pay for the lunch as it is not included.
We will continue our visit to the
First Refugee Center
on Changyang Road, which is not far away from the White Horse Inn. There were seven shelters in Shanghai to provide assistance to Jewish refugees, and this is the largest one accommodating more than 1,000 people. Some old houses are still standing here and they have inhabited by local citizens now. Strolling along the old street while listening to your local guide's explanation of the fascinating history in person, you will truly soak up the unique past of the city.
The last visit of the day will be
Huoshan Park
. With an area of only 3,700 square meters (0.91 acre), Huoshan Park was built for foreign children and later became the backyard of the Jewish community for rest and recreation. Nowadays, you can still see the former Jewish refugee shelters inside. There is also one cenotaph recording the gratefulness to Shanghai by Jewish people, written in Chinese, and English.
By the end of the Shanghai Jewish tour, your guide will escort you back to the hotel.
Tour Prices
| 1 traveler | 2-3 travelers | 4-5 travelers |
| --- | --- | --- |
| USD229 | USD129 | USD79 |
Prices are per person in US Dollars.

Price Includes
Private English-speaking guide
Private driver & air-conditioned vehicle
Entrance fees to tourist sites
Price Excludes
Hotel accommodation with breakfasts
Lunches and dinners
Tips or gratuities for guide and driver
Why Travel With Us
Itineraries you may also like: