Top Shanghai Attractions
More Things to Do
Top 10 City Tours
Code: SH24
1 Day in Zhouzhuang Water Town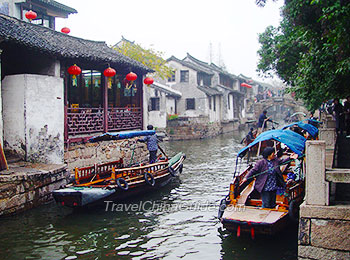 Zhouzhuang Water Town
Take metro line 1, 3, or 4 to Shanghai Railway Station and get out from Exit 6. Walk westwards to take a coach to
Zhouzhuang
at Shanghai Long-Distance Bus Terminal. After around 2 hours' ride, you will arrive at Zhouzhuang Bus Station. Then, take a taxi to the entrance of the water town. You will see a big arch when you alight. Go through the arch and turn southwards onto Quanfu Road at the first crossing. Walk for around 350 meters (380 yards) to find the Zhouzhuang Museum. Then follow this route to explore the essence of the town:
Zhouzhuang Museum - Milou Tower - Zhenfeng Cultural Street - Fu'an Bridge - Shen House - Zhang House - Two Bridges - Ancient Opera Stage - 1086 Slow Life District
When you finish this one-day Shanghai side trip to Zhouzhuang, walk back to the ancient arch to take a taxi to Zhouzhuang Bus Station and take the return bus back to Shanghai. You should notice that the last bus leaves at 16:30. Make sure you get there in time.
Highlights of Zhouzhuang Water Town
After 900 years of vicissitudes, Zhouzhuang Water Town still reserves its original looking. There you can appreciate more than 100 classical courtyards. More than half of the residences were built during the Ming and Qing dynasties (1368 - 1911), among which buildings of Shen House and Zhang House are the most representative ones.
Another highlight of Zhouzhuang is the 14 old bridges. Stand on the bridge and you can have a good view of residences with grey tiles and white walls lining along the waterway. Sometimes there are black-awning boats slowly rowing by to break the peace of the scenery.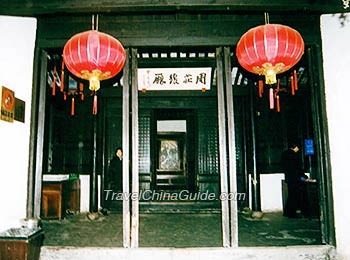 Zhang House
Zhouzhuang Town is also the best place for backpackers to delve into the local cultural atmosphere. You can not only enjoy the traditional Ku Opera at the Ancient Opera Stage, but also get in a bar in 1086 Slow Life District to have a glass of wine while listening to beautiful ballads.
It must be a pity to have not tasted delicious local dishes when visiting Zhouzhuang. You can go feast your stomach along Zhenfeng Street, which is brimmed with workshops of various kinds of food, such as Wansan pork leg, Apo tea, and sweet green rice balls.
Tips
1. If interested, it is suggested you take a boat to drift along the water alley. The boarding dock is opposite Shen House and you will disembark near the Milou Tower. Six people can fit in one boat and it costs CNY 120 per boat.
2. For visitors who want to spend an extra day in Zhouzhuang, there are many hostels and themed inns inside the town. Among them, Tingyuxuan Inn near the eastern end of Longxing Bridge, Zhengutang Residential Inn to the east of Two Bridges, and Zhouzhuang Youth Hostel close to the Ancient Opera Stage are popular with backpackers.
Cost
| | |
| --- | --- |
| Shanghai - Zhouzhuang bus ticket | CNY 35 |
| Taxi fare | CNY 10 or so |
| Zhouzhuang Water Town | CNY 100 including the entrance fee of 15 spots inside |

More Related Packages: