Top Shanghai Attractions
More Things to Do
Top 10 City Tours
Code: SH42
Shanghai Side Trip to Nanjing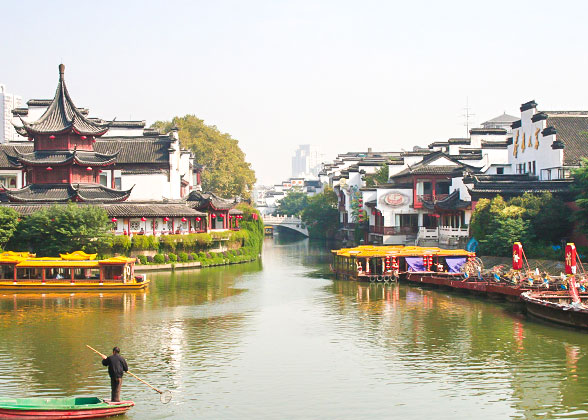 Qinhuai River, Nanjing
You may take metro line 1, 3, or 4 to Shanghai Railway Station to catch a high speed train to Nanjing. You will arrive at Nanjing Railway Station after 2 hours.
Get out of the train station from the east exit and walk eastwards along Longpan Road for 700 meters (770 yards) to take bus no. 143. Alight at Baima Gongyuan and go along Taipingmen Road to the east to the lower terminal of Purple Mountain cableway. Take stairs uphill for about 30 minutes to the Purple Mountain Observatory.
After visiting there, either go along the stairway or take the cableway to go downhill. Then it is advised you to visit the highlight of Nanjing City, the Confucius Temple - Qinhuai Scenic Area.
You may hail a taxi to Laomendong first to admire traditional residences and taste authentic local snacks. Then head northwards from the Laomendong Arch for 500 meters (550 yards) to a fork. Pick the road leading to the northwest and go across a bridge to find the Qinhuai Arch. Walk through the arch and head forward to visit the Confucius Temple and the nearby Imperial Examination Museum.
When the night falls, you may board a ship in front of the Confucius Temple to cruise along the Qinhuai River. After disembarking, it is suggested you have dinner at the snack city near the Qinhuai Arch.
The whole day's Shanghai to Nanjing tour will end here. Please find a nearby hotel to check in.
Tour Highlights:
Purple Mountain Observatory
: Built in 1934, this observatory is the first modern astronomical research institution in China. Here you can have a look at ancient astronomical instruments, such as armillary sphere and sundials. There are also modern equipments like solar telescope for visitors to observe planets.
Confucius Temple
: This temple was constructed in 1034 for people to pay homage to the Confucius, a renowned ideologist during the Spring and Autumn Period (770 - 176 BC), and pray for good scores in the imperial examination. In front of the main hall stands a bronze statue of this great scholar which is the largest one in China with a height of four meters (13 feet).
Cost:
| | |
| --- | --- |
| Purple Mountain Observatory | CNY 15 |
| Confucius Temple | CNY 30 |
| Imperial Examination Museum | CNY 40 |
| Qinhuai River cruise | CNY 80 |
| Shanghai - Nanjing high speed train | CNY 139.5 for a second-class seat |
| Bus no. 143 | CNY 2 |
| Purple Mountain Observatory - Laomendong taxi fare | CNY 20 |
Xiaoling Mausoleum of Ming Dynasty
It is suggested you to start today's independent Nanjing tour with the Presidential Palace. You may take a taxi to get there directly. After 2~3 hours' visiting there, hail a taxi to the Xiaoling Mausoleum of Ming Dynasty.
Your 2-day Shanghai side trip to Nanjing will come to an end when you get out of the Xiaoling Mausoleum. Please take a taxi ride to the Nanjing Railway Station for your leaving train to Shanghai.
Tour Highlights:
Presidential Palace
: As the political center of the Republic of China (1912 - 1949), this palace had witnessed many vital discussions and meetings about national affairs. It was rebuilt as a museum of China's modern history (1840 - 1949) with many historical materials collected inside. It is also a large classical garden interspersed with pavilions, bridges, and ponds.
Xiaoling Mausoleum of Ming Dynasty
: It is the joint mausoleum of Emperor Zhu Yuanzhang (1328 - 1398) and his empress. Besides of imperial tombs and temples, the Sacred Way at the entrance is the other highlight with vivid stone statues of beasts as well as officials and generals on the two sides.
Cost:
| | |
| --- | --- |
| Presidential Palace | CNY 40 |
| Xiaoling Mausoleum of Ming Dynasty | CNY 70 |
| Presidential Palace - Xiaoling Mausoleum taxi fare | CNY 20 |
| Xiaoling Mausoleum - Nanjing Railway Station taxi fare | CNY 35 |

More Related Tours to Nearby Destinations:
Shaoxing: from Shanghai to Shaoxing to visit Lu Xun's hometown and local attractions.
Shanghai Old Street: explore traditional buildings and scene of the old Shanghai flavor.