Top Shanghai Attractions
More Things to Do
Top 10 City Tours
Code: SH34
1 Day Trip to Xitang Ancient Town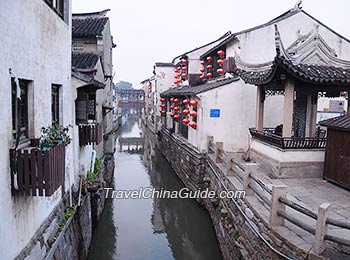 Xitang Water Town
Xitang Ancient Town
is located 90 kilometers (55 miles) west of Shanghai City. To get there, you may take subway line 2 to Shanghai Hongqiao Railway Station to catch a high speed train to Jiashan South Railway Station. Upon arrival, get on bus K222 to reach Xitang Ancient Town directly. Then go along the following route to tour around the town.
Route: Huguo Grain Official Temple - Drunk Garden - Misty Rain Long Corridor - Songzilaifeng Bridge - Beizha Street - Yellow Rice Wine Display Hall - Have lunch at Wan' anqiao Restaurant - Tangdong Street - Ming & Qing Dynasty Woodcarving Hall - Sanctuary - Ni House - Brick & Tile Display Hall - Button Museum - Zhang Zheng Root Carving Museum - West Street - West Garden - Zhongfu Hall - Shipi Lane.
When this 1-day Shanghai side trip to Xitang is over, reverse the trip back to Shanghai and the high speed train from Jiashan South Railway Station to Shanghai is in service until 21:20.
Highlights of Xitang Ancient Town:
If you want to live a slow life for one day, Xitang Ancient Town, with a history of about 1,000 years, can be an ideal destination for you. You may find a traditional tea house inside the town to taste a cup of tea while enjoying the Yue opera which is the second popular drama in China after Peking opera. Alternatively, standing on a bridge to overlook shuttling boats or strolling along covered corridors is another pleasure.
Xitang Ancient Town is featured of countless old bridges and lanes. There are over 100 crisscrossing old lanes in the town that were paved with flagstones. Shipi Lane is the most famous one with a width of only one meter. Among the nearly one hundred stone bridges, Yongning Bridge at the confluence of two watercourses can provide you the best view. In addition, the town is also brimmed with covered corridors by the river. Some also have benches for backpackers to take a break while enjoying the peaceful water town scenery.
Inside the town, you can also pay a visit to distinctive gardens and residences, such as Drunk Garden, West Garden, and Zhongfu Hall, and stop by the prosperous Huguo Grain Official Temple and Sanctuary. Besides, the customs and culture of Xitang can be revealed at Brick & Tile Display Hall, Button Museum, and Yellow Rice Wine Display Hall.
Old street in the town
Tips:
1. March - April is the best visiting period of Xitang Water Town when there is usually a drizzling rain and the town would look like being enveloped in mist. If you visit the town in autumn during September - October, it will be immersed in sweet scent of osmanthus. Chinese New Year is another good time to visit the town and you can celebrate the festival with locals by taking part in boisterous activities such as dragon dance and lion dance. Summer in Xitang can be a little bit hot, so you are not advised to do this 1-day independent Shanghai tour to Xitang at that time.
2. If interested, you may spend a night in the town to enjoy the stunning night scene. It is suggested you take a boat floating down the river with lightened buildings passing you by.
Cost:
| | |
| --- | --- |
| Combo ticket of Xitang Ancient Town, including 11 gardens and museums mentioned above | CNY 100 |
| Shanghai - Jiashan high speed train ticket | CNY 30 for a second-class seat |
| Bus K222 | CNY 2 |

More Related Packages: