Top Shanghai Attractions
More Things to Do
Top 10 City Tours
Code: SH34
1 Day Trip to Xitang Ancient Town
Xitang Ancient Town
is located 90 kilometers (55 miles) west of Shanghai City. To get there, you may take subway line 2 to Shanghai Hongqiao Railway Station to catch a high speed train to Jiashan South Railway Station. Upon arrival, get on bus K222 to reach Xitang Ancient Town directly. In addition, you can also take a shuttle bus to Xitang Ancient Town from Shanghai Long-distance bus station or Shanghai South Bus Station. After getting off the bus, it is a 7-10 minute walk to the entrance of the ancient town.
Then go along the following route to tour around the town.
Route: Huguo Grain Official Temple - Drunk Garden - Misty Rain Long Corridor - Songzilaifeng Bridge - Beizha Street - Yellow Rice Wine Display Hall - Have lunch at Wan' anqiao Restaurant - Tangdong Street - Ming & Qing Dynasty Woodcarving Hall - Sanctuary - Ni House - Brick & Tile Display Hall - Button Museum - Zhang Zheng Root Carving Museum - West Street - West Garden - Zhongfu Hall - Shipi Lane.
When this 1-day Shanghai side trip to Xitang is over, reverse the trip back to Shanghai by high speed train or the shuttle bus.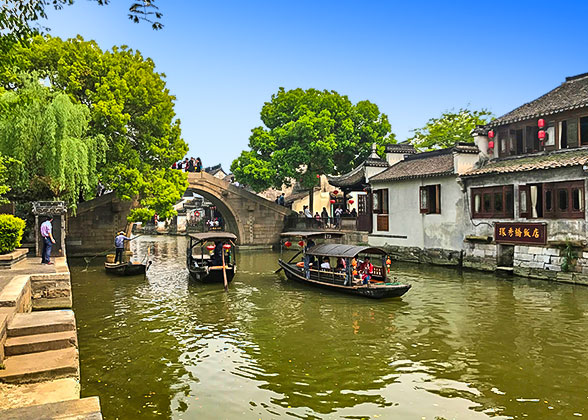 Xitang Water Town
Highlights of Xitang Ancient Town:
Xitang is a well-known millennium ancient town. With many local residents living there, it boasts a strong vitality and is filled with the unique heritages of traditional Chinese culture.
Xitang Water Town is famous for plenty of bridges, lanes and covered corridors. There are a large number of stone bridges such as Wolong Bridge, Wufu Bridge, Yongning Bridge, Anjing Bridge, etc. Most of them are single arch stone bridges with wooden beams. Due to the exquisite workmanship, they are well-preserved with high ornamental value. Yongning Bridge is the best place to take wonderful photos of the town, and you can also take some for commemoration.
Lanes are another unique feature of Xitang Water Town which are like the hutongs in Beijing. The most famous should be the 68-meter-long (74-yard-long) Shipi Lane paved with 216 pieces of slabstone with a thickness of only 3 centimeters (1.2 inches). It is said that under the flagging is a sewer which could keep water from accumulating in the lane in rainy days. The slabstone as thin as skin is the surface of the sewer, so the lane is called Shipi Lane (Stone Skin Lane). The widest of Shipi Lane is 1.1 meters (1.3 yards) and the narrowest is only 0.8 meters (0.9 yards). Walk along this narrow lane and look up, you will find the renowned thin strip of sky of Xitang Water Town.
Covered corridors are also named as rain corridors. You will be impressed by the featured corridors during this Xitang day trip from Shanghai. The total length of covered corridors in Xitang is about 1 kilometer (0.6 miles) and most are built by the river.
Wondering along the corridors, you can not only take a look at the various shops on the bank, but also see the sculling boats with tourists drifting slowly on the river. Also, some are built between the architectures with shops and residences standing on both sides. And some have been equipped with the settees for tourists to have a rest. The covered corridors on both sides of the river are connected by the several stone bridges. It would be very idyllic to stroll along the corridors or have a seat in a tea house by the river to taste a cup of tea and chat with friends. Especially in the rainy days, tourists can listen to the pattering of the rain drops under the corridors and appreciate the misty scenery outside. So the covered corridors are also reputed as the Misty Rain Corridors.
Several characteristic gardens and ancient residences scatter in Xitang Ancient Town, like the West Garden, Drunk Garden and Zhongfu Hall. In addition, there are temples with many worshippers like Huguo Grain Official Temple and Sanctuary. You are also able to know the local folk customs through the visit to the Brick and Tile Display Hall, Yellow Rice Wine Display Hall and Button Museum.
Old lanes in the town
Traditional architecture
Tips:
•
March - April is the best visiting period of Xitang Water Town when there is usually a drizzling rain and the town would look like being enveloped in mist. If you visit the town in autumn during September - October, it will be immersed in sweet scent of osmanthus. Chinese New Year is another good time to visit the town and you can celebrate the festival with locals by taking part in boisterous activities such as dragon dance and lion dance. Summer in Xitang can be a little bit hot, so you are not advised to do this 1-day independent Shanghai tour to Xitang at that time.
•
If interested, you may spend a night in the town to enjoy the stunning night scene. It is suggested you take a boat floating down the river with lightened buildings passing you by.
Cost:
| | |
| --- | --- |
| Combo ticket of Xitang Ancient Town, including 11 gardens and museums mentioned above | CNY100 |
| Shanghai - Jiashan high speed train ticket | CNY30 for a second-class seat |
| Shanghai - Xitang shuttle bus | CNY32 |
| Bus K222 | CNY2 |

More Related Packages: